| | |
| --- | --- |
| News | Sunday, 31 January 2010 | |
Of the 72 families inhabiting Malta in the 13th century, 25 were Jewish. Nowadays only about 80 people out of the entire population form part of the Maltese Jewish community. SHELLEY TAYAR, the last survivor of the oldest Jewish family in Malta, discusses the history of her ethnic group on the Maltese islands with David Darmanin
"The first Jewish community in Malta dates back to the time of the Phoenicians, and it is known that until the late 15th century several Jewish families inhabited the islands," Shelley begins when we meet at her home, Villa Tayara, in Kappara.
By a decree of the King of Spain, in 1496 every non-Catholic citizen living in Spanish dominions (which at the time included Malta) had to either convert, or emigrate. Although many opted to leave, others changed faith "even if nominally". This explains both the disappearance of an organised Jewish community for the three centuries that followed, as well as the modern-day popularity of Jewish surnames on the island – such as Abela, Amato, Attard, Azzopardi, Bonavita, Castillo, Ciantar, Degiorgio, Enriquez, Ellul, Micallef and Mizzi.
"But soon after Malta was taken over by the British Empire, the gates of Malta were re-opened to Jewish traders and their families," she explained. "In fact, by the mid-1800s there were already about 150 Jews from Gibraltar and North Africa living in Malta, and this created the need for a rabbi to be brought in from abroad."
Early documents show that in 1846, Rabbi Joseph Tayar and his family settled at a synagogue in Valletta after moving there from Tripoli – where the French nationals lived. George Tayar, Shelley's late husband, was the first rabbi's great-grandson.
Sole survivor
Former Jewish Community President George Tayar was a well-known entrepreneur, Managing Director of Marks and Spencer in Malta, President of the Jewish Community for many years, philanthropist and arts patron. He passed away in 1994. In the early 1950s, Tayar had gone up to Israel with businessman Albert Mizzi and Peace Lab director Fr Dionysius Mintoff, where they negotiated with the legendary international business magnate Baron Marcus Sieff to acquire the Marks and Spencer franchise in Malta, which they later got. More importantly, while at a cocktail party in Tel Aviv, Mizzi introduced Tayar to Gita Demby and she later became his first wife. After Gita passed away in 1990, George fell in love with her younger sister, Shelley. They married four years later, but within a matter of months George passed away in his sleep at the age of 76. Since the Tayars had no children, Shelley – now 83 years of age, is the last surviving member of the Tayar legacy, the oldest Jewish family in Malta.
The regeneration of the community
Maltese demographics show a significant turnover of Jewish families coming and leaving the island since the 1800s. "The Jewish community is now composed of about 80 members," Tayar said. "The majority of them come from the Ohayon family, who had also settled in Malta after the original Ohayon had been brought in as a rabbi. They are now in the fourth generation and Reuben – a third-generation Ohayon – is now the spiritual leader of the community. Then we know of a number of Jews living here but who are not members of the community."
In the 1930s, the Jewish community in Malta appointed Nissim Ohayon as a rabbi, which meant that the Ohayons were required to move lock, stock and barrel from Portugal to Malta. The rabbi then also went into business that was carried on by his sons Joseph, Moses and Abraham, upon his demise in 1956. Abraham, the youngest of the lot, was elected President of the Jewish community in Malta after the demise of George Tayar in 1994. With five sons and two daughters, Abraham has now extended the Ohayon family to an additional 15 grandchildren. Abraham's son Reuben is now the spiritual leader of the community.
The Ohayons hail from Morocco, where many Jews had fled to upon the King of Spain's expulsion in the 15th century.
Jewish families that stayed
By 1911, the Ottoman Empire was no longer able to defend Libya and the country fell under Italian rule. Many of the 21,000 Jews living in Tripoli were forced to leave in the 1930s because of Mussolini's anti-Jew stance and eventual persecution, following the formal integration of the North African country to Italy. This was when the Reginiano family came to Malta, where Hammus worked as a tailor to sustain his wife Hannah and children Menasse, Joseph, Lino and Victor. After the hardships suffered by the family in the Second World War, the generations that followed settled and remained in Malta.
Just before the war, when Jewish persecution was rife, Malta was the only European country to accept Jews without visa requirements. Around 178,000 Jews inhabited Vienna by the late 1930s, but many were displaced after the Anschluss, when Hitler sent troops into Austria to depose the Chancellor and have him replaced by a Nazi. Austria was incorporated into the Third Reich in 1938, and anti-Jewish laws made it very difficult for families established there to enjoy a healthy lifestyle. It was illegal, for instance, for a Jew to own property or a business concern. Jewish doctors were not allowed to treat non-Jewish patients, and lawyers were not allowed to practice. The Eders were one of the many families to suffer persecution in Austria during these days.
The day after Austria was annexed, Hirsh Eder was banned from entering his hat factory in Vienna. His family car was confiscated. Only six months later, the family made arrangements to come to Malta – where they presented German passports endorsing 'Not valid for returning' and a large letter 'J' on each page. Ironically, although the Eders were protected from the Nazis in Malta, they were persecuted by local authorities and the British leaders of the day because they had German passports. When the war began, they were interned along with other Germans, Austrians and Italians; but they were released three months later.
It did not stop there. When Mussolini aligned Italy with Germany in 1940, the Eders were interned again – receiving the same treatment as other Germans and those who harboured fascist sympathies. During this time, the family was kept in an old convent in Rabat. When they were released a year later, they found that their hat factory in Msida had been reduced to rubble in the blitz.
For the next years, the family earned its living by cleaning, remodelling hats and working from home as craftsmen. After the war ended, the Eders slowly rebuilt a chain of five outlets – one of which, Haro in Sliema, remained popular until recent years.
Hirsh Eder's son Robert, who ran the shop, is now 92 and still resides in Sliema.
Anti-Semitism
Irrespective of Malta's reputation for being largely xenophobic, Tayar said that she has very rarely come across any form of discrimination on grounds of her ethnicity.
"I have very rarely experienced this type of discrimination at all, not even abroad," she said.
Tayar, who is still very bubbly despite her age, reminisces about her past as a child in Palestine before the war, and later as a psychology and journalism student in the US. After she finished her studies, she enrolled with the US army and worked in Public Relations. She then travelled to post-war Germany where she worked as a foreign correspondent.
Asked whom she worked for in her journalist days, she promptly answered: "That, dear, is none of your business."
"We were protected in Palestine, and when I later moved to the US I only experienced direct anti-Semitism once," she recounted. "A man had casually told me that he couldn't stand Jews, so I blew him one in the face. When he asked me why I did that I told him that I was a Jew, so he apologised – explaining that he had never met a Jew in person before. I think this is the problem with people who discriminate against us, especially Arabs. Many of them have never met a Jew in their lives."
Tayar was born in Palestine – present-day Israel – "so we did not suffer any persecution". By the time she moved to Europe, the war had ended. "I believe that the war generation in Germany was poisoned," she said. "But it certainly does not mean that the generation that came after it was the same; on the contrary. If you go to court you are not expected to take with you the sins of the father. I do not know of any nation that has worked as hard as Germany to build a true and proper democracy."
Last month, media reports revealed that a local Facebook group was set up for a number of schoolchildren to post anti-Semitic jokes. Tayar was not very amused.
"We celebrate our spirituality the same way Jesus Christ celebrated it. It does not matter if there were priests exchanging money in the temple because the beauty of Judaism is in the religion not in the people who follow it – just like in Christianity. I live the same spiritual life as Jesus Christ, who, despite bringing in a lot of new ideas to Judaism, remained a Jew. Early Christians followed most Jewish rituals, and it was the spiritual leaders who came after Christ, like St Paul, who changed rites to strengthen Christianity by dividing it from Judaism. The Sabbath for instance, was changed to Sunday. We, as Jews, do not believe that Jesus was the Messiah – even though he was a great man. Had the Messiah come, there would not have been the Holocaust. Those boys on Facebook went as far as saying that the difference between a pizza and a Jew in the oven is that a pizza does not scream. Jesus Christ was Jewish. Would they have meant it in the same way if they thought enough about it?"
In the booklet 'An account of Malta's Jewish Community since 1800' published by the Jewish community last year, Tayar wrote an article reminiscing about the life of her husband George. She recounts an episode when she was sitting besides art historian Fr Marius Zerafa, a close friend of her late husband, at a dinner hosted by arts crusader Dame Francoise Tempra.
"A fanatical Frenchman turned to Fr Zerafa and said: 'everything is the Jews' fault, am I right?' and the Father smiled at the man pityingly and dramatically, took a silver necklace from under his collar and showed that on the necklace he was wearing a big silver Jewish Star of David and said: 'You are wrong'."
Intermarriage and decline
Intermarriage and declining birthrate have effected global Jewish population, which presently stands at around 13.2 million.
"It is not easy to convert to Judaism," Tayar explained. "You become Jewish for the love of God, not for the love of man."
All branches of Orthodox Judaism refuse to accept any validity or legitimacy of intermarriage. Conservative Judaism does not sanction intermarriage, but encourages acceptance of the non-Jewish spouse within the family, hoping that such acceptance will lead to conversion. Reform Judaism and Reconstructionist Judaism permit total personal autonomy in the interpretation of Jewish law, so intermarriage is not forbidden.
Although the Jewish community in Malta is made up of different denominations, it has been common practice for many families to leave the country and find themselves a Jewish partner, also bearing in mind that the choice in Malta would be restricted to a minimum, once relatives and Catholics are excluded from the prospective choice pool. Some have married non-Jewish partners who then convert.
In the US, where 5.3 million Jews live, 47% of marriages between 1996 and 2001 were with non-Jewish partners. In Malta, with about 80 Jews, the percentage is much lower. The new generation of Maltese Jews is expected to either follow the parents' footsteps and marry foreigners, or take a more liberal stance in going for intermarriage.
Some may go as far as abandoning the faith altogether.
---
Any comments?
If you wish your comments to be published in our Letters pages please click button below.
Please write a contact number and a postal address where you may be contacted.
---
EDITORIAL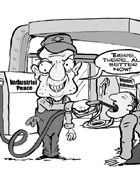 Transparency and procurement procedure