| | |
| --- | --- |
| News | Sunday, 31 January 2010 | |
Almost five years ago, Ashraf El Bakri went on hunger strike to plead for custody of his children. Since then, nothing has happened. Now he wants his story to be known.
Fifteen years ago; when Ashraf El Bakri first came to Malta at 32 years of age, he was a businessman engaged in international trade, travelling often to visit his clients in various countries. In 1998, he set up a company in Malta, taking advantage of the favourable tax regime offered to international trading companies and qualifying for resident status in the process.
"When I struck up a friendship with a Maltese woman in January 1999, it was because I was attracted to her and not for immigration purposes. She knew I had been married twice before and had two sons from my former wives. Our relationship survived the difficulties I faced when, in July of that year, I was involved in a serious car accident, suffering damage to my spine and permanent reduction of blood supply to the brain."
He had to seek medical assistance in Italy: "When Maltese medical experts refused to deal with my case for no apparent reason I began to wonder whether it was because my claim was against the government-owned Middlesea Insurance Company or simply because of my complexion and religious faith."
The other driver in the collision was found guilty by the courts, but El Bakri's negotiations with the insurance company dragged on for years. "In 2004, Middlesea admitted liability but offered to pay only a tiny fraction in compensation of the damages I had suffered."
In 2000 the toll of the long-drawn out insurance case had made him decide to leave Malta and tend to his boys, who lived with his family in Egypt. "The woman I lived with had become pregnant but had terminated the pregnancy in the UK while I was abroad. This added to my determination to leave Malta permanently but she asked for my forgiveness, calling me in Egypt saying that she could not live without me; telling me to bring my children over to Malta. I gave in to her pleading because I loved her and for no other reason, and my boys came to Malta in 2001." They married in March 2003, and his foreign resident status changed to that of the spouse of a Maltese national allowed freedom of movement.
"We had lived well together for years and in the last week of April 2004 we visited my family in Egypt together, but 10 days after our return she went to work one day and did not return without giving any reason. After that we would meet and sometimes she would come home but was always telling me to leave Malta with the boys."
The second of June 2004 was the worst day in El Bakri's life. "My younger son was eight years old at the time. When he came back from school alone I asked him what had happened to his elder brother and he told me that a man and a woman had come to school and taken him away." Learning that his 13-year-old son had been taken away by social workers, El Bakri turned for help from the Egyptian embassy, but for six long days he did not see his son nor did he know where he was.
"I went with my younger son to the Ministry of Social Policy and showed them three airline tickets and our passports, which showed that we were all Egyptian national I was told that, on the day of our departure, they would bring my son to the airport. Instead I learnt at the airport that a note had been registered in the airport computer to prevent either of the boys from travelling. My eldest son was not brought to the airport."
He decided to leave his son with a trusted friend in Malta and travel to Egypt alone in order to fight his case. The matter was brought to the notice of the Egyptian Ministry of Foreign Affairs and all the Egyptian press. "I filed a lawsuit in Egypt because I had not been told the whereabouts of my son and the outcome was that the Maltese Embassy in Egypt informed us that if I returned to Malta and made my case here, I would have my son back in a fortnight."
Although his wife was waiting for him together with two officials from the Egyptian Embassy at the Arrivals Lounge, he was held back at immigration and had his passport withdrawn. "They only made a photocopy of it for me because I insisted, and when I enquired through the Egyptian Embassy what the reason was, I was told that I could collect the passport from the Immigration Office in Floriana. My freedom of movement had been cancelled, allegedly because I no longer lived with, my wife even though she had come to greet me at the airport."
Since he arrived in December 2004 his legal status has remained unclear.
While he was abroad, social workers had taken his youngest son from the friend to whom he had been entrusted, and put him in a foster home with a Libyan family. "Minister Dolores Cristina asked to meet me and my understanding was that she would let me have my youngest son immediately and my elder son in two or three months. It has taken much longer than that. It hasn't happened yet. When I met my sons in the institute, they weren't my sons anymore. Another time when I met my younger son outside the institute he told me that he was taken to church at the institute despite being a Muslim. He showed me how he made the sign of the cross in church."
Dealing with the authorities involved was an ordeal because he could never agree that their action had been justified in any way, but he went from one department to another until December 2005 when he went on hunger strike in Republic Street Valletta in order to draw attention to his situation.
"On the fourth day the Commissioner of Police came with a message from the government that the whole affair would be resolved and that I would be given back my children. Trusting the Commissioner, I ended my hunger strike and that day I met with him in his office. His words were already different: he told me to return to Egypt and that my children would be sent there, but I was determined that I would not leave without them nor without the money I was owed by the insurance company. The Commissioner said that he did not know about the insurance case but would check it out with the government and call me. I have not heard from him since."
Having tried everything else, El Bakri sued for his rights to a family life in the Maltese Court. "When I asked to defend my own case and bring a lawyer from Egypt as well as an interpreter at my expense, the judge put the case off indefinitely. The judge did not accept my request. On the other hand, when my wife sued for annulment of our marriage, the case was decided after just one hearing in which I appeared before the judge."
Language is a major stumbling block in this case, since El Bakri struggles to make himself understood in Maltese and does not speak any English. His pride, his insistence on being respected as a human being is another. The fight for his dignity is interpreted as aggression, probably because he is no frail female.
"I have made a full report of my case by registered letter to every government department and agency, to Cristina and Tonio Borg, to both Maltese bishops, to the Ombudsman. I have met with high officials of every political party." He has also written to the European Court of Justice, the European Commission, the European Ombudsman, the UNHCR and Amnesty International. His case number with the European Commission is SG 2006 5175. Since the referral to the DG Justice and Home Affairs, he has heard no more from them.
"All I want today is to take my children and leave Malta for good. My father died in Egypt last Sunday and I have been prevented from being at his funeral because of this situation. It is a harm that has been done to me that can never be compensated for just as missing my children for five years of our lives can never be made up to me. Since December 2004 I have been in Malta waiting for their return to me and I will not leave without them, without being given what is due to me. I have done all I can and I will no longer be passed from one civil servant to another. I expect the President and the Prime Minister to notice my case and do something about it."

---
Any comments?
If you wish your comments to be published in our Letters pages please click button below.
Please write a contact number and a postal address where you may be contacted.
---
EDITORIAL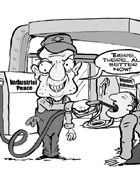 Transparency and procurement procedure