| | |
| --- | --- |
| Monique Chambers | Sunday, 10 January 2010 | |
We arrived at Il-Mithna in Mellieha and I was still spitting feathers about the fact that the new bathroom scales have made me 3.2kgs heavier than I had been all of last year. I felt like I had bitched for ages, but, and as is more likely, the drive up was not as far as you tell yourself it is. Note: the scales have to be wrong. A change in lifestyle, a weekly restaurant review column, editing a food magazine and Christmas can't possibly have taken their toll on my figure. I wasn't going to let it spoil my evening, as I've never been big on beating myself up; and there's always lipo to fall back on if the situation is desperate enough I guess.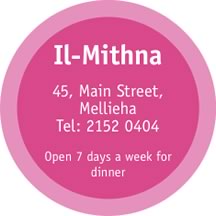 A beautiful, character-rich, multi-arched room invited us in and we were shown to our table (by a waiter) at the rear of the building, where we could admire the other diners and marvel at the lady in the raspberry beret. And jumper, and skirt. And boots. And most probably lipstick at one point in the evening. Her chap wore a matching scarf too, which he kept on throughout the meal, perhaps in case he was mistakenly linked to the other, more subtly dressed lady at the table.
We decided it was time to turn our attention to the menu and it wasn't too long till I had deftly scanned the document to find my prey. I opted for the seared rabbit liver with red wine, orange zest, almonds, apple and honey (€7.00) as a starter and could almost taste it from the description alone. The liver itself was like a sponge filled with flavour, and slices of baked apple accompanied it. There was a smattering of almonds which I didn't like, left on the plate – I would have tossed them in last minute rather than cooked them in the sauce, to maintain a crunchiness, rather than the slipperiness that an alternative method gave them.
Giving-up-smoking friend chose the pumpkin soup, hinted with ham and herbs which came with a giant crouton: €4.50. She mmmmed at the first taste and the only word to slip from her lips (whilst I was filling her in on my start to the year) was "DIVINE". Completely forgot to eat the crouton.
For my main, it was a no-brainer. The back page listed a range of dishes with sauces that made me salivate. The quail with leek, pumpkin, pears, almonds, mash and a bourbon and chive sauce (€16.00) was ordered. I'm not sure what exactly swung it. Perhaps the quail season ending and all that, or perhaps the cacophony of ingredients. Whatever, the quail arrived and it surely was not alone. I think there were two birds on that there plate, and I did do my best to make them disappear. But having a bowl of just-browned roasted potatoes placed in front of me meant they had to be eaten also, and I could hear my mum threatening me with no dessert (and I had spied pancakes)... but had to take the risk and left a half of the meat. Mysteriously, the potatoes and the sauces vanished from under my nose.
My friend took the lamb with rosemary, which was listed as being infused with strawberry and red wine on a bed of parsley and pancetta mash – €16.00. The mash description caused some concern: could it be too smokey? But luckily, in the end, the absolutely right choice was made, she claimed. Lamb, perfectly pink and moist; the sauce gloopy and so rich it gave me a mild burning sensation – you know the sort, you can't tell if it's good or bad but it is strangely addictive, and the mash mellowed it all out. I'm afraid I have to break it to you that she lost her giving-up-smoking name soon after this course was finished. So while she slipped outside, I polished off the half bottle of Solatio Chianti (2007) and mulled over the menu, educating myself on the history of the windmill the restaurant is situated in. Apparently, the only one remaining of the three originally built by the Knights in Mellieha in the latter half of the seventeenth century under the rule of Grandmaster Cottoner, and identical to those in Mallorca (and unlike the ones in Rhodes), I'll have you know.
The decor is very simple and stylish, well-spaced dark wood tables dressed in crisp linen cloths with a contrasting runner and elegant place settings, with balloon glasses that allow you to enjoy the full experience of your wine. Trumps.
Sanitized WCs hide behind heavily draped doors in case you are wondering – last on the left – just so you don't end up in one of the two courtyards the property has to offer. Upstairs, though used as a private dining room for functions for up to 50 guests, is also used as an overspill for busy nights. We were impressed by the speed and grace of service. Bearing in mind the number of patrons and just one waiter evident, we didn't have to wait at all.
Having completely forgiven the scales for their error earlier in the evening, I ordered those pesky pancakes, much to my friend's (and I must admit, my belt's) surprise. Served with warmed, halved strawberries and Cointreau – they were delivered in mid-flambé and as soon as the flame was extinguished, they were pretty much extinguished too. What is it about warm strawberries?
Luckily for me, the walkway was wide and the ramp for wheelchair access provided an easy, effortless route outside towards the car. Departing gave us one more chance to double-take at the lady in head to toe red and to admire what had to be the most tasteful restaurant Christmas decorations this season. I'm only sorry to have to wait another year to have another look, though I probably won't wait that long for another go at the pancakes. Of course, in the meantime, I'll replace those pesky scales.
---
Any comments?
If you wish your comments to be published in our Letters pages please click button below.
Please write a contact number and a postal address where you may be contacted.
---
EDITORIAL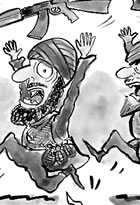 Priorities in health financing