| | |
| --- | --- |
| Saviour Balzan | Sunday, 03 January 2010 | |
There is nothing wrong in being kind and giving at this time of the year. Neither is it out of place to over-indulge… but nothing is going to stop the bills as they get delivered next week. Or the bank manager, who will lose no sleep in reminding you about late mortgage payments.
And the season won't change the resoluteness of those who spoilt the party with their bad decisions and ill thought-out policies.
There is a conviction in most of us that there are good and bad people, intelligent and stupid folk, competent and incompetent 'professionals', honest and dishonest persons… and that there is nothing else in between. It is my honest belief that we are presently surrounded by stupid, incompetent and dishonest people who make a living by taking the wrong decisions and investing in the wrong ideas and projects.
Apart from being treated to liver pâté and chestnut-filled turkey and litres of red Tuscan wine, I found the time to walk once again through the street of Valletta on New Year's Day. Yes, much has not changed. But on New Years' Day, right there behind the unkempt kiosks on the left of the bus terminus, I got the feeling that this was the Malta I had forgotten or did not know.
The African immigrants were dancing, somewhat idiosyncratically, to a New Cuorey tune from a loudspeaker at one of the kiosks. They hopped and boogied as two beautiful Somali women looked on, dressed in colourful eye-catching garments. I guess Norman Lowell would have enjoyed this sight, just to prove what a threat such foreign merriment posed to the island.
But as you walk along the kiosks, you get the feeling that little has changed for Malta. Short Maltese men with bulging waistlines and nicotine-stained fingers drank their teas with sweetened milk, sitting on the metal yellow chairs and staring at passers-by. The shabbiness was striking.
Scruffiness, of course, is not without its allure, which is why the whole ambience is what many foreigners love. And many people in MTA continue to believe that tourists come here in search of orderliness, when in fact many pray for a special southern Mediterranean atmosphere, warts and all. Surely that's an observation which the fresh new political appointee at MTA Louis Farrugia (who replaced Sam Mifsud, not much liked by Mario De Marco) will find rather hard to appreciate.
Beyond the dried up doughnuts and almond ruggiata, pirated DVDs and a handful of hash peddlers, the entrance to Valletta is a monument to our past and present political order. City Gate was still there, but did not even look remotely attractive in the beautiful January sun, and it replaced a majestic entrance that was not demolished by Nazi stukas, but by an insensitive 1960s administration. It should be purportedly replaced by a Renzo Piano design, something that would bring order and dignity to the capital city, albeit with a parliament whose setting is punctuated by an Austin Gatt doctrine: not semi-circular in the Athenian fashion, but confrontational.
In the Piano project for a new Valletta, everyone seems to have forgotten that we have three problems to circumvent. The first is the money. Where the hell will the government raise the money from?
The second problem is ego. Will such an edifice be enough to quench the egocentrism of the politicians who want to stuff this project in very much the same way I stuffed the chestnuts up the Turkey's backside?
And thirdly, the problem of what we want from Valletta. Is this what we really need in Valletta or something else? Could it be that instead of spending that money in building an edifice, a fund of €80 million should be better spent in injecting new life by regenerating Valletta through the gentrification of the city centre and bringing new business such as boutique hotels?
Some readers must wonder why I should even dare propose such a thing. Many will probably suggest that the future of Valletta should be left to the experts and advisors to our politicians. Which is exactly, why I am making the suggestions myself!
Because in all fairness, the Prime Minister and his ministers have no advisors and if they do, they are not worth the salaries that are forked out to them. If they did have consultants with the proverbial balls to say it as it is, they would tell them that the mess they are in can only be addressed if they change course and take remedial action now. They cannot go on taking decisions that will make our lives and our businesses redundant.
In this scenario, the argument that taking on this administration will endear us closer to Labour is of no consequence. I do not give a flying hoot about Labour, I'm not bothered if Muscat's policies (or politics) are soft or opportunistic, or if Labour is intrinsically an extension of the Antichrist. What matters is that at this very moment, the situation is bad that if nobody acts, then the inevitability of facing a serious national crisis is a guarantee.
I am told the governing party has a soul and that they will do something to change the present leadership. I very much doubt this. Any organisation built solely on power – be it blue, red or green – has no soul.
But anything can happen, most especially if some individuals see that their interests are at stake.
The other plausible reality, which is more of a possibility, depends on the associations, unions, employers and industry. It is inconceivable that none of them say or do anything. If Tony Zarb, Gejtu Vella, John Bencini, George Micallef, Joe Farrugia, Vince Farrugia and Helga Ellul cannot possibly understand that the situation is so critical, then they should call it a day.
It's no longer an issue of press releases or TV appearances. This is a moment of action. We can't allow the brunt of mismanagement and irresponsible hedging agreements that were sanctioned by one minister, to be borne by business in general. No one agrees with minister Gatt's water and electricity tariffs – not even the other cabinet ministers – and yet none of them, including people like John Dalli, have the audacity to stand up and be counted.
There is nothing ideological in condemning steps that will lead to redundancy. There is nothing political in objecting to seeing people being stripped of their purchasing power and of decisions that coerce business to scrape the bottom. There is nothing wrong in objecting to the Mintoffian bullying of some in the Nationalist government.
This is a time for reckoning, and if there are any leaders out there with any respect for the taxpaying citizens, now is the time to take action.
Anyone who thought I was entertaining the prospect of leaving my newspaper and media company for a boring job in Brussels must really be dreaming. I did not build this project from scratch to give it up now. Surely enough, I've no intention of giving any pleasure, or breathing space, to the people who make our lives miserable because of their uselessness and foolishness.
---
Any comments?
If you wish your comments to be published in our Letters pages please click button below.
Please write a contact number and a postal address where you may be contacted.
---
EDITORIAL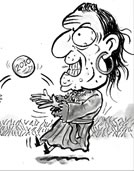 Strong leadership needed in 2010