| | |
| --- | --- |
| Monique Chambers | Sunday, 03 January 2010 | |
My verdict? Go and go again | Rating 8/10 | Style A proper Indian restaurant | Service 8/10 I usually want to go home at a point in time, but I could have stayed and listened to Robert all night | Selection 10/10 any Indian lovers favourite is on the menus – but they will concoct something just to your tastes if you have a desire/dietary requirement | Steal-ability The stories and a personal palm reading. I'm looking forward to 2010!
I love curry. In fact, I have my own blend which is getting a bit of a name for itself – one day I might just jar it.
In the meantime, I have been on the hunt for the place to go for a regular ruby. Ruby Murry = Curry, to those of you who don't speak slang. I've tried those in the tourist spots thinking that, with a large English visiting population, these would be up to muster. Sadly not. Yes, there are a good handful of Indian restaurants scattered around but until this week, I hadn't found one I knew I would return to. I had mentioned at our Boxing Day bash to someone tucking into my speciality my dilemma and he suggested Krishna, saying he went on the same day every week. A curry (house) that makes you regular. Hmm. Worth a try.
Having bullied my sister into coming over from the UK for a few days, I got out the thumbscrews and convinced her that coming with me would be the right thing to do. I tried this tactic on handing over a pair of red and black stilettos about 20 years ago and it had failed – so, good to see my influence has grown some.
I was certain I knew where it was. And I was wrong. So we drove like kerb-crawlers up the Strand till we came upon the batch of eateries just near Forestals and miraculously found a parking spot just outside. I will admit I was a bit anxious that I had got to the right place – but once the door was open, I knew I had. The ubiquitous Indian restaurant: pinky hues, vinyl clad menus, 'cultural' imagery framed and hung along the walls, jingly jangly music and the aroma of freshly prepared food wafting around. I wouldn't change a thing. OK, I would – but merely the size of the wine glasses. They belong in a dollhouse. Big bulbous glasses for red, please.
Like a flying carpet, a plate of papadums appeared with its harem of dips, spicy and mild, to cater for both our taste palettes, and we devoured them while going through the extensive menu. If you are looking to be more adventurous with your food choices next year, there is something on this menu for you. Not all Indian food is hot in taste; spices are used to give layers of taste and different regions have different specialities. You can choose from dry to fried, milky or creamy, oven-baked and skewered and a whole host of roasting methods in between. The menu choices were almost overwhelming. All the usual suspects were in there – including my favourite, butter chicken, but we decided to leave it to the chef for a selection – with strict instructions that my sister leans towards delicate on the spice scale and has to avoid tomatoes.
For starters, we had paneer pacoras (€4.70), Indian (home-made) cottage cheese which is fried in chickpea flour to give them a chiffon-like protective layer, onion pacoras (€4.70), essentially baji but deep-fried so nicely and crispy, and some reshmi kebab (€5.10) of the moistest chicken, spit-roasted and mildly spiced. We were on to a good start.
For our mains, we were served that old English favourite, chicken tikka masala (€8.00), with chicken sahahi korma (€8.00), a mild creamy curry combination, a chicken bhuna (€8.00) which is cooked with ginger garlic and lemon zest, and a lamb karhai (€8.00) whose description was a bit bland (roasted in onions and garlic in a special pot) but in fact was delicious.
On the side were palek panner (€5.85), the Indian cottage cheese in creamed spiced spinach which I would not have ordered before but certainly will again, and pilau rice (€4.00) which was coloured like the reflections from diamonds. Or had I really drunk a lot of wine? A plate of naan bread and a poori somehow managed to fit on the table. The latter, a UFO-looking bread which was deep fried and tasted a bit like a doughnut was a bit too sweet for me but for those brave souls who want to test their mettle against the legendary phal, I'd suggest this as the accompaniment. And a fire extinguisher.
For dessert we had kulfi ice-cream flavoured with cardamom. Apparently made from condensed milk, corn flour and sugar, it was a cross between a sorbet and ice-cream – sort of crunchy. The taste took me back to sitting on the spiral staircase at my nanna's house and the endless stirring of her home-made ice cream that thankfully, she has a machine to do now. It was always worth the wait. Although a bit annoyed that we had been demure and asked for just one scoop each, we polished it off and had fresh mint tea to wind up the evening. Or so we thought.
The owner, Robert, was attentive and entertaining, checking in on us and the other tables (all of whom had obviously been before) and recounting stories and general gossip. His accent still strong but with Maltese words dropped in regularly, begged the question how long he had been here. Krishna has been in existence for 16 years, but he had come in the 80s. He sat with a couple behind us and proceeded to read the lady's palm. Intrigued, I asked about this and he mentioned how he used to do astrology on Island Sound radio and that this was a gift he had, but used wisely. Life is so good right now that when he gestured for my hand, I did so in trepidation. He told me all augured well for me and that new opportunities would arise which I deserved and should enjoy and a few other things; which if you don't mind, are between me, him and the other customers in the restaurant that evening.
All I will say is the phone call regarding the opportunity came the next day and all I can say is, watch this face.
---
Any comments?
If you wish your comments to be published in our Letters pages please click button below.
Please write a contact number and a postal address where you may be contacted.
---
EDITORIAL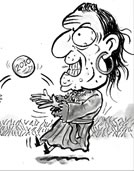 Strong leadership needed in 2010