| | |
| --- | --- |
| Monique Chambers | Sunday, 27 December 2009 | |
You don't need me to tell you that best place to go for fish is Marsaxlokk, but allow me to give you my two cents' worth on Tartarun. However, on the evening I went, so did a table of 24 local fishermen and their wives and another of eight... which that kind of speaks volumes. There were also a couple of French gents across from us, and the bar area had people milling about and hanging out, and it's not because of lack of choice.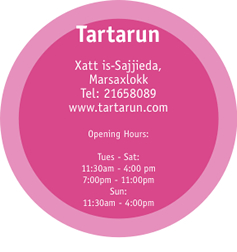 I generally visit Marsaxlokk when I fancy a rummage around the market, or to buy the giant prawns I have a bit of a penchant for, but I rarely go at night. So I was surprised to see there are more than a handful of smart-looking restaurants along the seafront, some spilling out onto the pavements. But I have to say, Tartarun has the best location – with a terrace outside for warmer times that gets you as close to the sea as is possible, without getting wet.
We took a table where we could see the view, boats bobbing in the reflection of the moon and the sea slushing against the jetty, and also to make sure the car didn't go for a swim. I flicked to the back page of the menu to check out the desserts first: this allows me to pace myself on how much food I can steal from my companion's plate. I was delighted to see an international cheese selection – it appears to be rare on most menus in Malta – which is my absolute weakness, so I made a mental note to leave some room.
The waiter brought an armful of fish and diligently talked us through them all – he didn't have to refer to a tea towel like me, he knew his stock. A couple of the fish still had the lines in their mouths, and while a bit 'eck,' proved to the ethical and finicky amongst us that they were line caught. And we were told so, by one of the guys on the big table. No pressure then.
As soon as we had ordered, an amuse bouche of prawn bisque arrived in weeny coffee cups. The viscosity and texture was that of milkshake and it was like (close your eyes and imagine) the flavoursome juice that you suck out of the head end of a freshly torn apart prawn. The cups were not big enough to dunk fresh bread into, which I suppose in etiquette terms, was a good thing.
The tequila cured salmon with lime and mint salsa (€7.50) grabbed my attention and I tried to flutter my eyelashes to get John to order the assiette de fruits de mer. The waiter, sensing our (my) dilemma, offered a mix of carpaccios and shellfish but John saw the seafood pasta and scuppered my plans. I took the salmon (which I thought wasn't quite drunk enough) - cured perfectly but it took a couple of forkfuls for the taste of tequila to shoot through. And BOOM there it was. I was soon ready to do a salsa of my own.
John's spaghetti with prawns, octopus, fazolari and vongole arrived (€10.50). Actually, let me write that again. John's seafood with spaghetti arrived. That's a better description. Normally, you have to play 'seek and seek' with a dish like this, but this one was like a tartarun of spaghetti, full of shellfish, and it was really very tasty. The seafood was obviously fresh and must have been cooked separately in secret ingredients and then mixed in – rather than tossed in at the last minute. Might give that a try.
Between courses we had a chat with Steve, the waiter, whose twin brother James (we found out) was the chef. A bit of stubble separates the two (and I'm sure other traits) – it was a bit disconcerting as Steve would leave the room by one door and then 'reappear' in a chef suit and stubble two seconds later. The restaurant is on the site of Harbour Lights, which their father and uncle owned and ran forever, before the brothers and their mum took it over, gave it a sleek and chic refurbishment and renamed it in October of this year. I can't compare it to how it was before, but the restaurant's website is inviting enough, not to mention the place itself.
The mains came through – we had chosen a cerna to share and it seems the eyelash fluttering didn't go unnoticed, as we ordered a mini seafood platter too. I stupidly thought we would have a starter sized portion but a colourful, seafood mast-height jenga tower arrived that would have put a Carmen Miranda hat to shame.
The cerna was filleted at the table and was so smooth you almost forgot to chew. Only one bone got past the deft Steve and that was probably our fault as we most likely distracted him with our barrage of questions about the catch, the village and the history of the restaurant itself. The arrival of the contorni saved him further explanations; roast potatoes with fennel and wilted spinach also with fennel and garlic were good on their own and, I'm certain, timed to arrive for mopping up the juices.
After the cocktail of the tequila and a bottle of Jacob's Creek Riesling, I was ready to work off some of the over-indulgence at the MediaToday Christmas party. There was no room left in my dress - let alone my stomach - even to share a dessert, though there was more than a flicker of temptation from the other side of the table, I seriously couldn't. There was a good selection and all for under €3.00. The cheese board (€7.00) still eludes me – in hindsight, I wished I had taken one in a doggy bag as the midnight munchies got me, having spent the last couple of hours of the evening cavorting on the dance floor like a jellyfish out of water.
---
Any comments?
If you wish your comments to be published in our Letters pages please click button below.
Please write a contact number and a postal address where you may be contacted.
---
EDITORIAL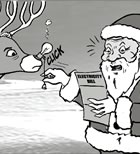 Dedicated to accountability