| | |
| --- | --- |
| Monique Chambers | Sunday, 20 December 2009 | |
We hurried out of the cold, lively wind and into Gianni's bistro on Tower Road just before the heavens opened a couple of nights ago; the warmth that greeted us was welcomed. Even though we had parked just 50 metres away across the road by the lido, my hands and nose felt like I'd been on the terraces for an extended match. We nestled ourselves onto a table in the corner of the lower part of the property, which was in the company of two other tables – and there were a couple more small parties of people in the raised part which heads up to the bar area and kitchen.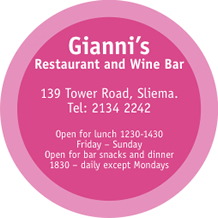 It took me a while to suss out the decor – plain dark wood tables and the same shade floor and banister – with one wall having a variety of doors and windows along it. I recall plants and a black ceiling and, half way through the meal, I got it. We were 'al fresco' but thankfully it was just an illusion. In warmer weather, there are tables outside, a great vantage point for promenading people and timeshare villain watching.
We decided on a wintery red to warm our cockles and ordered a Malbec (I am so predictable). It wasn't in stock so we took a Nero D'Avola instead, though those passionate about food and wine pairing would conside*r our choice blasphemous.
On the specials board were fish soup (€5.50) and a broccoli soup (€5.50) which were both very special indeed. The fish soup laden with flavour and chunks of fish, not at all oily or citrusy as it can have a tendency to be; this alone with hunks of Maltese bread would have sufficed as a full meal, especially on such a cold evening. Rare for me, I abstained from the hobz – the soup had enough to chew on to make it satisfying as a starter. My French friend took the broccoli soup which looked creamy and thick – and we had no complaints at all. She wanted to steal the bowls for her new house... but no complaints.
For our main courses, I went off piste a little and had a pizza – normally saving the luxury for those nights when you just can't be bothered to cook, to just eat out of the box (and not wash up), watch a DVD snuggled up on the sofa, and enjoy licking your fingers afterwards – especially pleasureable as no one can see you. The pizza choices were variants of the usuals and I ordered a gorgonzola with honey and sesame seeds variety (€7.50), flavours which complimented each other perfectly – the honey sweetening the pungency of the cheese and the sesame seeds giving an extra crunch to the already wafer thin and light base. I was half tempted to ask the chef patron to roll out my (strictly speaking Gaby's) chestnut ravioli casing on Christmas day: it was so unbelievably thin and light! My guests were gracious at my last attempt and ate seconds of the fender-sized ravjul I served up to the unknowing 'it's my first attempt' guinea pigs (I have asked Santa for an old fashioned pasta machine so perhaps if he didn't get my letter he'll read this, just in case Gianni's chef is busy on the day). I polished off the pizza in its entirety – I had to have a chuckle to myself when the waitress asked if everything was OK – collecting my plate when there was not even a crumb left on it. It was delicious. Where I normally look forward to the remaining half of a pizza, which I don't manage in the sofa-sitting for the following morning's breakfast (congealed cheese typically setting an artistic array of anchovies and olives), it was so light I didn't notice that I had demolished it – bar one slice which my friend tried. She claimed there wasn't enough honey, but it was sweet enough for me.
She took one of the dishes from the list of specials – chicken with a mushroom and Marsala sauce (€14.85). There were a good choice of accompaniments. Being French, she took the frites and ribbons of carrots and courgette. There was a generous serving of breast – too much for a girl, amply covered in said sauce which, having taken a bite or two, to be able to give an accurate assessment for the column you understand, was very, very good. Though I still preferred my choice. I just hardly ever order chicken when out.
Having a good catch up and a bit of he-said-she-said we were interrupted (for want of a better word) by a portion each of chocolate lemon cheesecake (€3.90). I'd had my eye on the banana and toffee pie; I believe fruit in a dessert makes it less sinful. I understood why the pies were brought over – the chef was obviously proud of them. Imagine the smoothest lemon meringue pie that just dissolves on your tongue, topped with a thin crust of chocolate which was probably there to take away the tartness of the filling; but for once, and don't quote me on this, the chocolate was unnecessary. It did defeat us, but worry not readers, I won't let that happen again.
We saw the chef milling about, chatting to the diners on the other tables, who seemed to be regulars, judging by the familiararity between them. Not surprising. It's a homely good food venue with no pretences. Some candles would have been nice – but then I am a devil for the detail.
I popped off to the bathroom, which was a bit bland: a couple of pictures on the wall or something would have made it less sanitized, but it was super-clean, the door locked and everything, hand drier and all, worked. We had ordered tea, which is one of the things I love about French friend: she doesn't look down her nose at me and scoff at tea after dinner. There was no peppermint left so an 'English girl English breakfast' had to do it for me, and a vanilla variety please (which wasn't of the herbal variety, much to my friend's disappointment).
So we'd had a good evening dishing the dirt and clearing our plates, and eventually, the time came to face the cold night and our journey home. Maybe it was because our bellies were full of food – but it didn't seem quite as bad as on the way in.
---
Any comments?
If you wish your comments to be published in our Letters pages please click button below.
Please write a contact number and a postal address where you may be contacted.
---
EDITORIAL




A self-inflicted wound
---
Restaurant review by Monique Chambers