| | |
| --- | --- |
| Film Review | Sunday, 08 November 2009 | |
One would expect that cinematic realism would have had its day a long time ago. Now that video blogging, citizen journalism and reality TV are rampant, what use do we have for films that seek to probe through society with as little intermediaries as possible? It should be a given that the genre's historical precedents across Europe have either died out or whittled down into auteur projects such as Lars von Trier's Dogme initiative whose ties to realism exist, at best, on a purely formal level.

Nevertheless, it seems to me that directors insist on using the genre as a fall back, to create a sense of poignancy and – most annoyingly – political intensity, with an eye towards the awards. Witness the fate of Ken Loach's The Wind that Shakes the Barley: the account of fraternal conflict set in the midst of the early days of the IRA won the Palme d'Or at the Cannes film festival of 2006 and ended up becoming the highest-grossing Irish indie of all time. Whether its success can be attributed to the fact that it is a late exponent of the realist genre (which Loach has had time to hone to perfection throughout his entire career), or that it simply makes for a stirring historical drama, is what truly interests me. Is it the case that we have now internalised realist techniques purely to make slightly more 'literate', award-friendly costume dramas? A bit of grime here, a bit of shaky-cam there, et voilà! You've got yourself an edge over the competition, and you can feel smug in the knowledge that you've just engaged in an act of supposedly daring filmic reinvention.
This definitely seems to have been the case with Jan Troell's Everlasting Moments, the Swedish representative at this year's Malta International Film Festival, held at Embassy Cinemas until next Tuesday (November 10). Based on the real-life story of Maria Larsson (Maria Heiskanen), as it's narrated by her eldest daughter Maja (Callin Öhrvall), it paints a picture of working class Sweden in the early 1900, and all the necessary drama that comes along with such a setup. Maja's introductory prologue reveals that Maria had won a camera in a lottery which she visited with her husband-to-be. She agrees to share the camera with Sigfrid under one condition: that he marries her. But Sigfrid (Mikael Persbrandt), a labourer, turns out to be a hopeless alcoholic (as well as a budding anarchist), making life extremely difficult for Maria and her six children. But when she digs up the old camera, a world of opportunity (and a potential way out) is suddenly opened up for her.
Visually, the film is utterly absorbing. Troell employs neutral tones throughout, in keeping with the story's dreary surroundings but also, with incisive cleverness, with the fact that it is occuring right at the start of silent films. "You get a little grainy picture that fits the turn of the century era and also relates to the early silent cinema. I have deliberately kept the colours down and used similar sepia tones as those in for example Victor Sjöström's films," Troell has said. But there is something distractingly refined in the end product. It suffers from what I will from now on call 'The Reader Syndrome', after that other Winslet-starring award-baiter (Everlasting Moments was shortlisted for a 2008 Oscar for Best Foreign Film). It wants to have the cake and eat it, aesthetically speaking: it's not too afraid to be a drawn out downer, but its polished look softens all emotional blows. This isn't realism: it's historical drama, plain and simple, and all of its working-class concerns and brimming workplace anarchism look oddly out of place. And it's long, far too long. The fact that it is based on a real-life account is no justification for including repetitive, unnecessary details, and for leaving a narrative rot in a terminal deadlock: when the drunken husband chooses to beat on his family for the third time in a row, even the least cynical of viewers will begin to feel that the point is slightly laboured. The emphasis on photography could have been expanded. As it stands, it is merely presented as a newfangled piece of technology that Maria, in the role of natural savant, seems to have gained automatic dominion over. Metaphors and connections should abound; but they never do, which is a pity. This wonderfully dressed up bit of cinema has pleasures, but they are mostly the pleasures of any family melodrama, any soap opera. It packs many things (a looming war, familial strife, emergent feminism) but never really seizes upon them and creates something that, while certainly visually diverting, cannot hope to be everlasting.
Everlasting Moments was shown on Wednesday, November 4 at the Embassy Cinemas, as part of the Malta International Film Festival
---
Any comments?
If you wish your comments to be published in our Letters pages please click button below.
Please write a contact number and a postal address where you may be contacted.
---


All the interviews from Reporter on MaltaToday's YouTube channel.
---
EDITORIAL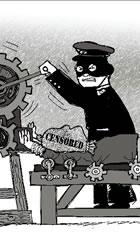 The right to offend