| | |
| --- | --- |
| NEWS | Wednesday, 09 September 2009 | |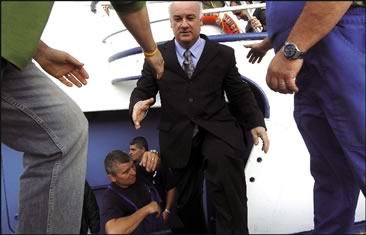 Commission votes to ban bluefin tuna trade, despite Joe Borg's efforts to defend Malta's €100 million industry
The European Commission has clinched a last-minute agreement to co-sponsor a proposal – originally by non-member state Monaco, but backed by several EU countries including France, Germany, the UK and Poland – for a ban on the international trade of bluefin tuna.
With the EU's backing, the bluefin tuna is now set to be listed on Annex 1 of the United Nations Convention for the International Trade in Endangered Species (CITES): an initiative which will result in a de facto ban on international trade (though fishermen will still be able to sell their catch locally).
Malta, Italy and Spain have all vehemently opposed the measure, with Malta in particular arguing that its tuna penning industry "contributes €100 million to the economy".
Malta is in fact the world's largest tuna-penning nation, and 90% of its bluefin exports end up on the Japanese market, where the fish can fetch prices of up to €20 a kilo.
But with mounting scientific evidence pointing towards an imminent collapse of the Mediterranean's bluefin tuna spawning stock – not to mention increasing pressure on EC President Jose Maria Barroso to personally intervene – the stakes proved too high for Malta's Commissioner Joe Borg, who is understood to have resisted the proposal right until the very end.
Borg and Dimas at loggerheads over ban
The bluefin tuna issue had already exposed clear divisions within the European Commission, pitting the Environment and Fisheries Commissioners in a political tug-of-war.
By proposing to wrest the bluefin tuna from the EU's direct control, Monaco had indirectly inferred a lack of confidence in Borg's own abilities to adequately protect the lucrative fish from over-exploitation.
And when Environment Commissioner Stavros Dimas signalled his support for the CITES listing, it was widely interpreted as a tacit rejection of Borg's Common Fisheries Policy, with its four-year recovery plan commenced in 2006.
An internal report by the DG Environment, seen by this newspaper, hinted as much by singling out one of Joe Borg's most controversial decisions as evidence of the EU's inability to manage its fisheries.
"The levels of exploitation depend notably on the Total Allowable Catches, which are currently set above scientific recommendations" – a clear reference to Joe Borg's surprise decision, at the tuna summit in Marrakech last November, to set the EU's bluefin tuna quota at a level three times higher than recommended by scientists.
Matters came to a head last Friday (4 September), when a meeting between Borg and Dimas failed to reach any agreement over Monaco's proposal.
In fact, as recently as last Monday – the day before the final vote was taken – Borg reiterated his position against the proposed ban, when he told The Times (Malta) that his Directorate-General would prefer a less drastic solution that includes the continuation of his own recovery plan.
"The Commission will determine its position on the basis of whether it is scientifically justified to (support the proposal to list bluefin tuna in Annex 1 of CITES)," Borg said, rebutting criticism – including this newspaper's – that his opposition to the ban was motivated primarily by national considerations.
Surprisingly, however, Borg voted in line with the rest of the Commission the following day (Tuesday): effectively bringing to an end a debate which had threatened to isolate the Fisheries Commissioner in his last months in office.
Borg risking isolation
Had the matter not been decided yesterday, it would have been deferred to the College of Commissioners, and voted upon by all 27 of Borg's colleagues.
MaltaToday is very reliably informed that in this scenario, Borg would have found himself in a stark minority – possibly even a minority of one – and rather than face such a crushing defeat, he was persuaded to abandon his own four-year recovery plan, and consent to the listing on CITES.
This unexpected development has been warmly welcomed by conservationist NGOs such as Greenpeace and the World Wildlife Fund, which have been campaigning for the protection of the bluefin tuna for years.
"Commissioners Dimas and Borg have made the right choice leading the EU to heed urgent scientific advice that Atlantic bluefin tuna is dangerously close to collapse and needs a break," Tony Long, Director of the World Wildlife Fund's European Policy Office in Brussels, said. "Some EU Member States have already joined the call to temporarily ban international trade in Atlantic bluefin – and WWF now urges other countries to follow the European Commission's lead and back the trade suspension."
Malta is expected to continue resisting the ban, as the newly-formed aquaculture co-operative is in the process of finalising its own scientific report – authored by industry consultant Prof. Carmel Agius – to submit to the Rural Affairs Ministry.
Ultimately the matter will be decided by a vote at the EU's Council of Minister level, but with the level of support already expressed by national governments, this is widely anticipated to be a mere formality.

PRINT THIS ARTICLE
---
Any comments?
If you wish your comments to be published in our Letters pages please click button below.
Please write a contact number and a postal address where you may be contacted.

All the interviews from Reporter on MaltaToday's YouTube channel.
---

European Elections special editions
01 June 2009
02 June 2009
03 June 2009
04 June 2009
08 June 2009