| | |
| --- | --- |
| Mona's Meals | Sunday, 30 August 2009 | |
For the Brits, the weather is the glue that seals together two strangers in conversation. They can discuss a drizzle for an hour-long train journey, a breeze over a 16-course lunch, and get absolutely pissed (and pork sausage-pink) the moment a bit of sun peeps out.
So it was no surprise when, during a recent one-week heatwave when they could peel off three of seven layers of wool and sit or eat outside, all the British columnists ended up writing about was the weather.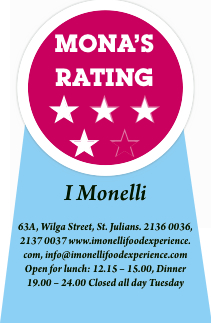 For us Maltese, the weather is the sweat that brings two strangers together in a frustration-fuelled fistfight. And if we had to discuss or write about the weather, every single Sunday paper would turn into a meteorological nightmare.
No wonder summer is the silly season - the heat does it. Just consider a typical day. The moment you wake up, the heat is already doing its fat-elephant-sitting-on-your-face act. Showering is practically a Sisyphean toil, and the water is so hot that it practically peels off bits of skin.
Then it's off to work. This, of course, necessitates driving. Now driving in Malta is already an obstacle course in the fairest of weathers. But in summer, with the beating sun chipping away at our patience, we turn into a snarling mess, foaming at the mouth the moment a driver blocks our way. The alternative is using public transport, which means suffering the sight of fat thighs clad in shorts, sticking together like a pair of wet, mating seals.
By midday, you're so hot (not in a sexy way) that you look like the human equivalent of a roast pig with potatoes. The afternoon is just a haze and you doze off until it's back home (with a detour to the super where you plonk yourself in front of the freezers until someone has to drag you out, mumbling about how you would love to live in Norway if you only had the money. Money doesn't buy you happiness? What a saccharine-coated lie) with no energy left to cook, eat or sleep.
The next day and for the following months, you do it all over again. Welcome, forriners, to the joys of a Maltese summer.
I Monelli can save you from all this, although, situated as it is in Paceville, you will need to struggle against the elements to actually get to it. Once there though, you will be pleased to note that the décor is quite smart, with the only 'eating at the bar' space that I know of in Malta. It also has the only seating space which is of different heights, breaking up the room in inviting and attractive spots. They do prosecco by the glass and mix a wonderfully balanced Negroni. The service was extremely good – ours was Italian throughout - and the ambient temperature spot on.
The view of the wood-burning oven from our table was lush. I pitied the pizzaiolo. My mozzarella di bufala D.O.P. was fresh, maybe not extremely weepy, but just on the right side of very sad. The San Daniele ham it came with was dry and fragrant, offsetting it nicely. Instead of quality oil, we got commercial. That was truly incongruent. The Writer's caponata di cozze, listed as seasonal, was slightly under-seasoned (no, I absolutely did not intend a quip there); sad, considering how superbly fresh and moist the mussel meat was.
He followed with a costata di vitella alla Milanese servita con rucola e pomodorini, not realising until it had turned up that 'alla milanese' meant 'breadcrumbed', which he hates. Does Milan do breadcrumbs? Really. I thought it did bags. I'm not a huge fan of breading anything, finding it an almighty waste of time which never lends food anything extra except, in exceptional circumstances, moisture retention. Good meat does not need that, and this one didn't. Nonetheless, obviously, it was TW's fault for not knowing. Don't say I did not warn you.
I had to try the pizza. Funs who had recommended this place said that although they seemed to be doing everything else right, I Monelli's pizza needed 'more'. Something was missing. They were right. The dough is too stretchy, too soft. The centre needs more crispness and I found the topping to be way too heavy on the signature Pizza i Monelli (tomatoes, mozzarella fior di latte, courgettes, shrimps and gratin), not to mention not understanding some of the ingredients (gratin of what?) and abhorring the dried out shrimps which resembles frozen ones even if they were not. Neaopolitan pizza dough is started with sourdough rather than yeast. This was not.
The list of pizzas is way too long, the ingredients lacking in artistry – where were the San Marziano tomatoes, a staple in the Neopolitan tradition – especially since a Margherita, the most simple combination, requires absolutely outstanding ingredients. And why put 'fresh cream, salmon, shrimps, provolone and rocket leaves' in the 'Maltese'? We've been called many things but not a single ingredient except for the leaves is actually Maltese here. I actually missed Maltese sausage and gbejniet when I saw that.
Wine choices are quite excellent, reflecting the 'mother' restaurant's Tana del Lupo across the road. The love of the owners and the dedication towards producing true Italian food is evident throughout. The loos are quite wondrous. The glasses are smart. Yet the most important thing of all is that in there, you forget how clammy, disgustingly sticky and terrifyingly hot it is outside. For that, I Monelli might deserve an extra star.
It could, possibly, get them for the desserts instead. Some were off the menu but the tiramisu with forest fruits was acceptable: fresh, fruity and creamy, the lemon and vodka sorbet not too artificial. They also brought us a free bowl of the scugnizzi alla nutella calda to try but I hate the artificiality of Nutella, regardless of whether it's hot or cold.
I do understand that I may be the only person in the entire country to do this. The only person gagging for winter? I don't think so.
---
Any comments?
If you wish your comments to be published in our Letters pages please click button below.
Please write a contact number and a postal address where you may be contacted.
---


All the interviews from Reporter on MaltaToday's YouTube channel.
---
EDITORIAL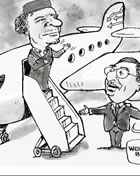 A tragedy foretold