| | |
| --- | --- |
| Mona's Meals | Sunday, 16 August 2009 | |
The tickets said 'Allowance: 43 kilos'. "What on earth are we going to buy to make this worthwhile?" I asked TW. "Vanilla? Sugar? A wife?" he suggested.
As it was, we didn't even need half of that weight allowance: in summer one travels light and the food in Mauritius is so fantastic that we decided to eat most of it while we were there rather than haul it, in jars and vacuum packs, back home as we usually do.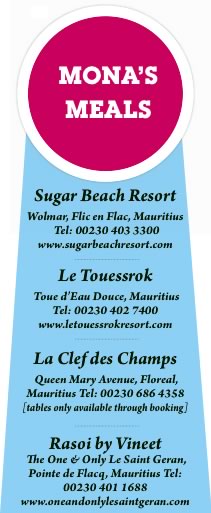 To me, travelling is research. I will hunt down chefs, former-chefs, cooks, producers and markets in much the same way that most Maltese flock to Primark in Oxford Street. This time, the first huge piece of holiday luck came in the form of Vladimir Scanu, Sardinian through and through, now resident manager at Sugar Beach in Flic en Flac. The Writer, Vladimir and I bonded over food and our Southern Mediterranean origins. It is always a joy to find that people so far from here know not only where Malta is, but that it is actually a country.
The name was intriguing and his story was even more fascinating; Vladimir was a 1-star Michelin chef at 21 years old, and although these days his position is way beyond most chefs' dreams (in his present post, he has 'gone back to basics' - until last year he was Vice President of the Sun Hotels Group, which owns the hotel) he made time for us and my incessant questions. The duller the weather - we managed to go to Mauritius' in the one week a year of rain and wind – the more fascinating the chat. It mostly took place over the powder-white sand a the Tides restaurant (most of which he personally designed) but we could have been sitting in front of a fireplace, so engrossed were we in the flow of information and food.
Sugar Beach would never have been our first choice. It is extremely family-friendly (read 'other people's children') but it also came with a ludicrous price-tag of €250 a night on half-board basis. I had no idea what to expect but it had come very highly recommended from a British ex-colleague and if his pictures were anything to go by, this plantation-style property would fit the bill very nicely.
I thought he was blowing things out of proportion when he said that even the buffet is outrageously good, but he was right. At no point did we feel like a part of the masses, which is sadly part and parcel of most 5-star buffet dining. They even manage to 'segregate' the honeymooners (us, perpetual, and others, real) from the families by creating quiet zones of beach and pool. I have no idea how Sugar Beach does it, but it was really obvious that all the guests felt as if the hotel, the beach and the dining rooms were 'theirs' for the duration of their stay.
On our last night, Vladimir invited us to dinner. We were, by now, best of friends and planning to meet up in other countries. He had prepared, together with the Executive Chef, a full-blown molecular gastronomy fest, including some truly stunning dishes such as dry ice-infused seaweed wafting its aroma up through a single tempura prawn. Who needs Ferran Adrià and his hellish waiting lists when you could have this? We had watched the chefs wading through the white sand and water an hour earlier, little realising that whatever they were 'catching' was for us.
The history of food on Mauritius is chequered and extremely odd. The country is like a huge garden, with mountains, azure seas and sugar plantations everywhere. Still, try buying some raw cane sugar for yourself - you will not manage. It is all exported and the stuff you find in the shops is imported. Bizarre and so similar with our very own vegetable export/import tragedy right now.
I thought it would be easy to 'eat out' but it is not, and not just because the streets are dark (the country is, incidentally, extremely safe) or there is no signage. We got ourselves a driver and tracked down Jacqueline Dalais at her restaurant La Clef des Champs. If Mauritius has a celebrity chef, then Jacqueline is her: whenever huge names in the culinary world go to the island, it is she they seek.
Yet she told us that 90 per cent of her business is in catering: weddings, cocktail parties and entertaining at home. It seems that Mauritians (and ex-pats) do not really do restaurants: they just open their lovely villas to friends and acquaintances and call in the professionals to do the cooking. No wonder then that the island does not even have a restaurant critic. She'd be out of a job in no time.
The 'best meals of our lives' are usually the simplest: a ftira biż-żejt on Comino when the crowds have left; a 3am pastizz from Crystal Palace with friends and lovers. Practically every day, The Writer and I did what we never get a chance to do in Malta: eat with our toes nudging the sand. Nowhere is this more enchanting than at the Ilot Mangenie, Le Touessrok's privately-managed island. My feet were firmly immersed: is there anything lovelier than having lunch in swimwear and a nap to work off the wine?
Crusoe's is a rudimentary shack-like restaurant - a bit like Rew Rew but without the rickety tables and fully legal - and yet I can still taste the grilled lobster, freshly-caught from the lagoon just off the island. This is no marketing hype: in the morning I had watched three men and a dog (no boat) wading through the water off the hotel's beach, catching crustaceans using hands and nets.
At Crusoe's, there is a grill, a wood-burning oven (for pizzas!) and a fabulous selection of fresh everything, including palm heart and the huge Mauritian prawn. If you want service here, you stab the blue flag into the sand; if you want to be left alone, you hoist the red 'do not disturb' one: so simple, yet so wonderful (in a non-The Matrix way). At 1pm, the blue flags were up in droves. They even have a waiter - charming and a total tease - called Robinson, like the bar. You couldn't even invent him.
Back at Le Touessrok, the surprises never ceased. On our first night, at the buffet restaurant, we got personalised menus and an offer of table service should we not feel like getting up and attacking the Indian and Mauritian selection. The Italians, as per tradition, stuck to the pasta counters, if only to attempt to grumble loudly that it is not 'what mamma makes'.
'Does everybody get this?' I asked our waiter. 'Yes, of course' he replied 'It's our way of saying 'welcome' to the guests'. I cannot imagine what kind of fabulous organisation goes on behind the scenes in order for this to happen, but it does, seamlessly. No wonder there were so many smiles on the sun-tanned faces. Oh well, maybe the fact that Le Touessrok is honeymooner heaven also plays a part.
Across from the buffet restaurant there is Safran, the modern Indian cuisine outlet. Le Touessrok was once owned by the same management as the One and Only Le Saint Geran. Hence Vineet Bhatia, probably my favourite modern-Indian Chef in the world, had kicked off Safran. He is no longer there but the restaurant itself is just gorgeous. Chef Ramesh Bundi originally from Bangalore in South India has taken over.
Housed in a wooden structure on stilts, overlooking the ocean, it is lit by just candles (perfect when you cannot be bothered to doll yourself up of an evening) and the menus are individually lit up by Mighty Brights, tiny book-reading lamps. The staff is so used to being asked about them that our waiter rolled off the website URL immediately when we said we wanted to buy some.
The cocktail list is pages long, the wine-list extensive and the prices extremely reasonable. We found this throughout our stay, which is why most of our bills from both Sugar Beach and Le Touessrok were drenched with a ludicrous quantity of cocktails, all expertly made, and mostly costing as much as a cappuccino in a Maltese 5-star hotel. The food was impeccable and as expensive as a mid-priced London restaurant.
All the locals semi apologised for Mauritius being 'expensive' but, in comparison to here, it is most definitely not. The prices are quite alarming in that they are mostly cheaper than most local restaurants and this really made me wonder what on earth we're trying to sell here: a dirty, dusty country with not-so-fabulous accommodation and a background of construction which constantly comes to the fore.
Considering that we were eating in some of the best hotels in Mauritius, this price situation came as a very happy surprise. Be a canny traveller and book half-board: that way, you will only pay 'extra' if you decide to leave the hotel or snack up during the day, which, as we all know, is natural when you're on holiday.
As it was, the priciest choice was also probably one of the most amazing. Vineet has moved his Rasoi (which literally means 'kitchen') to the One and Only Le Saint Geran. He revisits, with family in tow, six times a year, and we managed to miss him, sadly, by one day. TW and I have eaten at Rasoi in London (a couple of weeks after it opened) and in Dubai (another gob-smacking meal at the Grosvenor House Hotel) and this one in Mauritius was probably the best occasion ever.
Rasoi is cut off from the main hotel. It juts out on the ocean and curious swans will wade close to the shore and ignore you, lending the ambiance a Narnia quality. While we were there, it started belting down. Did we want to move inside, the staff asked? It was our last night and we had no intention of giving in to the weather's demands, so instead they brought me a pashmina and the huge umbrella kept us protected. We increased our body temperature by tucking in.
Bhatia's menus go from strength to strength and his verve is felt in every dish. His executive chef at Rasoi leads a very good team in the open kitchen. Everything you eat is freshly cooked. I particularly remember the spice smoked salmon, the chicken tikka makhani, the tandoor prawns, the melt-in-the-mouth chicken thighs, the just-right level of spicing (Indian 'medium' not European medium) and the superbly attentive service, which, by the looks of it, means a minimum of one waiter per two-person table. Rasoi was probably the most expensive restaurant we visited but it is definitely worth every single rupee.
One of the readers on www.planetmona.com told me he'd found a 'great deal for flights' online. We went through it carefully together. It was going to entail a 7-hour wait in Heathrow. I cannot imagine the joy of that and I told him, especially since he was off on his dream honeymoon.
"Who are you flying with?" he asked. I told him. Online he ended up buying a slightly cheaper ticket with a perfect three-hour stopover in Dubai airport, where the food selection is extensive (they even have a seafood bar) and the shopping is the closest you will get to packing that 43-kilo allowance.
People fly with an airline like Emirates for various reasons, mostly, oddly enough, food-related. I do it because for the Maltese, the stop-overs to Asia and Africa are usually spot on, their service unparalleled (on the way back from Dubai I seriously considered asking our steward if he wanted to be my personal butler) and their food, considering it is consumed 35,000 feet up in the air and when you are particularly tired in that weird I-can't-sleep way, just what it should be.
This time, we were luckier than ever: on three out of the four legs, we flew on the 777-300. I cannot explain how fabulous these planes are. Sadly, there is never any guarantee that you will get any particular aircraft: what an airline 'sends' depends on the quantity of passengers booked. We were just lucky: flying in the peak season helps because you need big planes for loads of people.
My fear-of-flying is well-documented and somehow, the bigger the plane, the less turbulence you feel. Apparently on the A380's, those behemoths of the skies, the plane does not judder if you go across bad weather - it swings calmly. Sleeping is always difficult for me (TW was out like a shot the second his seat had turned into a bed) so I watched several editions of the US Office, a couple of films, read an entire book and ate every single thing - from the breakfast grill to the zeppoli - that the staff put in front of me. Food on a plane is mostly a way of keeping passengers seated and controlled. Not to put too fine a point on it, this stuff was better than a 'dolce o salato' thing.
Dubai is going through economic hell right now, but their airline must be doing something right: they were packed to the gills on all the flights. There is a daily flight to Mauritius from Dubai and an extra one to the same airport three times a week. We realised, at the airport itself, that Le Touessrok even has a full-time representative checking their guests in no matter who you fly with: a lovely final touch to wrap up a holiday destination where the attention to detail is relentless.
Those stunning powdery-white beaches, that amazing blue, the green of the sugar plantations and the never-ending quantity of quality food make this my kind of holiday. When are you going on yours?
---
Any comments?
If you wish your comments to be published in our Letters pages please click button below.
Please write a contact number and a postal address where you may be contacted.
---


All the interviews from Reporter on MaltaToday's YouTube channel.
---
EDITORIAL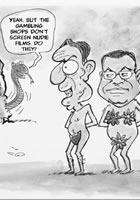 Better regulation is better governance
INTERVIEW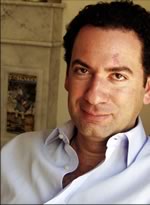 A midsummer's nightmare?

---