| | |
| --- | --- |
| News | Sunday, 21 June 2009 | |
Karl Stagno-Navarra
The European Union border agency Frontex operating from Malta has for the first time ever coordinated a mission that led to the forced repatriation operation of migrants at sea.
74 illegal migrants sighted last Thursday afternoon by a Maltese private aircraft at approximately 126 miles south-east of Malta, was transmitted to a German Puma helicopter participating in Operation Nautilus IV that is being coordinated from Malta.
Senior military sources revealed with MaltaToday that the German helicopter was instructed to work closely with the Italian coast-guard in the area, that picked up the migrants Friday morning, and handed them over to a Libyan patrol boat.
The Italian army is participating in another joint patrol along with France, to monitor the Sardignia-Lampedusa route.
The mission has been defined as the first ever forced repatriation operation coordinated by Frontex on the high seas. Even though the migrants were intercepted by an Italian coast guard boat, the same migrants, that included women and children were identified by a Frontex asset that followed the operation through.
Meanwhile Italian police have reportedly been in contact with the Maltese authorities, after 10 migrants who escaped from Safi and Marsa detention and open centres, were apprehended in Sicily.
The migrants were caught on the Ragusa coast shortly after being ferried by a Maltese speedboat.
The news re-opens past issues with the Italian authorities following a series of tragic trips by speedboats driven by Maltese criminals that exploit the migrants and secretly take them to Sicily.
---
Any comments?
If you wish your comments to be published in our Letters pages please click button below.
Please write a contact number and a postal address where you may be contacted.
---


All the interviews from Reporter on MaltaToday's YouTube channel.
---
EDITORIAL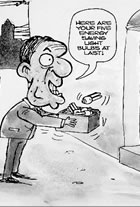 The day 'Smart Island' stood still
---
---