| | |
| --- | --- |
| Michael Falzon | Sunday, 21 June 2009 | |
Two weeks ago I laughed off a report appearing in the GWU Sunday paper, it-Torċa (June 7) that complained that Russians are taking jobs from Maltese citizens. The jobs in question were in the 'sex industry' and the gist of the report was that Maltese prostitutes are losing out to Russian women. Judging from the report in it-Torċa, it seems that the Maltese sex workers are in need not only of a good 'facelift' but also of a branding exercise! In short the Russians are more attractive and more accommodating, to say nothing of the fact that to Mediterranean ears, their nationality sounds exotic.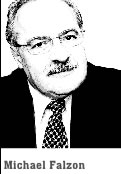 A few days later, I received a telephone call with a plea for help from an acquaintance of mine, a Russian travel agent who was in a quandary as the Maltese authorities had refused a visa to the female of a Russian couple who intended to spend a week's holiday in Malta with their child. The father and the child were regularly issued with visas, but the mother's application was summarily refused. I contacted someone at the Tourism Secretariat who found out that the visa had been refused by the Police. I was told that the refusal could not be reversed, and the only way the woman could get a visa was for her to apply again. The Russian family – two adults and a kid – had planned on a bona fide holiday in Malta but eventually went to Turkey, a country that does not hassle people who want to go and spend their holidays there.
I say 'bona fide' holiday because the three Russians had a return ticket and confirmed bookings as well as a hotel reservation for the entire week's stay in Malta. Alas, some bright guy from the police must have suspected that they must be some form of 'security risk'!
This is of course, complete hogwash. The way the visa system for entry into Malta of non-EU nationals works – if it does – is a shambles and flies directly in the face of the efforts of the Maltese government to entice tourists to visit Malta, in times where tourism figures have been falling in all Mediterranean countries.
It seems that the visa system – over which the tourism authorities have no control – is run by a branch of the Police Force together with an immigration office which falls under the responsibility of the Ministry of Foreign Affairs. Co-ordination does not seem to be the name of the game. The Foreign Ministry can overrule a Police decision to refuse a visa, but only before it is refused – hence the suggestion that the Russian woman should reapply for her visa.
Somehow or other, it does seem that the preponderance of visa refusals, at least in the case of nationals from Russia and other eastern countries that were formerly part of the Soviet Union, concern women of a certain age group that are apparently traveling alone. This means that couples with different surnames are in for problems when they seek a visa to spend some time and money in Malta! I know of another case in which a young eleven-year old Russian girl who was accompanied by her grandmother was almost refused a visa, as the Police did not realise that she was a child and the difference in surnames meant they were unaware that the grandmother and grandchild were not traveling independently.
The police responsible for visa processing are, apparently, doing their utmost to preserve our virtues. But are they? Not according to the report in it-Torċa that implied that there is no dearth of Russian prostitutes in Malta. On the other hand, there is no doubt that currently there is a dearth of bona fide tourists coming for a short holiday.
In this rumour infested island, this situation has hatched an interesting conspiracy theory. According to this rumour, those who profit from the sex industry in Malta and use Russian prostitutes are a select group who want to protect their interests by avoiding as much competition as possible. Apparently, they seem to have no problems recruiting Russian women and bringing them over to Malta. At the same time, however, other would-be competitors find many obstacles when they attempt to pull the same trick – via the Police protecting Malta from an invasion of Russian prostitutes, a process that leads to many bona fide tourists being refused a visa!
It is, of course, impossible to ascertain whether there is any truth behind this rumour. But it is a fact that the Police efforts in the visa area have not led to a decrease in Russian prostitutes but have only led to a decrease of bona fide tourists visiting Malta! Whether this is just a coincidence or the result of a conspiracy, the situation needs to be addressed.
I understand that the Maltese Government has engaged a private – Indian owned – company to process visa applications by Russian nationals in Russia, but this move has only increased the fee that is paid for a Maltese visa as the situation has practically remained the same as when these applications were handled by the staff of the Maltese embassy in Moscow.
Perhaps the Maltese government should enquire why a Russian citizen applying at an Austrian Consulate in a Russian city for a Schengen visa to visit Austria gets his visa in a matter of days while another Russian going to the same consulate for a Schengen visa to visit Malta meets all the difficulties in the world, including the necessity of an 'interview'. Malta's attempts to be holier than the Pope will never be thwarted! We were more imperialists than the British and now we seem keen to abide to all the nitty-gritty of EU regulations and by-laws in a way that makes us more European than Brussels! Has this administration relegated itself to an EU technocracy/bureaucracy?
Looking at the large picture, of course, this means that the present administration has contrived yet another built-in contradiction in the way of doing things: the stupid short-sighted and insensitive way how visa applications are processed contradict directly the government's efforts to help tourism get out of a downturn generated by the global financial recession.
Some of those who provide services to incoming tourists tell me that the visa problem is not just restricted to Russian nationals. Similar problems exist in the case of tourists coming from Algeria and Tunisia as well as from Serbia and Ukraine, to mention just a few tourist markets that Malta could – and should – be tapping more vigorously.
The government seems unable to get its act right on this one, apparently content with letting one part of the administration undermine the efforts of another part of the same administration. Did anyone say that the left hand is not aware of what the right hand is doing?
micfal@malta.net
---
Any comments?
If you wish your comments to be published in our Letters pages please click button below.
Please write a contact number and a postal address where you may be contacted.
---


All the interviews from Reporter on MaltaToday's YouTube channel.
---
EDITORIAL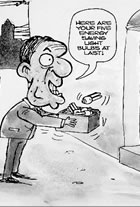 The day 'Smart Island' stood still
---
---