| | |
| --- | --- |
| Mona's Meals | Sunday, 21 June 2009 | |
They call this a Mickey Mouse country but it most definitely is not: in the land of Minnie and Pluto, everything works smoothly and when the stuff hits the (wind or solar-operated) fan, the fan gobbles it up so that nobody even realises that the turd was there in the first place.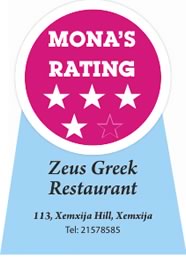 Every year, our electricity, 98 per cent dependent on outdated fuel technology and the infamous turbini, departs on a few hours' holiday to its own hot Bahamas. This year, just to prove that we can do everything better than every single third world country, it was not enough that we lose power in the morning, or again in the early afternoon, but yet again in the early evening. At 8.00pm, Sliema and Gzira residents were still freaking out, their mobile power running out, their laptops bereft of Facebook, their WiFi connections a memory of a distant past like an episode of South Park.
Years ago I was reviewing a restaurant in Paceville when the electricity just got up and left. Scores of diners were left in the soft glow of candlelight, looking at each other over their scorched hair, pining for food. We waited three hours for our salad starter. I wrote about the experience.
The following Monday, a very irate owner called me and screamed down the phone that his sous chef was locked in the basement stores because he could only get there and back by using the lift. The irony of attacking the writing (me, really) because of something illegal (not having a fire exit) that he been sanctioned by lord knows which means completely escaped him. I told him that if he felt comfortable charging punters full whack for an abysmal, illegal evening, then he had to ensure that they got their worth. And this, if necessary, included a generator (and not just backhanders) backing his operation up.
Not much has changed since then, except for the fact that a couple of electrically-powered months later the restaurant closed down.
During Tuesday's power cut one huge supermarket chucked out its many customers and closed its doors because they could not operate without electricity. This meant one very serious thing: that it had no generator power and that every single frozen thing was slowly defrosting and preparing itself to poison the idiotic customers who would be buying them later. Ice-cream, for example, is the first thing to defrost, and the one thing you should never refreeze.
The supermarket was open again in the late afternoon, with a mobile generator parked outside. I would not want to be around the ridiculous customers' loos after they've had a few scoops of vanilla (flavoured) cream.
The lack of seriousness is marvellous and serious. The implications of a country the infrastructure of which can only function when everything is moving fine, where the concept of 'finishing' is nil and the kollox jghaddi Guz mentality a part of our everyday lives means that somebody somewhere signed this supermarket off. I'd like to see a couple of health inspectors, a bunch of people from MEPA and the myriad quangos we have set up to give the okay Jose to these outlets answer on their behalf.
Will this happen? As the editor of this very paper once said, will it frig.
I do bring a ray of light, even though, like Florence Nightingale, I have to do it in the light of the lamp and my MacBook.
Zeus is in a stretch of land best known for attracting bunches of people whose idea of 'posh' food is a prawn cocktail. They don't know what to do with a real napkin because they have never seen, let alone owned one. Xemxija Hill, is, in fact, the equivalent of Triq il-Gardiel in Marsascala, only less smelly: a street full of cars which attracts myriad low-quality restaurants. Moreover, in spite of tweaks, it still looks terrible from the outside.
Zeus, therefore, is like Tal-Familja and Italianissimi: making a huge effort in abysmal surroundings. I am hoping that you will notice this. They've spent a truck-load of dosh on upgrading the inside: new chairs, lovely cutlery, huge cotton napkins, crystal glasses and a very informed service led by the husband and wife team. The punters are easily split in two: the groups of upgraded Ta' Soldis and the quieter bunch who know that they can come here for some excellent Greek food at ridiculous prices. I'm about to spoil it for the both of them.
The restaurant once had a humungous menu. The Old Coin people like that, you see: they can never forget the time when it was impossible to eat out or eat plenty, so they enjoy massive lists, disregarding the fact that this means that 90 per cent of it would come out of a freezer, and still order the fillet anyway. In these cost-conscious days, substitute fillet for rib-eye. It even sounds posher; more knowledgeable.
You have to go beyond all this to enjoy Zeus. First of all, it actually has garage parking which, around these areas, is like saying that somebody is strewing gold dust; people will tumble over themselves to lap it up. Moreover though, the menu, all genuine, all real Greek, has been pared down to, oh, six pages? That is minimalist by their standards.
Have their king prawns in whatever format. They do a simple version with garlic and ouzo, the aniseed-flavoured 40 proof alcohol which used to send us to disco land after two rounds, and another more complicated one with feta cheese. Both are fantastic and the crustaceans are allowed to shine through. Have any version of the meat balls: these people know their herbs and spices and they're not stingy with them.
Have the fresh fish: I was only in Greece for ten days or so and it was so far back that I could still swim half naked and not feel self-conscious. Yet I can still remember the fresh fish at the tavernas by the beach. Zeus also has an excellent wine list. Ask them about it because when they recommend, they know what they're saying. Please try and go beyond the fact that the people in the table next to you, eating the fillet, are having Mateus Rosé spiked with Kinnie.
I had the Greek fish soup for a starter; it's just fantastic, choc a block with chunks of salmon, mussels and octopus. I may have smelled a whiff of stock cube in there, in which case the sous chef should be hit on the head, maybe with a large tub of Greek yoghurt. They have loads of 'stifadi', which must be the Greek equivalent of the local 'stuffat', including snails cooked in celery broth, as well as souvlaki, which are skewered meats, but sound posher.
We had fish for mains, and loads of little bits and bobs on the side which turned out to be humungous. The portions here are big because they have to be and the most expensive item on the menu, rather than the starter as in some other places, cost €23. The fish, incidentally, was well chosen and simply poached. Try the taramasalata but only if you like salty and you don't mind fish roe. Or pink on your plate.
Dessert was a baklava, pastry slightly hard but packed to the gills with nuts, and some lovely and thick Greek yoghurt with honey. I didn't really love the figs on the side and found them a trifle too hard.
It is difficult to go beyond the surroundings of Zeus but if you drink enough - they even stock some quality Greek wines, which is probably a first on this island - you will. For such dull surroundings, once you get beyond the tiled facade, it is a beacon of hope. Grab the light before it goes.
---
Any comments?
If you wish your comments to be published in our Letters pages please click button below.
Please write a contact number and a postal address where you may be contacted.
---


All the interviews from Reporter on MaltaToday's YouTube channel.
---
EDITORIAL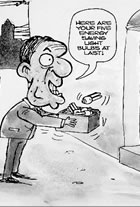 The day 'Smart Island' stood still
---
---