| | |
| --- | --- |
| News | Sunday, 05 April 2009 | |
Matthew Vella
Bay Radio's station manager Terry Farrugia is expected to join the same radio's former head of sales Justin Chircop at the helm of Capital Radio.
Eighties-hits station Capital Radio stopped operating on 1 April after owners Mediacoop Ltd transferred the licence to its new owners.
Speaking to MaltaToday, Justin Chircop confirmed he was one of the partners that will run Capital Radio. "It is too early to divulge who the partners are because we want to launch it properly."
He denied rumours of a bitter fallout with hotelier and Bay Radio owner Kevin Decesare. "That I had any clashes with Bay is totally untrue. I worked my notice and left end of January on amicable terms. Kevin and I also had lunch together after I resigned."
Terry Farrugia, a Bay Radio mainstay for the past 13 years, has also left the station to join Chircop at Capital.
"It's a little premature to state anything. There was no clash with Kevin. He was away and I was about to tender my resignation on Monday, but it turned out that he already knew. I just did not work my notice, that's all."
Asked whether he was one of the new partners at Capital, Farrugia said: "It's looking that way, but it's a little premature to talk about this."
On his part, Kevin Decesare is already looking for a new station manager, a job that carries a €45,000 salary.
He said he got to know Farrugia would be leaving two weeks ago. "There is no bad blood with Terry, but anyone would be disappointed when someone you've been working with for 13 years leaves. Then again, we've never built Bay Radio around one person – it's a jigsaw puzzle, and you lose one piece, and you get another one."
Asked how he feels about facing competition from his former employees, Decesare said Bay was a solid station. "I say, bring it on. We still don't know what type of radio station it will be, so it's wait-and-see. I think many stations try to emulate us and take us on, which is a compliment in itself."
This will be the second time Capital Radio had its licence transferred to new owners. Originally, the licence was awarded to Alternattiva Demokratika, which subsequently transferred it to Mediacoop.
---
Any comments?
If you wish your comments to be published in our Letters pages please click button below.
Please write a contact number and a postal address where you may be contacted.
---

All the interviews from Reporter on MaltaToday's YouTube channel.
---
Editorial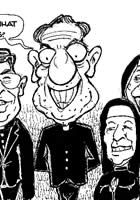 Giving to God that which is Caesar's
---
Opinions


Saviour Balzan
Meet me at 10am


Anna Mallia
Traders are going to jail
---