| | |
| --- | --- |
| Mona's Meals | Sunday, 05 April 2009 | |
This credit crunch is like a war: it is now acceptable to murder your enemy (in business, figuratively, although not always), steal and pillage. We Maltese have always been experts at this, possibly due to the fact that we are so small and have developed a destroy-rather-than-be-destroyed mentality. This time, though, we might be killing ourselves in the process.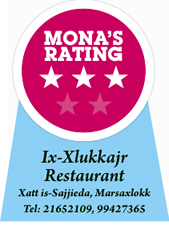 In the world of services, including advertising, the situation is bad all over the world, and it is dire here. As a customer, you could never order something in a shop and not pay for it after you use it but try chasing your debtors and see where you get to in Malta. As the Art Director told me last week "They want everything. They want it now. And they want it free."
Restaurants are the same. Many of the local ones are doing very, very badly. In the UK it is the high-falutin' 3-star Michelin ones that have been worst hit; mainly those dependent on expense accounts a.k.a. diners who don't have to pay for their £2,000 bottles of wine. Now these have been curtailed, the 2 and 1 stars, and value for money outlets are thriving all over Europe.
Take the River Café in London, for example: at lunch time, it is always packed with people. Since the fire and the subsequent refurbishment, this place, with its mega chefs, its wonderful owners and fabulous food, is on a roll and nothing can stop it. Certainly, it is not just the enchanting location over the Thames which puts bums on seats but also its lunch winter set menu, at a ridiculous £18 for two courses and £24 for three; and that includes their infamous chocolate nemesis.
I had to beg and plead to get a table at Racine, London's topmost French restaurant. On a Thursday night, it was jam packed. Dinner for one came to less than £50. Considering the quality of produce and final product, I think that's reasonable. Apparently, so did another hundred diners when I was there.
And therein lies the crux. I have just returned from an overland trip through the UK, France, Switzerland, Italy and Sicily. So many Maltese are going to the UK to buy themselves their dream vehicle and driving over that I thought I may as well see how I can help them get a culinary adventure out of it. Eating your way through all the motorway cafes is no joy, yet the most frequently asked question whenever I tell my friends I've found some wonderful hotel or restaurant on a journey is: "Is it expensive?"
The Italians have a wonderful maxim which they apply to all their forays into the food world: rapporto qualita-prezzo - the relationship between quality and price. That, to me, is the most important thing. If you're thinking of driving over and stopping to eat, read the daily blogs of the trip on www.planetmona.com and tell me if you think it is.
For example, on our honeymoon we went to North Island in the Seychelles. It costs $1,000 dollars a night. For most, that is breathtaking. We went and spent three days, not three weeks, whizzing around in helicopters, enjoying the dream-like ambience, eating as much quality food and drinking quality champagne as we felt like. All was included in the price.
Others go on a Caribbean cruise, spend two weeks eating burgers and pizzas (as much as you like! Whenever you like!), cramping themselves with another two hundred guests in a pool as big as a bath, sleeping on one metre beds, and spend the same amount, if not more. There's a choice: you make yours, I make mine.
Following the adoption of the Euro, local restaurants have gone a bit crazy with their prices. I still convert to liri all the time, and I am shocked at what I am paying. Wines especially have taken on surreal prices: a decent French red will easily go over the €20 mark, although those are always overpriced anyway.
To my mind, a restaurant in Marsaxlokk should, unless it is dishing out food so amazingly different from everywhere else, be good value for money. It comes with the territory. Try as I might, I cannot find one that does this, except for Is-Sajjied, which I reviewed a few months ago. Ix-Xlukkajr is still indecisive: it wants to do good, it wants to do different, but it's still trying to please the masses who put quantity before quality and who drag everybody else down.
On a Sunday night, we were lucky it was open; most places are closed. There were me, The Writer, The Cowboy and the Stunning Brunette (he hasn't changed girlfriend - she changed hair), as well as a British couple, a lone man, a Maltese family and a local couple. That's 30 per cent occupancy.
Neal Debono, who runs the place, talks the talk. He is a soft spoken fellow with a very good standard of education. He tried, very hard, to sell us the shellfish, because he'd got a 'good price on them'. We were not highly enthused about mussels and clams and should have stuck to our guns and our knowledge of Anthony Bourdain: 'there is no such thing as cut price seafood'.
Somehow, he convinced us. The clams were dry and overcooked; the mussels smelled. The octopus was dry, its garnish overpowering, I had called in the morning to see if there were any items we should book early but Neal insisted they had enough of everything. Sadly, this did not include the oysters: there were only three left by the time we arrived.
The king prawns were overcooked, they smelled of ammonia (a preservative fisherman use out at sea) and their heads were turning black. This is a sign of age. We told Neal. He kept cool and collected but insisted on showing us the raw ones. This can never convince a punter: with fish, showing the customer the raw version is useless when they've just attempted to eat a lesser quality version and been charged for it.
Debono insisted that he would cook us the lovely pink prawns he'd shown us: the result was a wonderful, much better quality, more fragrant dish. The black ones should never have come out in the first place. They should not have been on our bill for €12 either.
Do you see what I mean when I say 'value for money'? Since when are we paying €3 per prawn? Or €8.50 for a fritto misto, which TW had, and which had a batter which had been prepared hours before and had lost all its air? Or €8.50 for a couple of handfuls of rope-grown, ever-so-slightly off mussels and dry octopus? In all, including two scallops in a creamy herbed sauce, we paid €39 for starters for four people. That's €10 each, €5 of which was dubious. 'It's our fault for going to a seafood restaurant after two days of high wind' TC said.
The fish for mains, though, were stunning: together with Neal, they win Ix-Xlukkajr an extra star. Our gurbell (brown meagre) for two, although not cheap at €28, was milky white and had excellent structure and texture. TC's cipullazza, at €21, less value but still very well cooked. The roast creamy potatoes were fantastic. TSB had the shellfish platter - more of those damned mussels - and was convinced by Neal to 'try the scallop'. Neal, darling, if you enthuse people to 'try' something ('let me get you a scallop!') you don't charge them for it: it is like asking people to a party then making them pay for the drinks.
Some desserts, such as the chocolate orange one, are made in-house. Mine was lovely and light but still a little too heavy to be called 'dessert'. TC's cassatella was dry and full of sponge. They should change supplier. TSB had an apple pie, which she pronounced 'fantastic' even if TC correctly remarked that the choices were more applicable to tea-time than dessert. TW had a lemon meringue which he liked. We were offered espresso and a liqueur on the house.
If we want to get out of this sorry economic situation there are many things we have to start doing. One of them is not using the credit crunch as an excuse for over-priced, over-wrought and so-over products. The other is providing good value coupled with excellent quality. A flair for sourcing quality raw ingredients and a knowledge of turning cheaper cuts into dream dishes. If our European counterparts can do it, we might as well try it too.
---
Any comments?
If you wish your comments to be published in our Letters pages please click button below.
Please write a contact number and a postal address where you may be contacted.
---

All the interviews from Reporter on MaltaToday's YouTube channel.
---
Editorial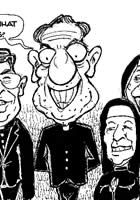 Giving to God that which is Caesar's
---
Opinions


Saviour Balzan
Meet me at 10am


Anna Mallia
Traders are going to jail
---