| | |
| --- | --- |
| Saviour Balzan | Wednesday, 04 February 2009 | |
I am not quite sure, but did the Minister of Finance not say that ST Microelectronics would be hanging on? And that all the news that they would not be operating any longer, was in fact just a whole load of bollocks?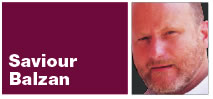 Yes, he did. Perhaps not in those words, but he did.
And of course, he was reported with the traditional pomp and fanfare that accompanies the quotes of our very competent ministers.
Then some days later, a week to be precise, another Sunday newspaper declares that ST would be discarding jobs. And of course, this time it has to be true.
A week earlier, MaltaToday's Sunday edition had carried the news but somehow the powers that be thought it unreasonable. Soon after this, we had Minister Fenech's muddled reaction, saying that he did not say what he said, and that he had been misinterpreted.
Well, that could be the case, but a week before we had reported the news, the spin doctors at the Office of the Prime Minister were pleading with MaltaToday not to run the story.
The inference was that the situation was so 'delicate' that any news on the matter would possibly jeopardise the whole negotiation process. On Sunday it was Tonio Fenech who was trying to be philosophical about a depressing international financial situation on Radio 101, saying that the international situation and high costs of operations had led ST to consider moving many of its operations. Like we didn't already know that.
The minister, who is no longer a junior, has argued that the real contribution of ST to the economy is not as big as we imagine. That, of course, is what he would like us to believe.
And as he speaks, that other mega project, that of Smart City, is probably going through one veritable stillbirth.
It is captained by chief executive Claudio Grech, the man who negotiated with Tecom on government's behalf, only to be chosen by Tecom itself to run the mega-project which, according to Austin Gatt, will inject unbelievable value added business into the country.
In reality Smart City is a real estate project, and no matter what they say about smart initiatives and IT projects, it is just an exercise in speculation. This time, instead of fat grubby Maltese kuntratturi, we have Arab sheikhs who think that money is really no problem.
They should however be thankful that they bought the land at Xghajra for a pittance. They should very well be thankful to Claudio Grech, for having negotiated such a good deal for both the government of Malta and Tecom.
Which takes me back to Tonio Fenech, the minister who now runs our finances and who does not seem to be worried about anything, including whether Smart City will be a flop or not.
Flop or not, it does not really concern them. It concerns us who are lumped with these decisions, the ones that usually get the stick for bad decisions: the taxpayers. Those, by the way are usually, the middle class – the patient middle class.
Bottom of my heart
From the very bottom of my heart I have to thank Malcolm Naudi, president, Joe Vella, secretary-general and Mario Schiavone, treasurer of the Institute of Journalists, for their heartfelt support.
Their loud and clear sign of solidarity when Malta Today was fined €7,000 for a 'What's On' item in MaltaToday's culture pages four years ago which briefly made reference to slot machines.
The court sentence was a ruling by Giannino Caruana Demajo, an appeals judge who overruled a former magistrate's court ruling that had acquitted me.
I am deeply indebted to Malcolm Naudi, an associate of entrepreneur Kenneth Demartino, and now no longer a journalist but a PR man; Joe Vella, once-upon-a-time a journalist with the defunct MaltaNews in the early 1980s; and Mario Schiavone, once a journalist and now PRO to Dolores Cristina, for doing f*** all and not even considering to open their mouths over the matter.
I wish them well, and I am confident that when the moment of truth does arrive, I will not find their comfort or backing.

PRINT THIS ARTICLE
---
Any comments?
If you wish your comments to be published in our Letters pages please click button below.
Please write a contact number and a postal address where you may be contacted.