| | |
| --- | --- |
| Anna Mallia | Wednesday, 04 February 2009 | |
History repeated itself this week: a boat of more than 200 illegal immigrants landed in Marsaxlokk without any hassle, and scattered themselves all over Malta; some of them also had the audacity of knocking on residents' doors to ask for clothes and food. I am surprised they did not also ask them to give them somewhere to stay.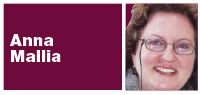 In January we had the landing of more than 200 immigrants, last July another group of 206 landed in Xlendi, Gozo without any trouble as well, during the same month of July another two groups landed in Xlendi, and lo and behold, everybody stays still and does not question the people who are supposed to be in charge of our security.
At the rate we are going, it is no wonder we are living on a time-bomb, expecting from one day to the other to be outnumbered by these illegal immigrants. I am not exaggerating when I say this particularly because the people in charge of our national security seem to be incompetent enough not to locate anything illegal in our waters.
I do not know what equipment the Armed Forces have to protect our shores from foreign invaders or pirates (which are very common nowadays) but it seems that they either have no equipment at all or they are not competent to do the job. They go overseas to help EU missions and save other countries who are in trouble and they fail to save us from foreign interventions.
I am surprised how the Marsaxlokk local council kept silent on this point, after having cried so much for the victims of the Simshar. Or was this just lip service? After the Simshar tragedy we learnt that the person in charge of the Vessel Monitoring System (VMS) of the fisheries control division was not in his office when the tragedy struck.
VMS is a tracking device which works by beaming a signal to a geo-stationary satellite relaying the vessel's precise co-ordinates in real time to a local service provided. This information in turn is passed on to the Fisheries Division, the AFM and the boat-owner's family.
But it seems that this regulatory tool, in part financed by the European Union, once again did not actually function when it came to the crunch. It did not locate this vessel at all, so much so that the boat entered Marsaxlokk waters without any trouble at all and the only thing that was missing from the scene was the banner 'Welcome to Malta'.
Because let us face it, this is what we are telling the illegal immigrants when we are failing to locate them when they enter our waters. And to add insult to injury, we also fail to locate them when they are ashore so that even this time, it is always the public who signals the alarm bell to the authorities when it should be the other way round.
So what is going wrong? We do not know and they do not want to tell us, and it seems that we do not care either as otherwise how can one explain that nobody calls for the resignation for the minister responsible for the Interior, who is responsible for our national security?
If we are unable to locate a boat with illegal immigrants or any other boat which has no authorization to enter Malta, imagine what is taking place in this country without our knowledge.
Imagine how many boats enter in Malta illegally carrying drugs, alcohol, and human beings, without being traced by those who are paid by our money to ensure that this does not happen. I am not exaggerating when I say this, precisely because if these illegal immigrants can enter Malta and land in Malta without any obstacles, who knows what sophisticated boats with sophisticated equipment are doing without our knowledge and authorization!
In the meantime the authorities do not see the need for any enquiry to be made as to why do these boats keep entering our shores without being detected by our security forces. Malta is an island and national security does not start and stop on land but it has to start from our waters.
We do not have a navy entrusted with the security of our waters, the maritime squadron of our Armed Forces is still very ill-equipped and not properly manned, and although the EU is responsible for our security, it is failing miserably in this regard.
Mind you, if we do not respect ourselves we can't expect the EU to respect us. The government is making no issue about the fact that we need technical and financial assistance to set up a proper coastguard as many EU countries have, and unless we shout in Brussels, Brussels will not hear us.
A coastguard is a must for an island such as Malta and although every now and then we get to know about ceremonies taking place of donations here and there of equipment and boats to the maritime squadron. These are just pieces in a puzzle that has never been solved. A coastguard is a must now more than before, and unless we have a coastguard we will continue to be invaded by illegal immigrants and contraband and narcotics.
What role does the Maritime Squadron of the Armed Forces of Malta is playing nowadays I do not know, and nobody from the authorities and from the Opposition, for all that matters, dares to ask how and why the boat in Marsaxlokk (not a dinghy mind you!) was not detected by the authorities not even when it entered Marsaxlokk Bay.
I do not know how you feel but I am worried to death that if we continue with this attitude and if word spreads around us that Malta is the safest place to enter without any problems, then we are really in big trouble.

PRINT THIS ARTICLE
---
Any comments?
If you wish your comments to be published in our Letters pages please click button below.
Please write a contact number and a postal address where you may be contacted.