| | |
| --- | --- |
| Editorial | Wednesday, 04 February 2009 | |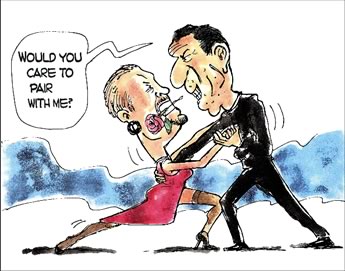 The Nationalist Party media's reaction to Joseph Muscat's speech last weekend is symptomatic of much that is wrong with Maltese politics today.
In a two-hour speech at the Labour Party conference on Saturday, the Opposition leader touched upon a wide range of topics, including the energy tariffs, the City Gate project, the privatisation of the Malta shipyards and the Ghadira road proposal, among many others.
In the process, Muscat also quashed any notion of offering a pairing agreement to the present administration, in protest against the latter's reluctance to discuss a motion on the St John's Co-Cathedral extension project.
Pairing is an entirely optional parliamentary procedure, through which members on the government side are "paired" with members from the Opposition benches, so that any time they need to be absent from the House, the corresponding member from the other side does not cast his/her vote in the House.
In a single-seat majority scenario, a pairing agreement will greatly facilitate the government's ability to carry out its programme without fear of a backbencher revolt. But it is by no means a mandatory state of affairs, as recent history amply illustrates.
After the PL leader's speech on Saturday, observers on both sides had much to comment upon: not least Joseph Muscat's low-key and understated performance, which was welcomed by moderates as a refreshing change from the aggression normally displayed on such occasions; but which the more militant element within the PL would surely have found disappointing, for its lack of belligerence and drama.
In fact, while the substance of Muscat's speech was largely interesting, its tone and delivery was flat and unenthusiastic, at times verging on the downright boring. But judging only by the coverage on NET TV that same evening, anyone would be forgiven for thinking that Muscat had roused his audience to commit serious acts of political violence, with a fire-and-brimstone speech of the type we now associate with his predecessor Dom Mintoff.
As has become typical of the Nationalist media under its present management, this aggressive and speculative spin was little more than a hysterical and quite frankly dangerous attempt at using history to sow instability and fear.
Comparing Muscat to "extremists of the past" is not only a grossly inaccurate reflection of his speech last weekend; it is also an unfathomable attempt to distort our country's recent history beyond recognition.
On the subject of the 1980s, this newspaper has never shied away from bringing the Labour Party – past and present officials included – to book over its violent past. MaltaToday has attempted to investigate this murky chapter – including the brutal murder of Lino Cauchi and the 'nationalisation' of private banks, among other episodes – and as such would be the last medium to suggest turning a blind eye to the vicissitudes which have shaped, and to a certain extent scarred, our nation.
But there is a difference between taking an analytical view of history, and simply using history as a trump card in an ongoing political tug-of-war. All too often, today's political forces tend to exploit this past for their own political ends, with little regard for how their distortions can impact the country's political climate.
Besides, comparisons between Muscat and the Labour Party of the 1980s are also grossly hypocritical, coming from a government which has recently adopted so many of Mintoff's own political stratagems itself.
For instance: Joseph Muscat's rejection of pairing came after Prime Minister Lawrence Gonzi outmanoeuvred him on a parliamentary procedure – a textbook strategy lifted directly from the 1980s Mintoff/KMB box of tricks – in order to avoid a parliamentary vote which would have embarrassed the PN.
Conveniently, however, NET TV and In-Nazzjon omitted to mention the fact that between 1996 and 1998 (when Labour also had a one-seat majority) the Nationalist opposition itself chose not to grant the same concession that Joseph Muscat, rightly or wrongly, is now withholding in turn.
The PN's hypocrisy in this instance is so astonishingly conspicuous that one can only wonder how the Nationalist-owned media could treat its own viewers/readers with such undisguised contempt.
The truth of the matter is that it takes two to tango. The government cannot expect to make life difficult for the Opposition, but then have the Opposition bending over backwards to accommodate its every whim. More to the point, it cannot reject pairing when in opposition, and then howl blue murder because the PL returns the compliment a decade later.
In view of this astonishing dishonesty and double-standards, the Prime Minister might wish to take a serious look into how his party's media are currently being mismanaged by a handful of political zealots with little or no regard for the truth.
After all, there is also his own government's credibility at stake.

PRINT THIS ARTICLE
---
Any comments?
If you wish your comments to be published in our Letters pages please click button below.
Please write a contact number and a postal address where you may be contacted.