| | |
| --- | --- |
| Reno Calleja | Sunday, 01 February 2009 | |
As a supposed man of God, Rabbi David Pollina should be ashamed of what he wrote in his article 'Palestinians and the Myth of Peace' (25 January).
Trying to justify the atrocities and terror the Israeli army inflicted on Gaza's 1.5 million Palestinians by twisting history, will not absolve Israel from the brutal killing of hundreds of small children and women who were murdered in cold blood under the pretext of the war on terror. Using cluster bombs and phosphorus to maim and burn children and pregnant women is reminiscent of what the Nazis wrongly did to the Jews.
I am a convinced democratic socialist and as a young man I admired Israel in its early days. The Kibbutz, to me, represented pure socialism. I remember that as an active member of the Labour League of Youth, former PM Dom Mintoff wanted to send me to Israel to live with the Kibbutz people. To me Israel, created out of the murder of millions of Jews by the Nazis, had an enormous moral responsibility to abjure violence and injustice. I believe that what Israel has done to the Palestinian people in the last 60 years has betrayed that responsibility.
The attached map of Palestine shows how the Israelis encroached upon and stole land from the Palestine's since 1948. It is this blatant incursion into Palestinian territory that has left millions as homeless refugees.
Rabbi Pollina represents the typical religious fanatics (be they Jewish, Muslim or Christian) who lack any sense of justice. It is the nature of such men to seek dominance for the fellow adherents of their religion at the expense of those who do not believe in their faith.
He reminds me of those fanatical Jews (who thank God are not in the majority in Israel) that justify the absorption of Palestine into the Jewish state by quoting the Old Testament, which according to them gave the Israelis every right to occupy the land that was occupied by the Palestinians. As if God were an estate agent...
Rabbi Pollina justifies the total destruction of Gaza, the killing of more than l,500 people, the wounding of 5000 Palestinians (most of them seriously) by repeating the Israeli propaganda machine that Hamas had fired 1,000 rockets into Israel. Of course this is condemnable, even if those rockets killed only three and wounded only a dozen Israelis. Even one single death, to me, is condemnable.
However, what Rabbi Pollina failed to state is that instead of encouraging the moderates of Hamas by accepting the result of the democratically held parliamentary elections held in January 2006, Israel, the United States and that the EU (in this case the errand boy of the United States) declared that they will not deal with Hamas. After that sweeping victory of Hamas, the Bush Administration which had heralded democratic elections in the West Bank and Gaza as a victory for their almost holy zeal to restore democracy in the Arab World, decided to castigate the Palestinians for electing for Hamas.
Instead of dealing with the democratically elected representatives of the Palestinian, the Israelis chose to arrest the ministers who replaced the defeated Government of Fatah. Instead of respecting the will of the Palestinian people, who were fed up with the corruption-tainted Fatah administration, the Israelis imprisoned thousands of men, women and young people from the Gaza strip.
They suffocated the people of Gaza. They continued to allow the building of settlements. Israeli armed helicopters killed several Hamas leaders with precise satellite guided rockets, blowing up their cars and homes even when they were accompanied by their wives and children.
Small wonder that the extremists of Hamas found a fertile ground to exact revenge on Israel.
It was this attitude that strengthened the extremists. It was these killings, arrests and oppression, along with the thousands of young people rotting in the Israeli cells without trial; the frustration of young people who felt trapped and suffocated in the Gaza strip, that made it so easy for some fanatical mullahs to recruit suicide bombers. These conditions created an army of young men and women who were convinced that by blowing themselves up and killing as many Israelis as possible, they would escape from the hell imposed upon them by Israel and go straight to heaven to meet the great Prophet Muhammad.
Desperate people do desperate things. If your father had just been killed by Israeli soldiers, if you see an innocent child being brutally murdered by Israeli soldiers despite the fact that his father was frantically shielding him, if your land has been stolen, if an Israel settler continues to build on your land, if your water is stolen, if your products are left to rot for days and weeks, because the Israelis do not allow these products to cross the border, it is easy for a Mullah to convince you to tie a belt of deadly explosives around your waist and become a human bomb
It was the unreasonable, but I suppose calculated attitude of Israel and the USA that allowed Hams to seize control of the Gaza strip in June 2007. It was this blockade that forced the people of Gaza to dig thousands of tunnels into Egypt. These tunnels were the only way the 1.5 million Gazans could get their food, medicines and cement... and, of course, arms and ammunition.
However who forced the Gaza people to dig these tunnels which became their only lifeline?
Is it not cynical that the invasion of Gaza by land, air and sea came before the Israeli elections which the right wing quasi-fascist Netanyahu was tipped to win? Was this not part of a ploy by Olmert's Kadima Party and Barak's Labour Party to show the Israeli people that they are as tough as Netanyahu? Was it not a coincidence that the attack was launched only 25 days before that buffoon was about to leave office and hand over power to Obama? Was it a coincidence that only one day before Obama took his oath of office, the Israeli butchers decided to declare a unilateral ceasefire?
I write so passionately because as Maltese I strongly believe that without peace in the Mediterranean there can be no peace in Europe.
I am proud to be European. But I am also proud to be Mediterranean. I am not one of those who believe that Israel should be wiped off the map of the Middle East. I believe in the existence of Israel. However, unless Israel realises that it has to stop building new settlements; unless it lifts the blockade of the Palestinians; unless it recognise Hamas as a legitimate force, whose representatives were elected democratically; unless it ignores people like Rabbi Pollina and chooses to talk rather than use brutal force to suppress the Palestinians; there will never be peace in the Middle East.
Despite what fanatics like Rabbi Pollina say about peace in the Middle East being a myth, there is hope. I am hopeful that President Obama will be able to do what other Presidents from the Democratic Party have managed to do. It was Carter who brought peace between Egypt and Israel. It was Clinton who almost brokered peace between Arafat and Rabin, who in turn was assassinated by a religious fanatic who, like Rabbi Pollina, believed that Palestine has no right to exist.
I hope that Obama will follow in his predecessors' footsteps.
---
Any comments?
If you wish your comments to be published in our Letters pages please click button below.
Please write a contact number and a postal address where you may be contacted.
---


All the interviews from Reporter on MaltaToday's YouTube channel.
---
EDITORIAL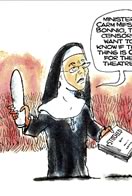 The blasphemy of censorship
---
---
---