| | |
| --- | --- |
| Evarist Bartolo | Sunday, 01 February 2009 | |
We've heard of people holding up banks. But the current financial crisis is showing us how banks can also hold up people and rip them off, without firing a single bullet or shedding any blood. Local banks too, out to increase their profits, cold bloodedly urge their more gullible clients to invest their money in risky ventures, which the banks themselves steer clear of! This is in line with a policy, whereby these banks reward employees who sell the most profitable financial products – profitable for the bank that is, not necessarily for the client.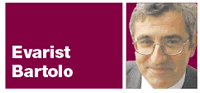 This is how it works. Say a client puts €1,000 into fixed deposit for a year in the bank at 4% interest, it is the bank's job to generate enough profit from all, including clients', deposits, through good investments, so that by the end of the year a client can take his €1,000 back and €40 in interest.
But if the bank 'persuades' the client to invest in other schemes with the promise that they will yield more interest, the bank will come out on top as whatever happens to the client's investment, the bank will end up earning a commission even if the client loses out. At the beginning of the year the bank sets targets for its employees to sell clients a range of financial products. On some of these financial products the bank earns only a commission. Some of these products include bonds where the bank itself is nominee.
Local banks have been urging many people to invest in so called 'perpetual bonds' issued by foreign banks, including those issued by the Royal Bank of Scotland, saying that these perpetual bonds gave the best returns as they had an AAA rating, that they could withdraw them whenever they liked and that they were completely safe. Now it has become clear that the opposite is true, and that these perpetual bonds are worse than the preference shares of the bank.
This week the same local bank that had persuaded its clients to buy these 'perpetual' bonds, started phoning its clients telling them to sell them, as soon they would be worthless. For every €100 they invested they can now expect as little as €12. Many ordinary people have lost their hard-earned savings in this way.
Where is the Malta Financial Services Authority? Who is speaking up to protect the welfare of those who have been misled by the banks? When foreign banks were caught doing the same in the past, they were forced to reimburse their clients for the losses they had incurred due to the banks' bad advice. A typical case was that of Italian banks some years back, who sold Parmalat bonds that then crashed. .
Last Tuesday, Spain's bank 'Santander' announced its decision to compensate all individual clients who suffered losses in the alleged Bernard Madoff fraud. The bank plans to issue $1.82 billion in preferential shares with an annual 2% coupon to compensate its clients. The compensation plan will cost the bank $657 million, which will be provisioned against its 2008 earnings, the bank said. The Italian bank 'Mediolanum' recently decided to reimburse clients it had persuaded to invest in Lehman Brothers. It will make less profit this year but at least it shows that it has its clients' interests at heart and its ethics are sound.
Will any local bank follow the good example set by Santander and Mediolanum? It does not seem likely. Local banks have let their clients down before.
The MFSA should go mystery shopping, by sending undercover officials to see what type of advice is being given to clients. As usual we have the right legislation in place, but as usual it is not enforced. I have raised the matter of poor consumer protection in the financial sector by the MFSA a number of times in parliament over the last few years, to no avail. At the beginning of this week I tabled a number of parliamentary questions on the responsibility of the MFSA towards consumers. I expect the usual hollow reassurances that all is being done to protect consumers, but who is going to give these people their money back?
---
Any comments?
If you wish your comments to be published in our Letters pages please click button below.
Please write a contact number and a postal address where you may be contacted.