David Darmanin
Parliamentary Secretary Chris Said informed the Prime Minister that two of his brothers were going to be charged in court in connection with the rape of a 15-year-old girl.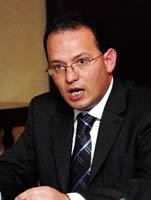 The junior minister said he notified the prime minister shortly after learning about his brothers' arrest, in a bid to pre-empt a potentially embarrassing situation for the government.
"The prime minister's position was that, given that I had nothing to do with the case, I should go on with my job and stay away from the case," he said when contacted yesterday.
Asked if he offered his resignation, Said said: "The prime minister told me I was doing a good job as parliamentary secretary and that I should continue doing it.
"These are extremely difficult moments, because the charges against them are very serious. I'm not defending anyone and I have always condemned any form of illegality, especially violence of all kinds. I have done nothing and will do nothing to hinder investigations and justice in any way."
Josef and Peter Paul Said from Nadur, Gozo, aged 27 and 34 respectively, were arraigned together with two other men and accused of sexual offences last Thursday.
The Said brothers, who are being kept under arrest, were also charged of holding the underage girl against her will and of breaking the conditions of a previous court sentence.
"It's true they are members of my family, but as you know they have been arrested, interrogated, arraigned in court, their names announced anyway and they are being kept in custody," the junior minister said. "You know I have always condemned illegalities, including things they committed in the past. We're 13 siblings, a big family, and you can't lump everyone in the same basket. Whoever commits a mistake has to pay for it, but on the other hand I don't want to be the one to deny them a fair trial."
This is not the first time that Said has been embarrassed by his brothers in his political career. In August 2005, he confessed to MaltaToday that he had reported the same two brothers, who own Said Constructions, to MEPA, for construction illegalities.
Five months earlier, during the Nadur council election that had reconfirmed Chris Said as mayor, Peter Paul Said had cracked the perspex at the counting hall in Rabat, Gozo, in a frenzy of overenthusiasm as he saw his brother getting the absolute majority of first count votes.
Editorial comment:
Our duty to inform, his duty to be free from outside influences
The report that junior minister Chris Said's brothers have been accused of rape in a court of law is news. It was news before the newsprint started to roll off the offset printers.
As is typical of this small island, the news that a prominent Nationalist minister was facing a problem with his errant brothers allegedly involved in underage sex was spreading like bush fire in Malta and Gozo.
We do not believe that we should have kept a lid on this story.
Dr Chris Said, a capable junior minister with the Gonzi administration, should have presented his resignation to the Prime Minister on hearing the news. His resignation letter should have read that he had no wish to embarrass his government because of his brothers.
We would have backed Dr Gonzi had he refused Dr Said's resignation. Dr Said is a promising politician and in no way should he be held responsible for the actions of his brothers. But he is a junior cabinet minister with the portfolio related to information.
The point is that in today's world, the question of transparency – the issue of whether a politician is free from outside familial or peer influences, and whether he is in fact in a position to carry out his public duties – is something the press should be obliged to question.
Those who argue that this not for public consumption, should revisit their idea of the role of the free press.
We are concerned that as we publish this report together with our sister newspaper Illum, other newspapers, including the Labour party press have to date opted to ignore this issue purposely.
We have a responsibility towards our readers and we believe that it would have been appropriate for Dr Said to have publicly declared his communication to the Prime Minister on the matter.
On the case itself, we can only say that revelations of this sort continue to confirm the gravity of sex related crimes.
The court's decision to allow the names of the accused to be published stands in stark contrast to a previous court judgement, wherein the names of priests charged with child abuse were withheld from the public domain and the press. The decision should be applauded.