Saviour Balzan | Wednesday, 27 August 2008
I prefer to use 'acquaintance' as a word to describe those people or individuals who happen to know you and you them, but given a chance would dump you for a lollipop. There are real friends, but those kind of friends are vagrant. They prove themselves when you most need their friendship.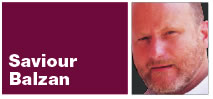 Friendship is of course a mutual thing.
So I guess the friendship that exists between Charles Azzopardi of Azzopardi Fisheries and George Pullicino, the demoted environment minister who had MEPA taken away from him, is not really a mutual thing.
Neither is it to be considered a conflict of interest if the minister responsible for fisheries, who hates our guts, considers Charles Azzopardi the millionaire, who literally is in the news for things people should not be very proud of, as a good friend and not an acquaintance.
It appears to be a friendship based on mutual respect. So if I had to imagine a fictitious historical novel featuring these two handsome creatures, part of the fictitious narrative would read like this:
Charles Azzopardi: Hawn George, are you coming with me to Sicily on another sailing trip?
George Pullicino: When?
CA: Whenever you like.
GP: I have to see if I have time in between all my travelling. Can I get Andrew along with us?
CA: You mean Andrew the former MEPA chairman? Of course, of course.
GP: By the way Charles, please do not speak to me about your tuna pens or your fishing fleet…
CA: Ma tarax… I do not mix work with pleasure.
GP: Cali, please don't reflag the sailing boat like you did with Manara 1 and Manara II, hahahaha…!
CA: Hallini, ghax I think I f***ed up on that one. Thank God, the Attorney General has not taken criminal action yet.
GP: Cali, I really liked that HSBC advert with you on it. I am sure everyone liked it too and that everyone now banks with HSBC after seeing the promo, hahahaha…!
CA: Hallini, I had to crop my hair for that picture. I hated it.
GP: By the way, make sure you find someone serious to skipper the boat. Hahahaha… I wouldn't like to end up on the front page of MaltaToday again.
CA: George, how is it at the ministry?
GP: Don't ask me about the ministry or about politics, I am really pissed off that Lawrence has demoted me in this way after having been at his side against Dalli for so long. Lanqas haqq after I put all my weight behind him.
CA: Allahares you put all your weight behind him! Hahaha…
GP: You got me there. So let us just talk about fun. I just want to get away from everyone and most especially from those bastards at MaltaToday.
CA: Ara. Don't even mention those ****heads. I could strangle Raphael Vassallo and if I see Saviour Balzan in one of my fish shops I will drown him in one of my aquariums. Insomma, after these libels I am sure they will shut up.
GP: Don't be too sure and let us stop talking about them, I am not going to ruin my holiday discussing MaltaToday.
(The above conversation never took place and it is all figment of my imagination, so if Prof. Ian Refalo's office wishes me to apologise to Mr CharlesAzzopardi for hurting his feelings, I will do so at once. But I will not apologise for all the facts published in former issues of MaltaToday about reflagging activities and other fishy business. So tell Mr Charles Azzopardi I will gladly meet him in court).
The 16-year-olds
Joseph Muscat's kite flying adventure with his voting proposal for 16-year-olds was immediately met with opposition from the usual Nationalist diehards who pose as columnists and who conveniently forgot that other Nationalist MPs had proposed a similar thing.
Muscat is proving to all of us how puerile and immature he still is. He cannot propose such a thing and then run away for a cruise holiday. Arguments need to be articulated and most especially if the idea originates from a new young leader who happens to head the Opposition party.
16-year-olds should vote. And why not, if they are allowed to drink (not smoke… that's at 18), be a consenting partner to sex and enter nightclubs, work, pay tax and national insurance?
If they are of the adequate intellect to decide for whom to vote is another question. I would say they are not. Take a look at some university students and their limited political acumen. Most of them are so deprived of independent thinking that the most they can muster is to tell a cameraman to f*** off.
But why should it be so difficult to vote for Dolores Cristina or Michael Falzon? And surely, there are many 40 and 50-year-old voters that could easily match the voting intransigence of a 16-year-old.
If 16-year-olds can dance and scream at mass meetings, why should they be stopped at the polling booth?
Really and truly, all the arguments for and against are based on subjective viewpoints. My only consideration is that politics is taken far too seriously in this country. Allowing 16-year-olds to be absent from the political scene and enjoy life may not be such a bad idea after all. We 1980s folk should be the first people to know this.
Censorship
Some readers may think this newspaper does not publish certain letters. We publish everything as long as the content is not libellous and not repetitive.
Other letters such as those which describe the newspaper as a 'RAG' or its journalists as unprofessional bootlickers, are simply discarded. If this newspaper is a rag then why bother writing in to the letters pages?
Next Sunday: why Saviour Balzan believes everyone should refrain from telling the government about their Roman remains under their house.
---
Any comments?
If you wish your comments to be published in our Letters pages please click button below.
Please write a contact number and a postal address where you may be contacted.