Raphael Vassallo
Dr Philip Carabot – head of the genito-urinary clinic at the Boffa Hospital, and an outspoken advocate for a national policy on sexual health – has been prevented by Social Policy Minister John Dalli from giving media interviews or talking to the press.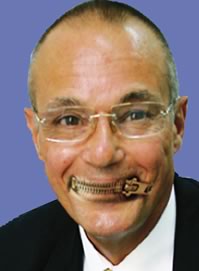 When contacted, Dr Carabot confirmed that he was officially "still awaiting a reply" to two separate requests for media interviews in recent weeks: one with It-Torca, and the other with Sunday Circle. With no reply forthcoming from the ministry, both interviews have had to be cancelled.
"I have since found out in a roundabout way that permission was withheld," Dr Carabot said, adding that while it was understandable that some form of official clearance would be required, the procedure appears to have changed for the more complicated in recent months.
"As things stand now I have to first go through a three-tiered permission procedure," he explained. "First I apply to the chairman of the Dermatology Department, Dr Lawrence Scerri. He then applies to the Director-General of Hospitals, Dr John Cachia, who in turns forwards the request to the Health Ministry's communications co-ordinator for final clearance."
Theoretically banned from communicating with the press, Dr Carabot was reluctant to give this newspaper any further details. However, he did express his own personal disappointment at the decision.
"I think it is a great shame," he said with reference to the lost interviews. "Over the years I have always made myself accessible to the media, because an integral part of my job involves raising awareness about STDs in our country."
The current communications co-ordinator to Minister John Dalli is Amanda Ciappara. Ciappara was on leave all this week, but a ministry official confirmed that the gagging order on Dr Carabot had in fact been issued at ministerial level, and not by the previous two tiers of the decision-making process.
This in turn suggests that the ministry's new policy empowers a politically-appointed public relations officer to overrule the director-general of hospitals on matters related to health.
"The subject about which Dr Carabot was to be interviewed is still being discussed so that an official policy will be finalised," a ministry official said yesterday. "In such circumstances, it is only prudent that such interviews are held at the appropriate time. The main reason being to avoid certain conclusions that are arrived on incomplete information. I am informed that this is the reason why the Health Department took this temporary measure."
Unsurprisingly given his expertise, the intended subject of both Dr Carabot's cancelled interviews was to be sexual health: a topic which appears to still embarrass the present Christian Democrat government, to the point that it remains "unmentionable" even in official statements like the one quoted above.
In fact, this taboo subject has been in "discussion stage" for the past nine years. From this perspective, Minister Dalli's "temporary measure" to silence Dr Carabot marks the latest twist in a veritable saga which has made of Malta the only EU member state not to have its own national sexual health policy.
However, Malattoday is informed that this situation is shortly to be rectified, and Malta will indeed have a sexual health policy in the coming weeks... without any input from Malta's foremost expert on sexual health.
Calls for a national sexual health policy were precipitated in 1999 by, among other factors, an exponential growth in reported STDs over the previous decade. But it seems that the policy, while not exactly a prerequisite for EU membership, was nonetheless expected to be implemented within a year of accession to the Union.
Four years later there is still no such policy, and sex education remains at the discretion of individual schools. In the meantime, Malta's reported rate of unsafe sex has grown apace, and the age of those most at risk of infection or unwanted pregnancy appears to getting younger each year.
A recent study conducted among Maltese schoolchildren aged 11 to 15 revealed that 64% of the respondents who admitted to having sex, also claimed to have never used a condom. Parallel studies reveal that Malta currently enjoys the highest European incidence of STDs such as Chlamydia, gonorrhoea and syphilis; as well as the highest rate of teenage girls dropping out of school on account of pregnancy.
Most remarkable of all, a draft national health policy presented to the Health Ministry in July this year – representing the umpteenth attempt to break through the "Condom Curtain" that appears to overshadow any discussion on sexual health in this country – was returned with practically every reference to the word "condom" deleted.
On that occasion, Dr Carabot described the resulting watered-down document as "nothing but a paper exercise with no bite whatsoever."
Elsewhere, the GU clinic head also referred to the recent doubling of Malta's reported STD cases in recent years as "a serious indictment of our country's entire sex education programme".
Small wonder that the minister now responsible for Malta's dubious record in the sexual health department would decide that "enough is enough".