No, the Prime Minister does not feel obliged to explain why he flouted procurement procedures and issued direct orders worth millions of euros before election time at Mater Dei.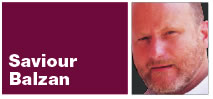 Or the need to explain why he sanctioned the green slums at Armier while MEPA disfigures Sliema and tells restaurant owners to remove green plants from pavements.
And arguably, neither are we ever expected to question the integrity of our dear Prime Minister, since it cannot be that Lawrence Gonzi does anything improper.
Indeed, if anyone suggests that the man even acts or thinks like a politician, he or she should be garrotted.
This is why I am in complete agreement with the elegant choice of words used for Joseph Muscat by blogger Daphne.
Now I am trying very hard to see the good side to Missus Caruana Galizia. I know that she is very sensitive to criticism, even though she retains a licence to lambaste anyone in anyway she deems fit. Indeed I feel that she should be given the right to express her opinion anytime and anyhow and in anyway she prefers.
She has said that Joseph Muscat is a vagina.
She used the Maltese word, and since a person of her breeding has used it, I might as well repeat it myself... albeit this time spelt correctly: "Gh***."
Now apart from the fact that calling someone a vagina is rather chauvinistic, I also find it rather weird that there were no moral crusaders blowing themselves up to protest against this verbal diarrhoea.
The only recorded protest was by MLP deputy leader Toni Abela, and here Dr Abela stated that he would take Missus DCG to court for libel.
But surely calling someone a vagina cannot be libellous.
What is wrong in calling Joseph Muscat an Gh***?
Surely what is libellous is when for example:
I question why an OBE should have been awarded to Mr Albert Mizzi.
I describe Dom Mintoff as autocratic and arrogant.
I take Vince Farrugia to task.
I question what Michael Falzon MLP had to say in a fiery speech in Rabat.
I state that Jeffrey Pullicino Orlando lied and that his party covered up for him.
And when we describe the activities of Azzopardi Fisheries as "fishy business."
Calling someone an Gh*** cannot be slanderous, on the contrary it is a very nice way of saying I think this person (Joseph Muscat) is such a great guy that I have reserved some special words for him.
What is surely insulting is if, for example, Missus DCG described her darling, the one and only Lawrence Gonzi, as an Gh***. Or for that matter his deputy Tonio Borg: equally an Gh***.
Then, that would be serious stuff.
I for one declare hand on heart that neither of these two noblemen ever remind me of female genitalia.
Besides, such an accusation would definitely lead The Times, the PBS newsroom, The Independent and all the other friendly media into an unstoppable wave of frantic storywriting that I am sure would lead to Missus DCG being lynched by a gang of university students led by David Herrera, now working in the cosy atmosphere at Castille.
But thankfully or thank God, the accusation levelled at Joseph Muscat is probably not based on any prejudice, or belief that Labourites are a lower caste, or an inferior grouping or a bunch of lobotomised villains.
The truth is that there is no truth, that good does not prevail and that hate and fomenting odium works just fine.
From someone who works relentlessly against racial discrimination of blacks and coloured migrants, I find it upsetting to see the same individual nourish prejudice and bigotry against a particular political grouping.
Obviously no one in the Nationalist party will confront this. As good Catholics they will look the other way. If the Protestants are being burnt or hacked to death, all good Catholics should look the other way.
But this perhaps this is time to say this is way, way too far out.
In the States, rightist and inward-looking bloggers have launched a war of bile against Barack Obama, claiming that he is a terrorist, a Moslem and not a true American.
As in all things, it is not what you say, but who says it.
It worked wonders BEFORE the election, when the same blogger defended Jeffrey Pullicino Orlando when the man should have been crucified. No one told her to shut up, not even Lawrence Gonzi.
There is no such thing as the high moral ground.
And one last thing: next time someone finds the courage to compare a Nationalist politician to a particular genitalia can it for once be the male genitalia?
Male genitalia sounds so much better on Nationalists!
Did you say justice?
Imagine you had been given the custody of your young daughter. You are not the mother, but the father. It is not usual for fathers to be given custody. There must be some very good reasons for this to happen.
Very soon after, your child is taken away to be interviewed over reports that her father (i.e., you) may have abused her.
The father is then interrogated and he is distraught - to put it mildly.
There is no hard evidence, but there are allegations.
According to the Magisterial report the man jumps off the bastions and dies 13 days later.
The police are exonerated from everything. EVERYTHING.
That man was Nicholas Azzopardi.
I cannot say who is saying the truth but perhaps I can repeat what PN die-hard Frank Portelli wrote in an online comment the other day:
I cannot agree with the statement that the police were not responsible for the death of Nicholas Azzopardi.
Nicholas Azzopardi was in police Custody
Custody in my book means care, safekeeping, supervision, protection.
When the police hold someone in Custody - they are responsible for his / her well being during the period in which that person is held in Custody.
This means that the police have to ensure that the person held comes to no harm - not even self-harm.
Dr Frank Portelli MD FRCS(Ed) of course, the politically-appointed magistrate and retired judge found nothing improper.
Why the two inquiries failed to make any recommendations or the way forward beats me.
If it had not been for our inquisitiveness no one would have known that someone died two weeks after having been found under the Floriana bastions off the police HQ. The police would have kept all to themselves and Carmelo Mifsud Bonnici would not even have known that someone died after being in police custody.
Jesuit trained
The other day I received an email from a teacher ,who sort of tutors at St Aloysius, taking offence at my use of the word 'Jesuit-trained.'
He called this newspaper a rag. Good to know that he reads a rag.
It turned out that the outpouring of criticism of Frank Psaila, the intolerable and unbearable young upstart at the PN HQ, was unacceptable to this teacher as Psaila was himself a Sat Aloysius boy.
Really and truly I have nothing for or against the college or its diminishing posse of Jesuits. In fact I had no idea that Psaila was a St Aloysius boy.
The use of the word "Jesuit" at least in the local Maltese 'political' vernacular has another meaning. It refers to the 'confessional' and State-within-a-State network that operates in Malta, and most especially in segments of the Nationalist party.The same way the Jesuits operated in the 16th and 17th centuries against the Pope.
Today's Jesuits are indeed the more acceptable part of the Catholic church. They are liberal, intellectual and socially-driven.
Frank Psaila, together with individuals such as Gordon Pisani and Pierre Portelli, represent that group within the PN that worked relentlessly against all those in the Nationalist party who disagreed or did not prefer Lawrence Gonzi.
That is why I considered them to be Jesuit trained.
Get the flow?
CVA fines
So here we go again. Austin Gatt's ethos of taxing us for using Valletta parking space is in a way justified. What is not justified are that fines are unilaterally imposed by a private company that reminds defaulters of late payment.
They should have a right to impose interest on tariffs, but not fines.
EneMalta blues
If Austin Gatt can be blamed for disregarding the fact that people do not give birth to reams of euros to pay taxes, he should at least be applauded for ensuring that the government officers under investigation in the oil spillage were suspended pending investigation.
It is far cry from what happened within the police corps when investigations take place. The police, as we all know, have always be a pillar of integrity and ethics.
But then why should we go on thinking that Carmelo Mifsud Bonnici does not look at the things the same way Austin Gatt does?