TOP NEWS | Sunday, 21 October 2007
Judge slams NET for unfair political slant


The two members of the judiciary "outed" by the Commission for the Administration of Justice for being in breach of their code of ethics are vowing they will not step down from their positions as presidents of sporting associations...
---
Malta's doctors leaving to UK
At least 35 new doctors just graduated from the University of Malta will be applying for placements abroad, probably in the British national health service, to leave the island for better training opportunities and better salaries...
---
Bondi ordered to keep hands off budget
Lou Bondì has yet again been stopped from holding a programme on the budget on TVM, after changing the topic for tomorrow's programme at the eleventh hour...
---
OPINIONS
---
NEWS | Sunday, 21 October 2007
Investors miss out on windfall in Lombard bank sale
Budget favours middle class families over low income singles
It's not all bad news…
53% of construction sites unsafe
Harry Vassallo promises a 'green house' effect
All quiet on the 9th and 10th front
Frank Salt calls PM to encourage foreign property buyers
Mind your SMSes, BA warns TV stations
Birdlife calls for clear stand on spring hunting
---

---

The latest PN recruit, Pippo Psaila, would like to see fair play in politics. But his deep conservatism might catch him offside ...

Interview by James Debono
>
---
OPINIONS



John Dalli: Is Malta ready for objective politics?
---



Evarist Bartolo: Returning stolen goods
---
MT ELECTION WATCH
Beware of Gonzi bearing gifts

All the apparatchiks at Mile End were in foul mood this week, evidently lost for words at the Trojan Horse unleashed by the Prime Minister in his last budget before going to the polls...
---
EVENTS

On Saturday, 13th October, a very particular birthday party took place at the Corinthia Palace in Attard: The International Translation Ltd. (ITA) celebrated its 15 years in business....
---
SPORT

We are living through difficult times at Chelsea. There is so much uncertainty and so little stability at the club and it is only results that can allow us to create a steadier ship during this storm. We seem to be being hit from all angles and it is hoped that a couple of decent wins will lead to a bit more calm...
---
---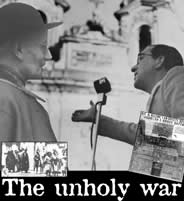 ---

---

---

11 October 2007
Guest Lawrence Zammit
Watch previous programmes
---
---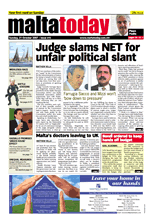 Download front page in pdf file format
---

---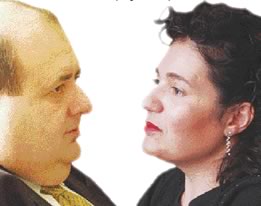 ---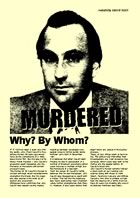 More MaltaToday special reports

---