BIRD HUNTING FEATURE | Sunday, 02 September 2007
It's not all bad news on the hunting front, with Malta recording its first ever breeding pair of Little Egrets this week. But illegal hunting still casts a long shadow over nature conservation. Bianca Caruana on the ongoing, unresolved hunting dispute
Reports of illegally shot birds have already started to pour at Birdlife Malta's office, with the first coming in on the eve of the new hunting season which included the gunning down of a Night Heron, a protected species, which was found in the gardens of the Presidential Palace in Attard.
The Night Heron suffered a gunshot wound to the stomach and another shot that almost completely severed its left wing.
Another two birds were also killed on the 30 August, one of which was a Grey Heron, also found in the Attard gardens. The second bird, a Common Kingfisher, was discovered in the vicinity of Mellieha Bay.
All three of these birds are protected species under national law and the European Birds Directive. The law has been broken in two ways because not only have protected birds been shot down, but this also occurred out of the hunting season.
BirdLife Malta president Joseph Mangion said: "BirdLife Malta calls on the Government to reinforce the Administrative Law Enforcement section (A.L.E.) to ensure that the situation on the ground can be adequately monitored. Throughout the hunting season, BirdLife Malta will continue to pass on reports outlining all illegal hunting incidents and all injured birds received to both the ALE and MEPA."
Mangion continued, "BirdLife recognizes the right of the Maltese hunters to hunt certain species that are allowed by law during the autumn hunting season. We sincerely hope that all the hunters will obey the law and allow the protected species to continue their journey to their wintering grounds."
---
"The new hunting dates are a positive step but the government does not seem to be doing it properly. They should just halt the hunting of most migrating birds immediately, and not drag it out for so long."
Dr Andre` Raine, the Conservation Manager of Birdlife Malta, is guarded in his response to the latest changes to the autumn hunting dates.
Asked about the afternoon hunting times and whether it would be enough to protect some of the passing birds, Raine replies, "There is no real change and birds of prey are still at risk since they fly along thermal wind currents. It should help but it still is not enough because they have not considered the first two weeks of September, which is when many birds migrate."
Before the thermal winds warm up in the mornings, birds of prey fly at low elevation. In the afternoon, these birds are transported along by thermal winds at a higher altitude. They would require a lot of luck to survive until the afternoon before they are shot down.
And on Spring hunting he says, "Spring hunting is against the EU Birds Directives and should be made completely illegal here in Malta. No form of agreement has been done for the hunting of turtledoves, quails, and plovers, but the hunting of these birds is also going against EU directives."
Although the agreement mentioned by Raine is not officially stated, the negotiations position with the EU obliges Malta to phase out the trapping of seven species of finches and by December 2008, the trapping of these birds will be made illegal.
"Added resources to law enforcement officers would enable stronger and more effective control on illegal hunting which could lead to Malta beginning to see a resurgence of breeding species. This includes species such as the Peregrine Falcon and the Barn Owl, which both bred regularly in Malta in the past, but due to illegal hunting pressure no longer do so."
According to Raine, when the spring hunting season was shortened it was easier to pinpoint the illegal hunters; but during hunting seasons, the job of distinguishing between legal and illegal hunting is made more difficult.
"It would be more sensible, if hunters still wanted to hunt, to stop and allow birds to breed and migrate. Otherwise, nothing would remain for them to hunt," Raine continues, "The number of species to be found in Malta is relatively small in comparison to what it should be because the trapping intensity is so high. This restricts any species of bird to find appropriate breeding areas in Malta."
Asked about the position of Birdlife Malta, Raine answered, "As Birdlife Malta stands, we are not trying to ban hunting completely in Malta. What we hope is for Malta to respect EU regulations and Bird Directives, which would allow birds to breed in Malta."
---
The Federation for Hunting and Conservation (FKNK) had few kind words for Minister Pullicino's decision to restrict hunting hours and change hunting dates. The minister's decision is aimed at blocking illegal hunting for migrating birds of prey in September.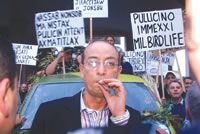 The FKNK said earlier in the week that Pullicino was being stubborn and proof of the Government's inability to enforce the regulations.
The hunters' representative body emphasised that the Minister was obsessed with Birdlife Malta's demands.
Talking to MaltaToday, the FKNK secretary general Lino Farrugia insisted: "Pullicino has once again accommodated Birdlife Malta and it seems whatever they want, they get.
"We were proved right following a meeting held with Pullicino, when he issued the hunting dates and times.
"This has become a stumbling block for hunters and these regulations are local and have nothing to do with the EU Directives. I do not think this action will have the government's desired effect. This will not work and hunters will still break the law, and this is what we told Pullicino once these decisions were taken."
Farrugia who earlier this year launched an unsuccessful boycott of MaltaToday and Illum added: "We would rather have been challenged to show that we could be responsible hunters and not break the law, but we have lost another chance to prove this. Most hunters will hunt in the mornings but most cannot do this because of work hours."
---
Only a moratorium on hunting can save the birds. Bianca Caruana lists the birds that have started to breed in Malta and Gozo and the ones that have faced extinction thanks to …
Collared Doves – Collared doves have been spotted in the Mellieha area and have been breeding every year. They proliferate really quickly and are very adaptable to new habitats.
Spotted Flycatchers – Numbers have been observed, although their preferred habitat, usually in wooded areas, is very limited in Malta, making this bird very scarce. Several pairs have been seen breeding in Malta and fledglings have also been recorded, which is a good sign. One site has been found to be the Addolorata Cemetery in Marsa, since flycatchers and bee-eaters seem to find the vegetation of the area satisfactory. However, it has recently been discovered that illegal hunting has been occurring on the grounds of the cemetery and many birds settling there have been shot.
Corn Bunting – These birds used to be common in Malta but have become scarce breeders in recent years. The number of birds is still declining. and this is not just happening in Malta. This species is red-listed as critical in England by the RSPB. The birds usually feed on insects and seeds, but with agricultural intensification and the increasing use of insecticides and pesticides, numbers have been heavily impacted.
Little Bittern – This is one of the smallest species of heron and usually establishes its breeding areas amongst reeds. For a couple of days in April, huge numbers of these birds were reported at is-Simar Nature Reserve, since there is a dense reed bed ideal for the Little Bittern to breed. This year another pair seem to have attempted to breed around Salina.
Little Egrets – The big news this year was made after a pair of Little Egrets bred for the very first time in Malta. Little Egrets are small, pure white herons that are common migrants over Malta in spring and autumn. They often use the mudflats of areas such as Salina and Ghadira Nature Reserve to rest and feed before continuing their migration. With the incubation period over, BirdLife Malta examined the eggs at Salina and realised that they had unfortunately not hatched and they suspect that the reason for the failure for the eggs to hatch could be due to the fact that there was only one Little Egret left by the end of June to incubate the eggs, which meant that proper incubation might not have been possible. The fate of the other Little Egret is not known. "Although the eggs failed to hatch, this breeding record is a very significant one and proves that many species of birds can breed in Malta when given the chance," BirdLife Malta said.
Little Ringed Plover – The breeding of this bird has increased over the years and has been observed solely in Ghadira since 1985. Three pairs of the Little Ringed Plover have usually been recorded; however, according to Birdlife, six pairs have bred this year breaking the Maltese record.
Swifts – Although it could be proven that the birds did breed. Over three pairs were seen around Porto Maso entering the tall tower this Summer. Swifts are the fastest birds around and insectivorous. They breed all over Europe but not in Malta.
Swallow – Once again this common hirundine, the delight of towns and villages in Europe bred in Buskett. The bird needs a stretch of water with mud to enable it to build its nest. Even though the Swallow is not a game bird and is strictly protected it still falls prey to unbelievable shooting sprees by hunters.
Peregrine Falcon - Last year a pair attempted to breed at Nadur in Gozo. The bird which once bred at Ta' Cenc cliffs and other see cliffs ceased to breed in 1982. It is an elegant bird of prey with a unique link to the Maltese Islands. Centuries ago Malta was renowned for its Maltese falcon and birds would be snatched from their nests to be used in falconry. Today, the Peregrine Falcon is making a comeback, but in Malta repeated attempts by the Peregrine Falcon to settle are met with lead shot.
Barn Owl – The beautiful owl which once bred at Mgarr ix-Xini Gozo and along all bastions and cliffs but has now been exterminated by hunters. Over the last years records of birds have been noted and they attempt to breed. But more often than not they are shot. The bird is a voracious eater of rodents but nevertheless it is highly prized by Maltese hunters.
---
Any comments?
If you wish your comments to be published in our Letters pages please click here