Brother-sister duo Steve and Denise Scicluna are currently showing off their innovative and stylish paintings and photographs at the equally snazzy 2_22 wine bar in Valletta. Teodor Reljic speaks to the friendly pair about urban influences, brains and maps
There's a real sweetness to Steve and Denise. Beyond the 'aww' factor a brother and sister collaborating on an exhibition (shouldn't siblings be at each other's throat's all the time?), a warmth and a lack of pretentiousness are their most evident features in person.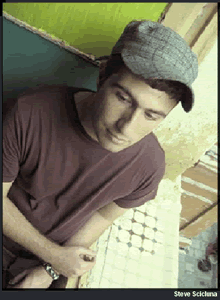 Looking at their work, one would expect a much more aggressive, explicitly opinionated street-art duo, hell-bent on style and breaking boundaries while never losing sight of their urbane hip swagger.
But they appear at my doorstep to a group hug and eager smiles – Denise in particular sports an impressive mouth with a glistening set of amicable teeth that would put a spring in anybody's step. Her bouncy hair is festooned with a thin white bandana and there's a loose and baggy feel when she walks and sits, her rag-tag trousers and rucksack trailing behind, attached trinkets following like eager gnomish helpers. Steve is like a Mediterranean Eeyore, sandy-featured and invitingly stooped and sluggish.
They poke fun at my predilection towards Earl Grey tea as they eagerly gulp down orange juice. That is not to say they have been working too hard. Their exhibition opens the next day and although their works haven't been propped up yet, Steve looks forward to plopping down to a DVD after the interview.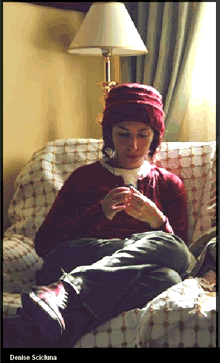 The pair have made quite a sensation online, their deviantart pages attracting a serious horde of 'watchers', enthralled by their genuine clarity of vision and vibrancy. But there has to come a point when you stop referring to them collectively. "I think of Steve's paintings when I take photos, sometimes," says Denise and "basically I think we're both very urban," says Steve – but that's as far as you're going to get if you're looking for a catch-all catchphrase (the tacky neologism is one of the most horrible diseases of culture journalists, I'll be the first to admit) and you have to step back and enjoy the work on its own merits, hopefully noticing a subconscious link in there. The vibrant colours are what strike you first. In spite of the sometimes overwhelming emphasis on style, there is, again a warmth and cuteness to a lot of their work. Denise's photos have a nearly Kubrickian coldness in their symmetry but they're offset by an abundance of reds and fey subject matter. "It often comes down to luck, for me. I'd leave the house and look for things to photograph, and they will generally be things people overlook, peripheral objects lying around the street. There's a plethora of landscape, seascape photos around, I say why not try something different? I'm not saying that this style has no value, but I sometimes wonder how artists can express themselves through a subject matter and a form that has been overused, especially in Malta…"
The polemical streak has struck Steve and left. He would be the first to second Denise's protest against the anemic state of Maltese art but, "perhaps a big egocentrically, I've become immune…partly because I'll be setting off to Scotland very very soon and partly because I realized that fighting against the establishment in such an eager, all-encompassing way becomes a cliché reaction to cliché."
Steve is unashamedly proud of his graffiti beginnings. I will not reveal his artist name, but suffice to say that he's been at it since he was fifteen and his ambitions to "make people go pick up a spraycan," did bear some fruit for a little while until they fizzled out in the past couple of years. "I believe that clean walls = boring society. The thing kind of waned over the years, but with the long overdue inauguration of the skate park and some legal walls down in the subway it seems as if the thing might catch on again. I believe that Street Art is the only kind of 'true' art. It's like it's just there in the streets, not closed off in some gallery, not exclusive, very throwaway, very temporary yet much more effective than elitist, exclusive, pretentious high-brow art. It takes balls at times, it's illegal, it can be made by everyone (and in turn understood by almost everyone)."
What I find more interesting is how Steve seemed to have a feel for the urbane from day-one, before being exposed to the cultural ramifications ranted on above. "I loved drawing fire engines, cars, fighter planes, cities, skyscrapers, maps, construction sites, plans of mining caves and other doodles. Not art per se, but I have a very vivid memory of building this big city out of Lego, Playmobil and Skelektrix with my father in the living room when I was around eight years old. I used to live right in front of the construction site of the new Fgura church when I was young. From our balcony I could see the whole structure being built. That was probably one very influential childhood event. The cities, skyscrapers and maps still feature in my paintings I guess, although in a different way. "
Where Steve had maps, Denise had brains. She'd cut up little brains pictures from magazines as a kid. "I still do sometimes!" Not surprising that she's reading for a degree in psychology. Oh, and she paints as well by the way. "To be honest I'm having a bit of a conflict at the moment between my three loves – photography, painting and psychology: at least they all begin with 'p'! I've been taking photos steadily for two years now and I've become more and more comfortable with it but my painting style is still developing. But I do feel that painting has helped in my photography. When I paint I make use of my paintbrushes and available media and colours. When I shoot it's my camera and what's around me. They might seem to be different, but in my opinion they are not, as you are still using your imagination to compose something that you find fulfilling."
If you really want to tack on an explanation for their mutual artistic interest and output, you could have family background as an excuse – their father used to be a photographer. But the vitality and freshness of their work openly challenges any Freudian nit-picking, any easy explanations. Adherents of Denise's discipline of choice might get dismayed at the thought, but sometimes, the brain has to step down and let greater things happen.