As MUT President John Bencini told Charlot Zahra, the teaching profession in Malta is facing daunting challenges, including a decrease in number of teachers as well as the acknowledgement of homosexual teachers in the classroom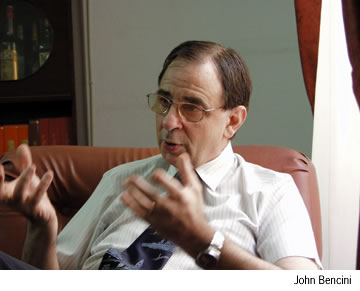 Malta Union of Teachers (MUT) president John Bencini is not optimistic about the future of the teaching profession in Malta.
"In a few days' time we will be facing another crisis as there will be a shortage of teachers again. This year there have only been 14 applications to join the Bachelor of Education degree to become primary school teachers.
"All of these applications were from females. Males are discouraged from joining this profession. The teaching profession has been completely feminised, with more than 80 per cent of teachers being women. The teaching courses at the University of Malta are not attractive anymore," he said.
There are a number of reasons for this, including the fact that pressures on teachers are increasing by the day, the huge stress facing them, as well as the fact that children are becoming more difficult to handle, as a survey that the MUT conducted confirms.
Another reason why young people are not interested in teaching anymore is that today there other professions which are more attractive especially in terms of earnings. "Nowadays a young man will not become a teacher but would rather join another profession where he will earn three times as much, especially if he joins the private sector. Salaries offered by the Government have improved, but are no match for those offered by the private sector," he said.
There is also a crisis in Information Technology because we cannot find enough teachers who know IT, and students of IT find positions that are more attractive in terms of salary and challenge than teaching.
"The problems were with us in the 1980s, and then the situation started improving. However, we have now started sliding back to those times and soon it will be much more difficult to find new teachers, especially for certain subjects," Bencini warned.
What steps should be taken to make the teaching profession more attractive?
Bencini complained that teachers nowadays do not enjoy the same respect that they enjoyed in the past. "Children are being given a lot of self-importance from a few parents and it is not easy for a teacher to be proved right," he said.
"The work that is being saddled on teachers is constantly increasing and a lot of things are being expected from them. In order to improve the situation, I think that salaries in Government schools must be upped.
"A newly-qualified teacher will be starting as from next October with an annual salary of Lm6,135 on Scale 9. Compared with other Government employees, it is middle of the road. But other sectors such as IT, the pharmaceutical industry and engineering jobs like those offered at Lufthansa Technik earn much more and therefore make teaching no longer attractive.
"The only thing which attracts people, especially married women, to become teachers are the relatively short hours which enable married women to cope both with work and the family. If school hours had to end at 5 pm instead of 2.30 pm, then even women would find it more difficult to join the teaching profession," Bencini said.
But aren't teachers compensated by, for instance, summer holidays?
Benicini explained that a teacher works 27.5 hours at his place of work each week, but if a teacher stops working at 2.30 pm, he would not be able to work effectively the next day.
"Nowadays those teachers who really live up to their profession cannot stop at 2.30 pm; they have to correct homework and prepare themselves for the next day's lessons. A teacher cannot work effectively the next day without doing these preparations at home. So effectively a teacher works a 40-hour week. So much so that in the UK, the National Union of Teachers in its collective agreement speaks of a 40-hour week," he said.
Bencini agrees that the summer holidays are attractive. "They are maybe the only attraction left in the teaching profession nowadays. Again, they are particularly attractive to married women because their children are on holidays too and they have the time to take care of them."
Asked whether the MUT agreed with the proposal of holding activities for students in summer so that they are not disconnected from school, Bencini said that such activities are already in place. "In fact there are Summer Schools, where schools are opened every morning throughout the summer months, therefore teaching does not stop during the summer.
"However this is not necessarily formal teaching. You can teach children through plays, art, physical education and visits to museums and other places of interest. These Summer Schools are much appreciated by parents, as their children do not spend the summer holidays in laziness," he said.
Other countries have introduced the concept of wrap-around hours, where students can stay after normal school hours to do their homework, among other things. Does the MUT agree with this concept?
Bencini said the MUT is a union that wants to change with the times; it cannot remain anchored in the past. "It is true that the MUT is a trade union, but it has the role to educate and professionalise besides the role to defend its members. We understand that the times have completely changed from a few years ago.
"In those cases where both husband and wife work, parents would not wish their children to remain loitering outside after school hours. Therefore the union has reached an agreement with the government a few years ago about the introduction of activity teachers.
"These activity teachers work between 10am and 4pm, two hours later than their colleagues, so that in those two hours after normal school hours, they help children with their homework and their difficulties. These children are generally identified in advance by the schools as needing more help then others."
The MUT has also suggested that government follow the examples of other EU countries, and a allow a school to remain open in each district. A number of people could then be employed on a part-time basis to spend some hours there to take care of those children whose parents cannot take care of them themselves, since, as Bencini points out, "not everybody has his nanna".
"Nowadays we have problems where children return home at 2.30 pm and there is nobody there. They end up loitering in the streets, staying at home or buying pastizzi to pass the time.
"We had a lot of pressure from parents' associations about this. We find no difficulty in providing this service but we do not want an extension of school hours for teachers. Government can employ another group or perhaps the same teachers who would volunteer. However, parents should contribute to this service and it should not be given for free," he insisted.
Bencini agrees that the education system in Malta is based too much on exams. "Our schools are too exam-orientated. Therefore it is a positive thing that union and government have agreed to a system of continuous assessment, whereby a student has a document listing his progress and achievements from Kindergarten till Form 5, which will contribute to the assessment of that student.
"The Union is saying a definite 'yes' to the introduction of continuous assessment to turn our schools from places of instruction to places where a holistic education is given," he said.
The MUT chief is positive about the reform of the education system signed a few weeks ago with Education Minister Louis Galea.
"I have said that this reform is a historic one because it was not merely a collective agreement with a union which sought only what teachers could gain out of it. This agreement does not contain any sectoral provisions and the emphasis was on the need for our children to succeed.
"And if the government wants to introduce a reform in the education system it cannot introduce this reform if it cannot be implemented it. And to facilitate its implementation you have to implement it with people. And the people are members of this Union.
"This union is strong nowadays, representing more than 90 per cent of the teaching profession. Therefore the Government has partnered with us to ensure that this reform is implemented successfully," he said.
"What teachers have gained throughout the years has remained in place, but we won two major victories. First, through this agreement, the doors have become wide open for promotions. Second, we have gained the possibility for teachers to have time allotted for assessment of students to be carried out. For the first time ever, primary teachers will be able to get out of the classroom for an hour and a half a week to work on this assessment, the School Development Plan and curriculum.
"Moreover, all government teachers in secondary and post-secondary schools will be given a laptop computer within the next three years. This is a very important IT tool to enable teachers to do their job more professionally.
"Under this agreement, retired teachers will be able to work again in a school for up to eight hours a week. The fact that there is a crisis in finding new teachers will surely make this provision most welcome," he said.
However, the MUT chief sounded a warning bell about the reform.
"I have already said that this reform will fail before it kicks off if it has too many bosses and too many structures. Without a structure you cannot function effectively, but we want to make a radical change in the mentality and the culture in classrooms," Bencini said.
Recently there has been news that gay teachers were going to be sacked from Church schools because of their sexual orientation. Bencini explained that this is not a crisis but it is a problem which we started facing even in our country.
"These people with certain (sexual) orientations now have the right to work as everybody else and should not have an inch less than anybody else. Unfortunately there were a few cases where they found a reaction, particularly in Church schools, where there were people who even demanded that they should not continue teaching.
"Most of the time the pressure was not coming only from the Heads in Church schools but also from some parents who would approach the head and say, 'Listen, I don't want this guy to teach my son!' Naturally this has created a debate and there were cases where I have personally intervened to try to solve the situation.
"On one side you have parents who say that they have the right to protest and on the other side you have serious teachers who will not promulgate in class what they believe, but the fact that they are so leads to this unfortunate resistance which this Union, like its fellow Unions in the EU, does its utmost to fully protect the rights of these people," he said.
Have there been any similar cases in Government schools?
The MUT chief said that in government schools there were isolated cases but they were resolved. "Government has never ever tried to discriminate somebody or tried to terminate the job of somebody because of his or her orientations. I can categorically say that from the government we have never had any resistance or an indication that it was going to take the anti-Constitutional or anti-democratic measures that were attempted at Church schools here or there."
Did you have reports of harassment from these teachers?
Bencini explained that there were cases where these teachers would go to class in the morning and they would find words scribbled by students on the whiteboard, therefore in most of the cases it was the students themselves who were harassing their teachers because of their sexual orientation.
"These are things that hurt. Children can be nastier than adults because sometimes they write a word on the blackboard and when you go back in the morning they destroy you. And there were people who were destroyed because of this. The union is strongly all-out with all its strength to try and find a solution to these problems. It's not easy to fight a current which is coming against you."
If a teacher had to be fired because of his or her sexual orientation…
"We would take the case to court immediately. We would file a Constitutional case against whoever fired him. There was an attempt by somebody who already had in mind to terminate somebody's employment, but we made it clear to him not to try it.
"As long as he or she does not pass on to the children his or her own beliefs, because if you pass on to the children what you believe in and try to sell it, then the management would be correct.
"But as long as you have a teacher who does his duties from A to Z as he is obliged to do in a conscientious manner and according to the job description of a teacher, he or she will find the MUT's total defence," Bencini affirmed.