| | |
| --- | --- |
| News | Sunday, 30 May 2010 | |
Prime Minister Lawrence Gonzi has taken Vision 2015 – his strategy to turn Malta into a "centre of excellence" – to the public, with a three-day conference that will today deal with the subject of solidarity.
For Gonzi, Vision 2015 represents his government's plan to achieve excellence in seven sectors: financial services, IT, health, tourism, manufacturing, education, and turning Gozo into an "ecological island".
After 2008, the PN's 353 electoral proposals were also re-packaged under the 'Vision 2015' brand.
Gonzi has now taken his show on the road, and taking Vision 2015 to the public. According to a MaltaToday survey, 89% of respondents polled have no idea what Vision 2015 in fact is.
Gonzi this week said Malta had already started achieving results towards its 2015 vision, and talks of the strategy as a "work in progress" that is taking shape.
As part of the three-day programme, the conference invited members of the public and experts to discuss the country's "identity, innovation and inclusion". Professors Oliver Friggieri and Peter Serracino Inglott, President Emeritus Ugo Mifsud Bonnici and sociologist Mark Anthony Falzon discussed these issues on Friday.
Yesterday, teacher Frank Fabri, a former Labour mayor for Rabat, praised the latest developments in education. "Since the college system was introduced two years, we're witnessing positive changes in education," Fabri said.
Biologist Victor Asciak, who spoke about the environment, stressed the need for such decisions to be based upon expert scientific advice.
Paul Pace talked of the culture change brought about by EkoSkola inside schools, while former Nationalist candidate and biologist Alan Deidun talked of excess traffic on roads. "Cars are generating 17% of carbon dioxide in Malta."
The conference continues today at The Palace hotel, in Sliema, with the subject being 'solidarity'.
---
Any comments?
If you wish your comments to be published in our Letters pages please click button below.
Please write a contact number and a postal address where you may be contacted.
---


Download the MaltaToday newspaper advertising rates in PDF format
---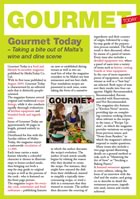 Download the Gourmet Today advertising rates in PDF format
---