| | |
| --- | --- |
| Editorial | Sunday, 30 May 2010 | |
Recent events have clearly illustrated how Malta lacks the basic infrastructural framework to adequately deal with corruption at all levels.
A glance at how different allegations have been handled to date reveals a veritable quagmire of confusion regarding standard investigation procedures – provided such procedures may be described as 'standard' to begin with – which inevitably raises suspicions that some cases are treated with more urgency than others.
The recent BWSC power station controversy is a classic case in point. While government initially brushed aside allegations of corruption, Opposition leader Joseph Muscat turned to the office of the Auditor General to ask for an investigation into the tendering process.
One could almost stop here and ask why it had to be the Auditor General's office to get involved... and not the police, or a magistrate, or the Permanent Commission Against Corruption, all of which have variously been invoked to deal precisely with such claims. But be that as it may, two immediate inferences can be drawn from the results of the Auditor General's investigation... and more specifically, the government's reaction to his report.
The first is that the office of the Auditor General clearly lacks the necessary executive powers to conduct such an investigation (for instance, the AG proved utterly toothless when faced with lack of cooperation from the all-important witness, Joe Mizzi). Secondly, it transpired that the government was not in any way bound to follow up on the Auditor's conclusions... still less to take any specific course of action. In fact, the Prime Minister himself told the press that he had 'taken note' of the Auditor's findings; but so far there has been no indication that government intends to take the matter any further.
Compare this to the allegations of preferential treatment brought forward by Simed against INSO in the 2004 Mater Dei contract affair – an allegation that likewise involved potential irregularities in public procurement – and a distinct contrast is immediately visible. On this occasion it was the police, not the Auditor General, that investigated the claims, this time at the request of the government; and while no evidence of corruption was found, the police nonetheless arraigned a suspect for having falsified evidence in the case.
This alone illustrates the sheer disparity between an executive (police) and non-executive (Auditor) entity when it comes to undertaking investigations. But it also reveals a curious disparity in the way government adopted such vastly different approaches to two cases that – while not identical – are nonetheless comparable on various counts.
It must be pointed out also that this apparently schizophrenic attitude – whereby some claims are taken seriously while others pooh-poohed or ignored – is not exclusively the present government's domain. The opposition, too, all too often adopts different weights and measures according to its own immediate interests... loudly accusing the government of refusing to report individual cases to the police (such as in the recent shipyard allegations, currently under investigation); but on other occasions describing the police force as a 'smokescreen' for the government... as it did in the case of the Mistra affair.
But the real issue at stake is consistency in our approach to corruption as a whole. Judging by recent experiences, none of the available investigative options (with the possible exception of a full-blown police operation) removes final discretion from the hands of the politician himself. Incredibly, individual magistrates lack the authority to commence an investigation on their own initiative. Instead they have to be appointed for this purpose, and as such are answerable to the person doing the appointing, rather than to the State. Another possibility is to appoint an ad hoc commission with a specific (and limited) remit to investigate a particular case.
Again, however, this option relies on the discretion of the powers that be: not just in choosing whom to appoint, but also is laying down the terms of reference, which are very often too vague to result in any clear outcome.
Put simply, there is at present no competent body whose executive arm is long enough to thoroughly investigate any particular allegation of corruption; or for that matter, even to administer serious punitive measures when faced with evidence of guilt.
Most worrying of all, the present government has proved curiously reluctant to deliver on one of its own electoral promises: that of enabling a Whistleblower's Act, which would help bring such allegations to light in the first place.
After all, there is little point in establishing a serious and reliable investigative procedure for investigating corruption, if those with knowledge of corruption cases are too afraid of reprisals to actually step forward and report the matter to the relevant authorities.
Readers will be able to judge for themselves who stands to benefit the most from the status quo. Given the circumstances, though, one can hardly be surprised that public faith in such institutions is at such a low ebb.
---
Any comments?
If you wish your comments to be published in our Letters pages please click button below.
Please write a contact number and a postal address where you may be contacted.
---


Download the MaltaToday newspaper advertising rates in PDF format
---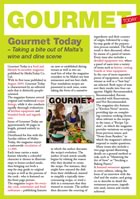 Download the Gourmet Today advertising rates in PDF format
---