| | |
| --- | --- |
| Food | Sunday, 30 May 2010 | |
My verdict? GO and cosy up | Rating 7/10 A good discovery | Style 8/10 Classic combo and perfect lighting | Service 7/10 | Selection 6/10 Over 300 wines but don't go hungry | Steal-ability The chutney – it's as good as mine
Meandering around Mdina with some English visitors the other Sunday, they were struck by the lack of eateries that spilled out onto the pavements to enjoy the ambiance of the 'silent city'. One place we walked past, close up, was a curious wine bar on Magazine Street opposite the tiny chapel, which was on our last leg of the tour and on our way back to the car, which we easily parked in the area next to the football pitches.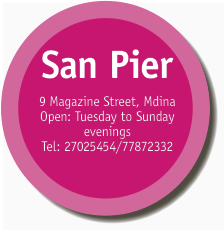 A couple of evenings later, when our guests had gone back, we decided to take the night off together and go for a walk before picking up some pizza and crashing on the sofa. We were derailed by the weather: it had turned rather windy, and I thought better of a walk in Bahrija and opted for a stroll in Mdina. This turned into a bottle of wine, and then another... and a couple of platters later, we had no need for that pizza.
We had found the previously closed up bar open. San Pier looked really sweet, cosy and moody with dark wooden furniture and Bordeaux red walls, with a mezzanine to maximise the space in this amazingly high arched-ceilinged building. The ceiling itself resembling a cork, just invaded by wine, a feature I'm sure was completely natural and would be a bugger to try to create.
We were not alone, there were a couple of couples in the bar and one couple upstairs. We thought it polite to leave them alone and settled at a table close to the wall and away from the door. We resisted the Primativo and the selection of Malbecs and ordered a bottle of Crozes Hermitage Domaine Mucyn (€30) which had the typical fishy smell but delectable taste. It reminded us of a wine club class and how we really did need to open the notes and revise some before the end of year exams. I think an evening or two in here would set us up well though. There is an extensive list covering some countries that you don't often see featured.
Half way down the bottle we thought how nicely some cheese would go with the wine, and as if (my worst fear) thought bubbles were protruding from our heads the cheery barman brought us a cheese platter. I recall six cheeses (but some stood out more than others) with a luminous piccalilli and an amber chutney. There was a parmesan, so mild I'm not sure I liked it, but did keep trying it, a stiff stilton which I squished into some Maltese bread and a really good, feisty gbejnijiet which were tempered by the chutney. There were a couple of others which, I'm afraid to say, I completely forgot the names of, must have been good though as there was no trace of them for me to have my memory jogged.
We also had a slab of chicken terrine which was good when eaten with the piccalilli, I would have cut out the middle man, and reduced the washing up and just put dollops of the stuff in between the layers of the terrine. I fancied salty, teeth stripping tastes and it just missed that for me on its own.
We did seem to fill up quickly though, and this got me thinking about inventing a diet. I've read about most of the fads and have tried more than one until at least lunchtime (in some cases) and devised "the airplane food diet." It's based upon the fact that on a plane, you have small portions and on most airlines, can look unappetising (unless in Emirates first class) and a few forkfuls seem to fill you. So my diet is along the same principle. You may be scoffing at me and muttering that it's all about the altitude but Mdina is not that high up, and the food was appetising to look at, but we felt as if we had had a full meal. Could it be that the oblong plates with pocket sized (no I didn't test that statement) dishes for the condiments made us feel like we were at a restaurant?
I'm not sure. But what I do know is that I want the number of their carpenter. He has managed to use every available space to store wines and paraphernalia, even nesting bottles behind the stair case which I reckon is the way forward for shoe storage. Would save John tripping over the Hansel and Gretel-esque breadcrumb (shoe) trail I leave of the recently worn strewn in the hall and up the stairs. Though San Pier is the kind of place that you want to kick your shoes off and curl up into a worn leather armchair with a stack of magazines and newspapers, with a roaring fire to toast marshmallows on, on a wintry afternoon. You could work your way through a region on the wine list or just a cup of tea and a plate of the truffles which were almost as good as Sandra's chocolate tart in the last issue of Gourmet.
But it is soon summer: this is a great hideout, and I will certainly return to test the airplane diet theory out before I market it and make my millions.
---
Any comments?
If you wish your comments to be published in our Letters pages please click button below.
Please write a contact number and a postal address where you may be contacted.
---


Download the MaltaToday newspaper advertising rates in PDF format
---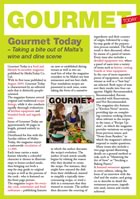 Download the Gourmet Today advertising rates in PDF format
---