| | |
| --- | --- |
| Film Review | Sunday, 30 May 2010 | |
If there ever was a justified way to invoke the lazy metaphor of Hollywood as an irredeemably crass and greedy institution, video-game-to-film adaptations would be a prime contender. From the so-deplorable-it-beggars-belief 'cyberpunkification' of the Super Mario franchise in 1993, to the doomed-from-the-start beat-em-ups Mortal Kombat and Street Fighter and the hammy misfire that was Tomb Raider franchise, you'd think that lessons would be learnt.


But no. Obviously, video games being the contemporary version of trashy pulp magazines in the early 20th century, they are mass produced and come complete with a built-in audience (as do certain novels, but you know that's a different story altogether)… which makes them foolproof box office material. Most of the time, anyway.
And who better to take advantage of this than Jerry Bruckheimer, Hollywood producer extraordinaire, the man behind Bad Boys, Transformers, Pearl Harbour, and the Pirates of the Caribbean trilogy? Basically, whenever film snobs are caricaturing mainstream cinema as loud and stupid, they mean him (as well as his frequent partner in crime Michael Bay). He was responsible for some of the most polished trash to hit our screens, and video game films have proven to be the best candidates for trash that needs polishing. And so we get Prince of Persia: The Sands of Time – an exotic adventure based on a recent iteration of the classic platform game (first conceived in 1989 on a Mac II by programmer Jordan Mechner). The adaptation is directed by Mike Newell, who boasts a varied repertoire: Four Weddings and a Funeral, Donnie Brasco, Mona Lisa Smile, Harry Potter and the Goblet of Fire… but can anything unique be squeezed out of Bruckheimer's stranglehold?
The setting is an utterly fantastical sixth century Persia which, along with its surrounding regions, seems to be populated by a slightly-more-tanned than-average version of Europeans. A nefarious nobleman, Nizam (Ben Kingsley) covets the Sands of Time, a legendary gift from the gods that allows its possessor to turn back time. Whoever owns the Sands of Time has the power to rule the world, and this villainous lord would use that power to enslave all of humanity. The only person capable of defeating this tyrant and saving the world is Dastan (Jake Gyllenhaal), Nizam's nephew, made into an honorary prince after the king adopted the orphan, having witnessed him risking his life for another runt. Now, with plucky princess Tamina (Gemma Arterton) by his side, Dastan will attempt to prevent the Sands of Time from falling into the wrong hands.
Yes, it's a video game adaptation, but Bruckheimer, for all his faults, had managed to steer a theme park ride (Pirates of the Caribbean) into pure populist gold… so you'd think that a video game with a ready-made story, however thin and ultimately inconsequential to the overall experience, would be easy to chisel into decent movie shape. And you'd be partially right: when compared to previous attempts in the subgenre, The Sands of Time assumes privileged status almost by default. The rogue prince, the scheming uncle, the posh-but-feisty princess are perfectly enjoyable clichés and here they are polished up nicely and dropped into a rollicking action-adventure. Add a bit of colour with the ostrich-racing scoundrel Sheik Amar (Alfred Molina) and his pack, and the happy-brain-spots should be complete for all involved as you trudge through with Dastan on his quest.
However, all is not well. Gyllenhaal is – for all his physical effort and genuine enthusiasm for the role – utterly miscast as the beefcake rogue. While his natural comic timing hold him in good stead when it comes to flirtatious banter with Arerton's princess, his sheepish looks don't really succeed in creating a convincing protagonist. Add to this the most ill-conceived hairdo since Colin Farrell's Alexander, and you've got yourself a maimed hero, if there ever was one. Having been co-produced by Disney, the echoes of Aladdin (and, perhaps more pertinently, the master-influence of The Thief of Bagdad) only succeed to accentuate the untapped potential of this by-the-numbers adventure.
---
Any comments?
If you wish your comments to be published in our Letters pages please click button below.
Please write a contact number and a postal address where you may be contacted.
---


Download the MaltaToday newspaper advertising rates in PDF format
---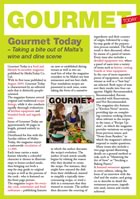 Download the Gourmet Today advertising rates in PDF format
---