| | |
| --- | --- |
| Opinion | Sunday, 30 May 2010 | |
Another day, another Facebook group. Following quick on the heels of divorce, Piano's roofless theatre and the Luqa phallus, it was Eurovision's turn to be given the parallel democracy treatment. The gist being that the government should stop pumping considerable funds into the contest and that pulling out altogether would be the most honourable option for our proud nation. A terribly angry populace inundated The Times' online facility to scream blue murder after our contestant's exit in round one. And Miss Garrett has herself stated quite bluntly that the contest is, I quote, "hela ta' hin, hela ta' flus, hela ta' talent". She said that post-elimination, quite naturally. Prior to that, it was all wooing audiences, seducing Poles (singers not objects) and confident performances.
A preliminary point at this stage. As a number-crunching friend pointed out this week, 90% of the cash which makes our participation possible is generated by private sector-sponsorships. He added, pointedly, that the dough comes "from the kind of people who aren't usually prone to wasting money". Joining the commercial dots isn't too hard. Whether or not those sponsors would be willing to channel that cash elsewhere will most certainly depend on what they get in return as opposed to any romantic notion of public interest or cultural authenticity.
Having dispensed with irate taxpayers' woes, I tend to think that it's our general attitude to the weird and wonderful Eurovision jamboree which is flawed rather than the contest itself. It's quite simple really. Eurovision has never been about the continent's top musicians and it has never been about quality. It's simply delusional to think otherwise. It's beyond me why so many people appear not to have figured out that Europe's best musicians – I'll spare you the name-dropping – wouldn't even dream of taking part. And ultimate victory isn't quite the point either, although it must be quite pleasant for the winner in terms of prize money and exposure.
Eurovision is about bringing together what has recently become a truly sprawling 'cultural' continent (spanning from Portugal to Azerbaijan) for a few colourful, hysterical, eccentric days. Frankly, it's about being sexy too, thanks to those who've been blessed with the aesthetic over and above the mandatory vocal talent. And let's not forget the irony and outrageousness, if you're lucky enough to hail from a country which doesn't take itself too damn seriously. Eurovision is all about the camp costumes, the flags, the weird hairstyles, funny dances and quirky accents. Peripherally, perhaps, it's about the two or three songs which might actually leave an impression while the rest disappear into a morass of unmemorable dreamy ballads and unimaginative folk numbers.
It's also important to simply be there; for the minnows of Europe to join in the continent-wide fun and games once in a while; for the Maltese housewife to feel a tinge of pride when the local girl appears on the Oslo stage (even if she's accompanied by a well-endowed pterodactyl) while the red-and-white-George-cross icon flutters at the bottom of the screen; to play with the big boys and girls and give them a run for their money. As one cheeky Polish reader put it in The Guardian on-line with reference to another small nation: "Poor Latvia – it's the only thing they're ever in."
All the anger over political voting and neighbours doesn't convince me either. For starters the fact that some countries (the UK, France, Germany and Spain) automatically qualify for the final indicates from the outset that politics and certain un-musical interests are very much at play. So no big deal there.
Second, if friendly neighbours are really the crucial factor, how do you explain that Armenia, which has a military border with Azerbaijan and a very tense relationship with Turkey, makes it to the final? And what about the Cypriots? Is the Greek vote sufficient to see them through? Third, this political voting argument – which in some variants is turning vaguely racist – blatantly and conveniently ignores the rather successful Marys, Iras and Chiaras of the Maltese Eurovision world.
Amazingly, people are also peddling the argument that Malta is being 'humiliated' by it's Eurovision experience. Surely this is a tad over the top. Miss Garrett travelled to Oslo, sang about her dream and failed to make it to the grand final. I fail to see how that qualifies as a humiliating experience, either for Thea, the bird or for the nation. Besides, I didn't hear anybody suggesting that Malta should pull the financial plug on its national football team after we failed to score one single goal in our World Cup qualifiers. Strangely, that quite astonishing negative record failed to raise as many angry eyebrows as this Eurovision business did. That's odd. I can sympathise, on the other hand, with people who think that we give this kitsch fest too much importance.
But this, too, requires some qualification. It's the disproportionate interest we show in our participation in Eurovision compared to all other cultural events (local and international) which turns it into a problem. Just compare the public interest and debate generated by Garrett's voice, choice of clothes and birds with the very peripheral, underground noises which accompany the launching of a book of short stories by a Maltese author.
Incidentally, when was the last time we had a debate about a European author? Of course there's another thing to be said about the kitsch factor: if we start withholding funds on this basis, it's going to be a slippery slope in a country awash with the religious variant of kitsch.
Might Joe Demicoli, with his knack for parody and piss-taking be the answer to our Eurovision woes? If you buy my argument that our attitude is the problem, you'd be wise to invest in Kemmuna Airways.
---
Any comments?
If you wish your comments to be published in our Letters pages please click button below.
Please write a contact number and a postal address where you may be contacted.
---


Download the MaltaToday newspaper advertising rates in PDF format
---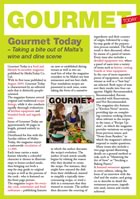 Download the Gourmet Today advertising rates in PDF format
---