| | |
| --- | --- |
| News | Wednesday, 18 November 2009 | |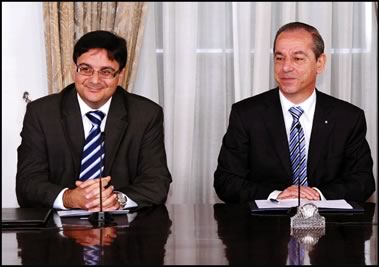 MALTA SLIPS NINE PLACES IN 'CORRUPTION PERCEPTION' INDEX... BUT GONZI STILL HAS
IN TONIO FENECH
Matthew Vella
Prime Minister Lawrence Gonzi yesterday declared his "total, absolute trust" in finance minister Tonio Fenech, who has so far refused to answers questions on payments for works carried out by mega-developer JPM Brothers in his Balzan residence.
Gonzi was announcing a new investment by Swiss aviation maintenance company SR Technics, but had to face questions from the press over Fenech and whether he was covering up for the finance minister.
Fenech has denied having any part in an attempt to sell the Jerma hotel, owned by JPM Brothers, to the Gasan and Tumas groups. The claims were made by the director of a turnkey firm, Rainbow Projects, who claims he is owed money by both JPM Brothers and the finance minister for his services to the Fenech family.
According to Rainbow's director Charles Magro, JPM's director Peter Montebello said the works on Fenech's house were "a favour" for his intervention in the sale of the hotel. JPM Brothers have also denied the allegation.
As revealed by this newspaper last Sunday, both Joe Gasan and George Fenech – chairmen of the Gasan and Tumas groups – held a meeting with Prime Minister Lawrence Gonzi in the summer, to present him with their plans for the redevelopment of the Jerma hotel site, ostensibly to create a 'Portomaso of the south'.
Gonzi yesterday said he would not investigate any of the allegations, and simply replied "no" when pressed on whether he covering up for Fenech.
Gonzi instead chose to sideline all questions on his finance minister by focusing on the subject of his press conference, the setting up of a base by aviation maintenance company SR Technics, which will create 350 jobs by 2014 (see Business Today, page 17).
"The most important thing for Malta at this time is to focus on the global challenges it is facing," Gonzi said when asked about his finance minister.
He downplayed a question of whether he felt there was anything wrong about the allegations about Fenech, by saying that "the enormous investment we are announcing today in Malta comes at a time of global recession."
And when asked whether he will be verifying for himself any of the allegations, Gonzi said "No, I think we should focus on this investment opportunity."
Instead Gonzi congratulated his finance minister for his role in the six-month long discussions that took place to secure the SR Technics deal in Malta, along with Malta Enterprise.
"This investment is the result of hard work on a number of fronts. In particular I would like to thank the Minster of Finance, Tonio Fenech for his leadership in managing the processes with SR Technics and Easyjet that has resulted in the choice of Malta as their preferred investment location."
Tonio Fenech was revealed to have travelled aboard George Fenech's private jet along with Fenech and Gasan, to watch Arsenal play in Spain. The minister claims he had the prime minister's permission to accept the gift. Claims of having breached the Cabinet ministers' code of ethics have been denied by government.
Fenech also flew along with George Fenech to view the MCM aviation operations centre, which services Fenech's private jet.
Fenech refuses to answer
The finance minister has also refused to answer questions relating to the works carried out by JPM Brothers at his house in Balzan; and on the flight he took to watch Arsenal with Joe Gasan and George Fenech.
Journalist Godfrey Grima has stood by claims he made during television programme Wicc Imb Wicc, that Tonio Fenech never asked the prime minister for clearance to take a private trip to Spain. "My information is that no, he did not tell him," Grima said. "The prime minister got to know about the trip by an anonymous letter… if the minister did not inform the prime minister of this trip, then it is a resigning matter," Grima stated.
Fenech's spokesperson has told MaltaToday that "the minister will not answer any further questions made by your paper on this unfounded and fictitious story. Clearly your newspaper does not seem to have the intention to present facts but has for the past weeks lodged [sic] a vicious and unfounded personal campaign to damage the reputation of the minister. The minister will present the facts, receipts in court in due course and has no further comments to make on the matter."
Tonio Fenech has sued One News editor Glenn Bedingfield for libel over the coverage of MaltaToday's story last Sunday. The minister filed a judicial protest against MaltaToday asking for a public apology, to which this newspaper replied with a counter-protest to uphold its right to subject elected representatives to reasonable scrutiny.
Last Friday, he appeared on TVM programme Xarabank, where he said he had nothing to hide and that he all the receipts for his house.
But Fenech refused to produce these very receipts for MaltaToday to see. Fenech specifically refused to answer these questions:
1. Is the minister in a position to show us the VAT receipts for work carried out on his Balzan residence by JPM Brothers?
2. How did the minister pay for the works by JPM Brothers – by cash or by cheque?
3. Does the minister know of any payments that were passed on to Rainbow Turnkey Projects by JPM Brothers for the work they carried out on his Balzan residence, and whether VAT receipts were issued for these works?
4. Can the minister explain how he financed the works on his residence?
5. Why did the minister choose to engage JPM Brothers to carry out works on his Balzan residence?
6. Why did he choose to engage a firm (JPM Bros) whose business is development, not turnkey projects?
7. Does the minister deny having been aided directly or indirectly, in his electoral campaign, by JPM Brothers?

PRINT THIS ARTICLE
---
Any comments?
If you wish your comments to be published in our Letters pages please click button below.
Please write a contact number and a postal address where you may be contacted.

All the interviews from Reporter on MaltaToday's YouTube channel.
---
---


Anna Mallia
The rights of children – but what about their duties?


Harry Vassallo
Eight bells and all's well

European Elections special editions
01 June 2009
02 June 2009
03 June 2009
04 June 2009
08 June 2009