| | |
| --- | --- |
| Letters | Wednesday, 23 September 2009 | |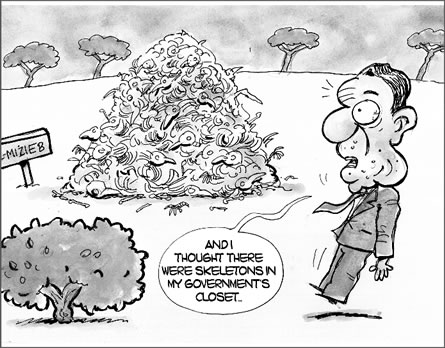 There is something sinister about the authorities' reaction to the macabre discovery at Il-Mizieb last weekend: something strongly reminiscent of the government's refusal to acknowledge that anything in this country is amiss.
For those unfamiliar with the issue, Mizieb is a stretch of land in the vicinity of Manikata, which – along with L-Ahrax tal-Mellieha – has been administered for some years by the hunters' and trappers' federation, FKNK.
Last Sunday, BirdLife Malta's fieldworkers discovered a number of bird carcasses and skeletons hidden within the area: some 192 in all, and almost all birds of prey, which have been officially "protected" in Malta since 1980 (though it must be said that to date, this "protection" has not amounted to very much.)
Leaving aside the obvious reactions to such a bizarre and quite frankly nauseating discovery – which confirms, among other things, that illegal hunting continues to be rampant in this country, in spite of European accession in 2004 – perhaps the most disturbing aspect has been the complete silence of all those department supposedly involved in the detection, prevention and solving of crimes.
Not only was the police's handling of this case reportedly abysmal (it appears that no serious effort was made to collect any of the evidence, or to seal off the area to prevent tampering by third parties, etc) but at government level there has been no acknowledgement of the seriousness of the incident of any kind whatsoever.
This is disquieting and to an extent depressing, but it comes as no real surprise. After all, in recent years the present administration has worked tirelessly to create the illusion that, contrary to local and international media reports, hunting is simply "not a problem" in Malta. So much so, that it has painted itself into a corner: it cannot now condemn illegal hunting without contradicting itself in the process.
So now, faced with graphic evidence of widespread criminal activity among some hunters (to give law-abiding hunters the benefit of the doubt), the same government appears to be in complete denial. And well it might, considering that the sheer extent of illegal hunting in Malta – made manifest by last weekend's discovery, although already widely known to all who have eyes and ears – is on another level the direct responsibility of Prime Minister Lawrence Gonzi himself, and has been so since March 2008.
Dr Gonzi might not relish the idea, but sooner or later he will have to assume responsibility for his abject failure to tackle this national scourge in any significant way. Not only is police action against illegal hunting insufficient (again, as evidenced last Sunday), but for years now the Rural Affairs Ministry has resisted beefing up the Administrative Law Enforcement agency, which still has a staff complement of just under 30 individual officers.
The latest excuse to maintain the ALE's woefully inadequate manpower is that the Drugs Squad makes do with roughly the same amount. This is at best childish, at worst an insult to our intelligence. The two crimes – drug trafficking and illegal hunting – are miles apart, as are the methods to combat them.
It is widely known that the police's greatest ally in the fight against drugs is intelligence: the Drugs Squad spends most of its time intercepting phone calls and "following the money" in cash transactions. Its job often consists in office work, and it is only when carrying out a raid or bust (in which case other departments within the police are usually roped in) that significantly numbers are needed.
The same simply does not apply to environmental crime. To combat this phenomenon, what is actually required is people on the ground: law enforcement officers in sufficient numbers to keep watch over large tracts of countryside, and with the necessary training and equipment to handle the sort of problems one associates with field operations.
BirdLife Malta has for some time now been demanding a unit to deal specifically with Wildlife Crime – as in fact exists in other EU member states, where such things have long been taken for granted. Needless to add, no such unit has been forthcoming.
In truth it is little short of astonishing that the need for such an initiative has not yet dawned on a Prime Minister who once claimed "the environment" as one of the main pillars of government policy. But it is also indicative of a sad fact which very few can now deny.
The problem is that the present administration simply fails to grasp the importance of the environment. We saw this with Gonzi's extension of the building zones in 2005; his absurd (and short-lived) crusade for golf courses; the endless U-turns of wind energy; and most recent of all, Malta's obstinate opposition to the proposed international ban on the trade of bluefin tuna, a fish currently threatened with extinction.
With these environmental credentials, it is clear that we can expect no serious effort to counter the scourge of illegal hunting in this country.

PRINT THIS ARTICLE
---
Any comments?
If you wish your comments to be published in our Letters pages please click button below.
Please write a contact number and a postal address where you may be contacted.

All the interviews from Reporter on MaltaToday's YouTube channel.
---

European Elections special editions
01 June 2009
02 June 2009
03 June 2009
04 June 2009
08 June 2009