| | |
| --- | --- |
| News | Sunday, 31 May 2009 | |
'Price increase will have negative impact on tours' – tourist guides' union
Matthew Vella
The Malta Union of Tourist Guides expressed dismay at the sudden hike in admission fees by Heritage Malta to museums and heritage sites, in some cases by more than double.
The new fees, published in a legal notice, now set admission to the Hypogeum in Paola for those over-18 as the fee rose from just under €10 to €20. The price tripled for the over-60s who will have to pay €15 instead of the previous €4.65.
While some museum charges went up slightly – the Maritime Museum in Vittoriosa and Rabat's Roman Domus only increased by a few cents – admission for those over 60 to the Domus will be €4.50, nearly double what they used to pay (€2.91).
Ghar Dalam also increased to €5 from €3.49 for visitors aged over 18 and to €3.50 from €1.74 for visitors aged over 60. Mnajda and Hagar Qim were increased from €7 to €9 for over-18s and reduced for over-60s from €7 to €6.50. Ggantija admission fees doubled from €4.65 to €8 for over-18s and to €6 for over 60s.
"The increases will definitely have a negative impact on tours and jobs for licensed tourist guides," Glorianne Mizzi, spokesperson for the Malta Union of Tourist Guides said.
"The increase will shoot prices of tours up and less visitors will purchase tour tickets thus registering a further decline in jobs for tourist guides. This year we are all struggling because of the economic crisis this is a further big blow."
Mizzi added that the entrance fees for Heritage Malta sites are amongst the most expensive in Europe. She said Stonehenge in the UK charged an adult entrance fee of £6.60 while the Louvre in Paris charged just €9. The imperial tour for Schonbrunn Palace in Vienna was €9.50 while the Uffizi in Florence are €9.45.
"Heritage Malta sites offer limited opening hours when compared to these sites. Moreover the fee should be proportional to what is being offered. It does not work towards making our history and culture accessible to all. We have on other occasions written about improving the visitors' site experience little if anything has been done," Mizzi said.
"Increasing entrance fees because of capital projects and operational cost does not make Heritage sites sustainable. Sustainable development meets the needs of the present without compromising the ability of future generations to meet their own needs. This decision further compromises jobs for tourist guides and tourism in Malta."
But the Malta Hotels and Restaurants Association has come out saying the increase in entrance fees was justified "as long as these additional funds are directly utilised for the maintenance and upgrading of these same sites."
The MHRA said that with travellers becoming more discerning about the standards expected and on receiving true value for money, "Malta must upgrade its sites and services to equal those of top destinations if we want to retain repeat visitors and also to attract new tourists."
"If this increase in fees will have the desired positive and proportional impact in these sites' condition, then MHRA contends that this increase is justified."
Heritage Malta chief executive Lucio Mulè Stagno however has said that prices have been reduced on several occasions and that annual membership cards were available for €35 for adults, allowing free access to all Heritage Malta sites, and on half-price for the Hypogeum. Tourists also have an option to buy a two-week block ticket for about €30 to access all sites.
"The reality is we need revenue to run our museums," Mulè Stagno said, adding that the tickets had been underpriced for a long time.
The new fees were criticised by Labour tourism spokesperson Marie Louise Coleiro-Preca who said the rise confirmed government's detachment from the realities of the global tourism industry.
---
Any comments?
If you wish your comments to be published in our Letters pages please click button below.
Please write a contact number and a postal address where you may be contacted.
---


All the interviews from Reporter on MaltaToday's YouTube channel.
---
EDITORIAL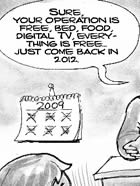 Free health? What free health?
---
---