| | |
| --- | --- |
| Mona's Meals | Sunday, 31 May 2009 | |
I do not imagine a single man, not to mention a heap of lezzies, is going to object to this month's Vogue cover where a very lovely, very smooth and very naked Natalia Vodianova is pouting her lovely pink lips at us from the newsstands. This is the third naked cover for Vogue UK. Very probably, most women will not object much either, although throwing up their lunch in despair and wearing only smocks all summer might just be on their agenda.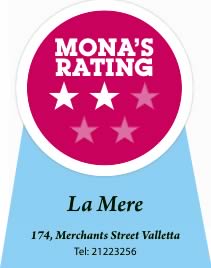 I, on the other hand (or bum) object to this whole issue being 'A celebration of shape and style'. Excuse me? If I were to be photographed by Mario Testino and air-brushed by a whiz-kid with a mouse, then I'm positive I could (almost) look like Vodianova. Now that would be a celebration, not least for me.
If anybody else had to snap me, leave my unfortunate bits and bobs showing, not pose me in a perfect curve, not make my face look like I have been relaxing/sunbathing/sleeping for three days in the Maldives, and all the other things which every single woman knows about, it would not be happiness-inducing at all. We'd just be going back to the throwing up part for all the wrong reasons.
Real bodies do not look like Vodianova's, or like Lara Stone's, which Vogue has the temerity to call 'curvy', probably because she actually has boobs. With real bodies, you cannot run your hands over them without stopping somewhere. They have spots and freckles, and sometimes, bumps and twists. Some of them are absolutely round, just like Oprah Winfrey's – before the shoot for US Vogue's cover, darling lollipop lady (big head, small body) Anna Wintour advised Oprah, infamous for her yo-yoing weight and love-hate relationship with own body shape, to 'lose a few pounds'. Twenty in total. She must have, because on that cover, she looks half the size she is on her TV show.
On Hello!, Peaches Geldof, who, according to the PR blurb, is a size 8-10, and is the new model for Miss Ultimo, the underwear company, 'told' the magazine that her father, Sir Bob Geldof "will just be happy that they've chosen me and not some anorexic Russian model. Young women growing up need a role model for a body shape that is achievable."
Hah! Role model my sometimes rotund ass. Having a size 8-10 body when you're past the age of 20, as Peaches does, is bloody hard work. And nothing can fight the force of gravity or the disappearance of collagen. I know what I'm talking about because staying off the carbs, the primary source of inflated tummies and heavy thighs, is just tough. So is not drinking half a bottle of wine every evening, or scoffing litres of ice-cream the moment the sun peeks out. I wrote a whole book about it and am constantly developing low-carb recipes for www.planetmona.com; I should know.
Weeks before its launch, I was in turmoil, knowing full well that everybody would be checking me out to see if I was living proof that this thing worked. It does, of course, and I have oodles of letters from people who were previously obese and are now happily 'normal', to prove it. Normal is not having to struggle to get out of bed, not becoming short of breath after two steps, not being embarrassed to go to a yoga class because you're sure everybody will stare at you while contorting themselves.
It is not this month's Vogue cover or most of its inside pages. It is not Peaches. This edition is exactly like the yearly Vogue 'Age' issue, where 80-year-old women who look like they're 35 explain how they are like this because of their genes and the fact that they wash their face with soap.
What does all this have to do with a restaurant review? Nothing. But I do read a lot of magazines.
So off we go to La Mere, the mother, in Valletta. The concept, I presume, is that this is homely food, homely atmosphere, homely service. The wines are on a rack just past the door. You choose, you pay a supermarket price, you pay a corkage fee. Excellent. Only the choice is amazingly limited when they should be stocking the more expensive stuff so the overheads pan out for the punter. The guy serving did not have much of an idea about the wine and there isn't a written list. He kept describing bottles as "good."
He brought over a couple of spicy chicken wings and two samosas packed with potato. They were very pleasant and promotion for the upcoming 'Indian' night. They had absolutely nothing to do with what followed.
The kawlata was lovely, although slightly thin, vegetables being present and broken down pleasantly. It was wonderfully salty from the Maltese sausage but the addition of additive-laden gammon cut into small cubes was unnecessary. The Writer had the shredded beef salad. It was a pile of leaves devoid of a decent dressing, bits of avocado and loads of cheap quality, thinly sliced beef, eponymously shredded, which my mum used to call 'tal-friza'. In fact, she still does. Horrible, terrible stuff. The meat, obviously, not my mum.
La Mere has a Maltese menu, a continental menu and it is soon doing an 'Indian' food night, wine chosen by the brilliant Zoran Crncevic. Enough already. One chef is Maltese, the other is Indian. I'm thinking they all want to keep each other happy. It will lead to the kind of democracy akin to letting any Tom, Dick and Harry comment without restraint on the online newspapers. And that, as fascist little me will always say, is the death knell of anything, let alone identity.
I chose the fried rabbit for mains, specifically asking for a piece of liver to be included. This was not promised and lo and behold, it was not delivered. Nobody bothered remembering. The rabbit itself was stewed in some kind of split red wine reduction, any idea of fried or garlic having long disappeared. The accompanying 'roast' potatoes were cut in tiny bits. Odd. Boring.
Odder still was the massive stuffed marrow which TW chose. It was so hard he could not be bothered eating it, stuffed to the gills with ricotta and what seemed to be frozen, rather than fresh spinach; a huge cosmic-like ball, devoid of flavour and texture. If I were a vegetarian, this would be the moment when I'd eat my own hands in desperation. Does your own meat count? On the side, he had more marrow, this time sliced.
Dessert was, if it were possible, even worse. We were presented with two of those horrible laminated menus, almost in apologetic gesture. One contained 'cakes' and the other 'frozen things'. I had presumed those menus had been slowly vanishing in any restaurant worth its sea salt. Damn, they haven't. We waved them away in despair.
Being all things to all men is just not on. It never works, and sadly, La Mere will realise this very soon. Being hot, slim things to all men and women and having your naked body emblazoned all over the glossies suddenly seems like a much smaller hurdle.
---
Any comments?
If you wish your comments to be published in our Letters pages please click button below.
Please write a contact number and a postal address where you may be contacted.
---


All the interviews from Reporter on MaltaToday's YouTube channel.
---
EDITORIAL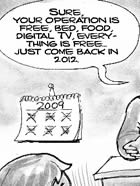 Free health? What free health?
---
---