| | |
| --- | --- |
| News | Sunday, 10 May 2009 | |
Richard Marquise
I am a retired FBI agent who led the US portion of the Lockerbie investigation and I want to provide a little different perspective to that in your article (In the dock: Lockerbie witness Gauci).
You state that the Scottish Criminal Cases Review Commission had conducted a three-year investigation to determine if Mr Megrahi had suffered a miscarriage of justice. Their "investigation" was woefully inadequate because they never spoke with me, Stuart Henderson (my Scottish counterpart who was the overall leader of the investigation) or many others who could have shed some light on how we reached certain conclusions in the case. As a 31-year investigator I could never had got away with conducting such an incomplete inquiry.
The comments you attribute to Peter Fraser, the former Lord Advocate of Scotland were also incomplete. His allegation that Mr Gauci was "an apple short of a picnic" was inappropriate but you failed to report the remainder of his comments which I think will give your readers "the rest of the story". Fraser said in the rest of his comments to BBC as reported by them on 28 October, 2005: "…I have no aspersions to cast on Tony Gauci's evidence." He went on to say, "Indeed such was the thoroughness of the investigation and the way in which it developed that I probably would place greater emphasis and credibility on Mr Gauci's evidence than any of my successors as lord advocate."
He further said that any view of his was not relevant as all that mattered was the view of the judges. "Three of Scotland's High Court judges heard him give evidence properly subject to cross-examination and they were specific in their conclusion that he was entirely credible."
I think the above paragraph better tells the story but I recognise that it may not be politically expedient to write it.
You stated in your article that "it is believed that Lockerbie's Semtex bomb was stolen…" – I would like to know who believes this? Certainly no one connected to the investigation. The timer found at Lockerbie was unlike that of the PFLP-GC. The statement that a "retired Scottish chief of police had signed a statement saying the CIA planted a fragment of circuit board crucial in convicting Libya" is totally untrue. It is a myth as it never happened.
Although there have been allegations that witnesses were paid and you refer to that in your article—not one person involved in this case was ever promised anything including money in exchange for their statement or testimony.
It is unfortunate that individuals continue to write stories while not pursuing all the facts – no matter what they might reveal.

Richard Marquise led the US Task Force which included the FBI, Justice department and CIA, managing all aspects of the Lockerbie investigation. A terrorism expert, he wrote 'Scotbom: Evidence and the Lockerbie Investigation'.
---
Any comments?
If you wish your comments to be published in our Letters pages please click button below.
Please write a contact number and a postal address where you may be contacted.
---


All the interviews from Reporter on MaltaToday's YouTube channel.
---
EDITORIAL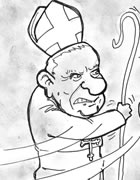 Italy and Malta fail
---
---