| | |
| --- | --- |
| News | Sunday, 12 April 2009 | |
MEP ELECTION SURVEY
Labour poised for absolute majority in June elections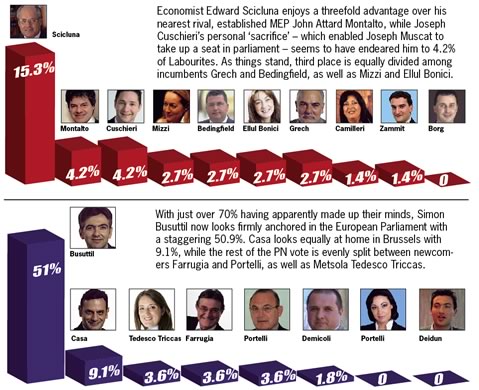 Click image for pdf version
Nationalist MEP incumbent Simon Busuttil and Labour's star candidate Edward Scicluna have emerged as the frontrunners of next June's European Parliament elections, a MaltaToday survey revealed.
Busuttil is enjoying a commanding lead of 51% from among voters who declared their intention to vote for a PN candidate in June.
On the other hand economist Edward Scicluna has emerged as the PL's frontrunner with 15.3% of Labour voters intending to vote for him.
MaltaToday's latest opinion poll on the forthcoming elections has placed Labour ahead of the PN by seven percentage points. At 25.5%, the Labour party has seen its lead over the PN decrease by one point in the past month.
Despite its attempt to attract disgruntled voters by fielding candidates who openly question government policies, the PN has only gained 1.7 percentage points, to reach the 18.7% mark of support.
The survey now shows Labour heading towards an absolute majority in next June's election.
But if only those voters who know who to vote for are considered, the survey indicates that 54.3% will vote Labour, while 39.8% have chosen the PN.
Still, a staggering 41.7% of overall respondents remain undecided or have refused to reveal their voting intentions, suggesting a lack of enthusiasm for the forthcoming elections among many voters.
The number of those intending not to vote increased from 10.6% last month, to 11.3%. Motivation is mostly lacking among PN voters. While 25.5% of respondents who said they voted PN in the last general elections are still undecided for whom to vote, only 16.6% of PL voters are undecided.
While only 4.2% of those who said they voted Labour in the last general elections will not vote in the forthcoming MEP elections, 11.1% of PN voters said they would not vote.
This suggests that if in the next weeks the PN manages to recover a significant portion of those former voters who are so far not keen on voting, it would achieve a much better result than the extrapolated 39.8%.
But this would not be enough for the PN to win the elections, because the survey shows that 5.6% of those PN voters in the 2008 general election have switched sides and will now vote for the PL in the forthcoming MEP election.
On the other hand, none of the PL voters in 2008 will be voting PN.
As in last month's survey, support for third parties remains low, with 1.8% choosing AD and 1% choosing AN.
When the undecided and non-voters are taken out of the sample, AD manages to score a respectable 4%. But this result is still a far cry from the 9% it scored in June 2004.
Significantly illegal immigration tops the list of most important issues for next June's election, surpassing more pressing economic concerns like unemployment and the economic crisis.
Such a scenario should favour right-wing parties like Azzjoni Nazzjonali. Yet the party only scores 2.1% of decided voters.
While 4.3% chose the environment as the most important issue, 3.3% consider hunting as their main concern in the forthcoming election.
Methodology
The survey was held between Wednesday 25 March and Thursday 2 April. 489 respondents were randomly chosen from the telephone directory and 300 accepted to be interviewed. The results were weighed according to the age and sex distribution of the population. The survey has a margin of error of +/-5.7%.
---
Any comments?
If you wish your comments to be published in our Letters pages please click button below.
Please write a contact number and a postal address where you may be contacted.
---


All the interviews from Reporter on MaltaToday's YouTube channel.
---
EDITORIAL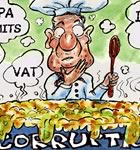 An explanation required
---
---