| | |
| --- | --- |
| NEWS | Wednesday, 25 March 2009 | |
In the 1960s JOE SULTANA put down his shotgun and picked up a pair of binoculars instead. Today he is one of Malta's veteran ornithologists, and a driving force behind many of the changes in hunting regulations
Can you outline your own progression from a hunter to bird conservationist?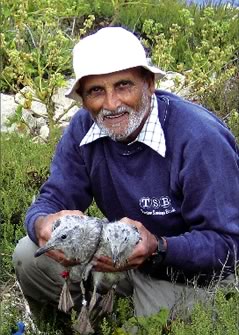 It is said that traditions die hard. Not that hard in my case, even though I come from a family of bird hunters and trappers on both sides. In fact I was brought up in a hostile environment for birds. When I was young I roamed our countryside with other children with catapults or cage-traps in hand. I didn't know any better, in spite of the fact that there was a feeling of wrongdoing. Maybe this background, and the fact that I joined the Education Department at an early age, instilled in me a strong belief in the motto "Conservation through education", particularly with the young.
But education on its own is not enough, it takes years to see tangible results; it needs to be backed up by adequate bird protection regulations, which should be strictly enforced.
Up to the early 1960s I was still pursuing bird shooting and trapping, but with a keen interest in bird study. Then in January 1962, the Malta Ornithological Society (now BirdLife Malta) was set up, and Joe Attard Tabone – one of the founders, and a close friend and mentor – asked me to help him set up the Gozo Branch, which we did a few months later. Then, in 1965, with the help of the British Trust for Ornithology, the MOS set up the bird ringing scheme: a valuable scientific tool, adding a new dimension to the study of bird migration, as well as the life-histories of local breeding species.
In former years there were several ornithologists, notably Antonio Schembri, Charles Wright, and Giuseppe Despott, who all made valuable contributions to Maltese ornithology. But then, ornithology was studied through the barrel of a shotgun and relied almost exclusively on collected specimens. They also had the disadvantage of working alone. However, since the setting up of the Malta Ornithological Society in 1962 there has been a rapid increase in bird studies and bird watching, and this led to a great upsurge in knowledge, particularly on the status of the migratory, wintering and resident birds. The MOS' ornithological publications were based on the observations and studies carried out over the years by several members of the society, thus giving a more detailed and a clearer picture of birdlife in Malta.
I was fortunate to be for several years one of the leaders of this group, working incessantly to upgrade the level of Maltese ornithology. This advancement in knowledge has been vital in planning measures of conservation.
You were involved in drawing up Malta's first serious hunting regulations in 1980. What were the precise circumstances that led to this development?
Although hunting laws in Malta date as far back as the 15th century, laws in the early years were always enacted to safeguard hunting for the upper classes, and not actually to protect birds. The first regulations aimed at protecting birds were issued in 1911. But in spite of being amended several times, 60 years later (that is in the early 1970s) they were still very inadequate and hardly ever enforced. Furthermore the increasing standard of living and affluence was resulting in an escalation of pressure on birdlife and the countryside, and the number of birds killed annually was for this reason increasing alarmingly. In the meantime MOS campaigned all the time for better bird protection while it remained focused on the education of the general public, particularly the younger generation in the appreciation and respect towards birds and the natural environment. In 1974 MOS joined forces with four other environmental societies and presented the government with fresh proposals governing firearms, shooters, birds and bird protection. Limited spring hunting was on the agenda of the discussions but the main aim was to introduce a close season as at that time bird shooting and trapping could be carried out legally all the year round.
1980 was quite an eventful year in the local history of bird protection. Engineering works were started to convert Ghadira into the first managed nature reserve, the International Council for Birds Preservation (now BirdLife international) held its 12th European Conference in Malta, and new bird protection laws were enacted. In spite of being heralded as a milestone, the laws were still inadequate. The list of birds that could be shot still included species such as herons and the egrets, and although they introduced the concept of a close season for bird shooting, this was too short and most inadequate. The problem of lack of enforcement was still glaringly evident.
Today the regulations are considerably different. Are you satisfied with the legal protection offered to birds in Malta, and especially with the levels of law enforcement?
They are considerably different, particularly now that the closed season covers the whole breeding season. Unfortunately there are still some huge loopholes. Midway through the closed season, the rabbit season is opened and those bird shooters who do not respect the regulations use this opportunity also to illegally gun down those birds that may remain here to breed to the detriment of bird conservation. And this is also most unfair to the law-abiding hunters. That is one of several reasons why the levels of law enforcement should be as high as possible. There seems to be a real political will to enforce the regulations and the Administrative Law Enforcement (ALE) unit is doing what it can to see to the regulations' enforcement. But the unit is overstretched and understaffed, and in my view it needs reinforcement.
Apart from an activist, you have also studied Malta's birdlife for several decades. Could you give an overview of how our understanding of birdlife in Malta has changed from the 1960s to today?
I already mentioned above that until the 1960s, ornithology was mainly based on what birds were shot. A dead bird doesn't tell you anything on its breeding biology; it doesn't give you a clue about birds' population dynamics; but research in living birds would. Nowadays in many advanced countries birds are used as good indicators of a healthy environment or otherwise. Through bird studies carried out since Birdlife Malta's inception we have learned a great deal about bird's life histories. We now have a good idea of how faithful they are not only to their breeding sites but also to their winter quarters; we know more about their migration routes, from which countries they hail when they visit us, and where they are heading to when they leave us. We have learned about the local breeding birds' longevity, their moult strategy and most important their breeding behaviour. The subject is vast and interesting. We have learned that the small European Storm-petrel, of which the largest known colony in the Mediterranean is found on Filfla, lives to an age of well over 25 years. The Chiffchaff, one of our smallest winter visitors, may turn up in the same area for seven consecutive winters. The list is as long as it is fascinating. The recent BirdLife Malta's EU Life project on the Yelkouan Shearwater, which includes tracking the birds with data loggers, is revealing an incredible picture of the birds' behaviour, the routes taken and the location of their feeding areas at sea. The latest publication Malta Breeding Bird Atlas 2008 is an outstanding contribution to Maltese ornithology and bird conservation, plotting the range and status of birds in 2008. It will be the benchmark for future studies in population changes within a scientific framework. On the other hand bird studies and observations have also along the years highlighted the gaps in our knowledge of this captivating subject.
The spring hunting season dates are usually decided by the Ornis Committee. However, no decision has been taken in the past two years, on account of ongoing infringement procedures by the EU. For their part hunters seem to believe the spring season can be maintained in the future. Birdlife Malta is adamant that it is a thing of the past. What are your own views on this subject?
In my view, common sense should prevail on this subject. The shooting and trapping of birds in spring, when they are heading to their breeding areas, does not make sense in this day and age. I do not think that we need to bring any European Directive into play to realise this. However, one cannot disregard the obligations that Malta has as an EU member state. One of these obligations is to provide special conservation measures to birds as regards their breeding and staging posts along their migration routes. It has to be said that member states may derogate from the provisions of some articles of the Directive, but this can be done only when there is no other satisfactory solution, and only for a number of good reasons.

PRINT THIS ARTICLE
---
Any comments?
If you wish your comments to be published in our Letters pages please click button below.
Please write a contact number and a postal address where you may be contacted.