| | |
| --- | --- |
| Anna Mallia | Wednesday, 25 March 2009 | |
In Malta the classification of public holidays is done with every change in government. The Nationalist government has since 1987 been giving its priority to Independence Day because it was obtained by the Nationalist party; and giving mere lip service to Freedom Day, because it was obtained by the Malta Labour Party.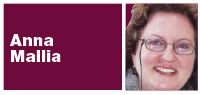 Unfortunately the former leaders of the Malta Labour Party did not work hard enough to allow this not to happen, and obviously the Nationalist government every year has a field day commemorating both events on paper but adding more spice to one, and out of our pockets.
I made some research about how these two activities have been commemorated by the Nationalist government.
Independence Day is always commemorated with vigour. A solemn pontifical mass at St John's Co-Cathedral in Valletta by the Archbishop with the state's highest authorities attending, including the President of Malta who is saluted by the band of the Armed Forces of Malta; the Armed Forces' band marches along Republic Street just before the mass; following the mass the President and the Prime Minister lay a wreath on the Independence Monument in Floriana; a symphonic concert by the National Orchestra under the direction of Maestro Michael Laus takes place in the yard of the Palace in Valletta and the National Festivities Committee lays a number of wreaths on various monuments and graves of part Prime Ministers such as Paul Boffa, George Borg Olivier, Ugo Mifsud, Nerik Mizzi and Gerald Strickland.
And mind you, this is the yearly programme of Independence Day celebrations and not a special anniversary of this event.
In the case of Freedom Day, the programme is as follows:
A ceremony at the War memorial in Floriana. In the afternoon there is a traditional regatta in the Grand Harbour.
It is this discrimination which Labour supporters can no longer accept from the government. The 30th anniversary of Freedom Day, the Minister for Culture Dolores Cristina was reported as saying, should not be celebrated differently from other anniversaries, since the 30th anniversary of Independence Day was no different from previous years.
But Minister Cristina must know that more money and more energy is focused on Independence Day than on Freedom Day and what Labourites are merely asking is that both are treated equally by this government.
If both are public holidays, and if in our law there is no public holiday above the other, then I cannot understand how the government spends more money in one activity than in the other. The issue in question is not that Labour is treating local councils as an extension of its party clubs, as the Nationalist Party's College of Councillors' president Ian Castaldi Paris stated. The issue is that the government is not treating Freedom Day as a national holiday but as a holiday for Labour and its supporters.
Had the government treated both national holidays with respect, the Labour local councils would not have taken the initiative to hold their own activities to make the 30th anniversary of Freedom Day. It was high time that somebody stood up to this blatant discrimination which we have been witnessing year after year in the celebrations of our national holidays.
It is true that more than 22 years ago, when Labour was in government, it undermined the importance of Independence Day. But I cannot understand how 22 years later, the Nationalist government is still carrying the same baggage and treating Freedom Day as if to avenge itself for the years Labour neglected Independence Day!
So we are made to continue to witness this tit-for-tat attitude, and I will not be surprised if there will come a day when Freedom Day will be cancelled altogether from the calendar of national days in Malta. At the rate this government is going, it is keeping it in the calendar just not to stir any waters and not because it believes it should be treated otherwise. As otherwise, how can one explain this discrimination between Independence Day and Freedom Day?
I do not agree with those who say that Labour hijacked Freedom Day. Labour is doing what it ought to have done ages ago: show the government that Freedom Day is not to be treated as a second or third-class national holiday. Only that in the past Labour let many things go unnoticed. And now it has regained its lost vigour and is now ensuring its supporters and its national achievements are no longer treated as second-class citizens and second-class public holidays. What Labour is doing is highlighting the flaws in the system and how the National Festivities Committee is embracing this discrimination.
Which brings me to the subject of public holidays and in this economic crisis we have still failed to emulate what other countries have done ages ago: to distinguish between public holidays that have to fall on the day and others which can be moved to a Monday. In other countries, the public holidays which are made to fall on a Monday are familiarly known as Bank holidays.
These have not been shifted to Mondays because people do not like Mondays but their purpose is one of economics. Statistics show that the output of workers is the lowest on Mondays and Fridays and the highest on Wednesdays. In fact if you speak to our entrepreneurs they will tell you that they are scared of public holidays falling on Wednesdays because the day after is like starting all over again.
So I cannot understand how the local business and commercial communities and the employers are not urging the government to reschedule some of our public holidays to a Monday.
In the meantime, we will continue to witness the difference in treatment between one public holiday and the other. Old habits die hard.

PRINT THIS ARTICLE
---
Any comments?
If you wish your comments to be published in our Letters pages please click button below.
Please write a contact number and a postal address where you may be contacted.