| | |
| --- | --- |
| NEWS | Wednesday, 18 March 2009 | |
Raphael Vassallo
Justice and Home Affairs Carm Mifsud Bonnici yesterday launched an impassioned plea in parliament – apparently aimed at the Opposition, but understood to also refer to officials within his own Nationalist Party – to desist from criticising Libya over its questionable handling of the immigration phenomenon.
Speaking on the second and final day of the immigration debate, Mifsud Bonnici urged Libya's detractors to moderate their tone. "It is a mistake to speak out against Libya in this issue," he said in response to Joseph Muscat's 20-point action plan, presented in parliament yesterday. "We recognise that immigration is also a problem for Libya, and we are doing our bit by putting pressure on Europe to offer more aid to Libya to help it control its borders."
His plea came only days after Nationalist MEP candidate Dr Frank Portelli launched a stinging attack on Libya's role in the ongoing human trafficking racket behind irregular immigration; and also after government backbencher Jeffrey Pullicino Orlando repeatedly urged the government to act tougher with its neighbour to the south.
These and other comments from Nationalist Party sources are understood to be the cause of diplomatic tension between the two governments, resulting in the minister responsible for immigration taking the opportunity to publicly praise Libya for its efforts to bring the situation under control.
But the bulk of Mifsud Bonnici's intervention was aimed at defending his own government's track record, under attack by Opposition leader Joseph Muscat, who claimed on Monday that "not enough" was being done about immigration.
"I am surprised the Opposition leader, in his 19-point plan, forgot to include important factors such as repatriation; the need to pursue agreements with third countries to accept returned migrants; the 'laisser passer'...." (referring to a travel document issued by the United Nations).
The minister hinted that the Opposition's plan was "hurried" and poorly thought-through. "Nonetheless I welcome that we are having this debate; but there is need to tackle such a complex and sensitive issue at greater depth."
Mifsud Bonnici also insisted that a "quota system", of the kind suggested by the Labour party, was not workable in practice. "What will we do when we reach our quota? Put up a 'no vacancy' sign at sea? Do we let them drown?"
Evidently nettled by Muscat's comments about a government which "lacks a backbone", Mifsud Bonnici countered that "having a backbone" also meant not trading in one's principles for short-term electoral gain. This, he added, is what the Labour party appeared to be doing when it uttered statements and made proposals that seemed to come straight out of a manifesto of an extreme right-wing political party.
With regard to the proposal to threaten the European Union with Malta's right of veto, Mifsud Bonnici urged the Opposition not to hark back to what it sometimes refers to as its own "glorious past", but which in reality only caused serious damage to Malta's international reputation.
"It would be a mistake to go back to the attitudes of Helsinki and the Council of Europe", he said, alluding to the famous antics of former PM Dom Mintoff in the 1970s. "All they did was isolate us for 20 years..."
On the other hand the Justice Minister welcomed the consensus that appeared to exist between government and Opposition on a number of issues – including Malta's controversial detention policy – and reminded Dr Muscat that many of his suggestions are in fact already being implemented.
These include the introduction of an admissions policy, the training and education of migrants, as well as various recent discussions regarding the Dublin II convention and Frontex, about which the Opposition seemed to be unaware.
The debate was also addressed by former foreign minister Michael Frendo, who shared Dr Mifsud Bonnici's doubts regarding the practicality of several of Labour's proposals: in particular the use of "lightning vetoes", which he claimed would be counter-productive to the national interest. Dr Frendo urged the Opposition to be "more concrete" in its proposals, and to keep its feet on the ground.
For his part, current foreign minister Tonio Borg, himself the architect of several of the government's migration policies, gave an outline of his own contribution to the issue between 2002 and 2008.
He recalled how the early arrivals pre-dated European Union accession by at least two years – making a mockery of arguments that the EU served as a pull-factor for migrants to Malta – and quipped that if "partnership" won in 2004, Malta would be in the position it is in today, only without any help from the EU. He also detailed the various progress achieved over the past seven years, recalling how detention was originally of an indefinite nature, until it was capped at a maximum of 18 months in 2004.
This, he argued, militated against the Opposition's view that the government "was not doing enough"; furthermore, the fact that Malta is the only country is Europe to have a policy of automatic detention for illegal immigrants also showed it was being tough on the issue.
Dr Borg was particularly scathing on the proposal – first made by AN's Dr Josie Muscat – to help migrants along on their way towards Europe. This, he claims, would make us an "outlaw" state: "Instead of fighting organising crime we would be helping it," he said.
Opposition spokesman on immigration, Michael Falzon, picked up where Joseph Muscat left off on Monday: reiterating the Labour Party's view that immigration was a major problem that would not go away on its own... and that for all the government's efforts to transmit the opposite message, it was clear to everyone that Malta was not coping.
"I'm not criticising individuals, merely stating facts," the former Labour deputy leader said. "There is no use pretending that everything is under control."
The situation was getting worse from year to year, and the associated problems were becoming more complex. Immigration had effects on national security, the economy, the rule of law; and it also created social and cultural upheaval.
There was no doubt illegal immigration was a big problem; and big problems required serious action.
Falzon explained that if such a major issue was being discussed at all, it was largely thanks to the Labour Party's initiative. The same was also true of the recent water and electricity tariffs debate, and also the issue of VAT charged on car registration tax: both of which were brought to the fore on the Opposition's insistence.
While it was always important to keep the human dimension in mind, Falzon expressed concern with the growing numbers of immigrants. Citing recent statistics revealed by parliamentary questions, he claimed that the total number of migrants currently in closed detention centres (2,131) was almost one third higher than the total number of persons serving within the Armed Forces.
"Can anyone name a country in Europe where there are more migrants in detention than soldiers in the army?" he asked, adding that he was not pointing this out to be "alarmist" or "sensationalist", or to create an "us against them" mentality, but because the facts needed to be discussed in the open.
Nor did Falzon feel he was being "alarmist" or "sensationalist" when he cited a recent front-page newspaper story, which claimed that half of Malta's known HIV sufferers are African migrants (around 50 in total).
"And these are just the ones we know about," he warned, demanding to be told what form of 'protection' the AFM and Detention Services personnel were being given against the threat of AIDS.
Michael Falzon also dismissed the Home Affairs Minister's reassurances regarding the government's admissions policy in open and closed detention centres, retorting that all NGOs involved in migration agree that this policy – if it exists at all – is simply not working. There was no adequate segregation of sexes, or any effort to keep apart people from "different tribes". Also, more needed to be done to ensure that supervising personnel were given adequate training and are present in sufficient numbers to control any situation that may arise.
Ignoring Mifsud Bonnici's advice about Libya, Falzon also insisted that Malta had not worked hard enough to reach an agreement with this important strategic partner, as Spain had done with Mauritania, or Italy with the same Libya. As a result, he claimed that Libya had not done enough to control the organised crime which "obviously exists" in that country.
"This is where we must show strength: not with illegal immigrants, but with human traffickers," he said, urging the government to "take stands in international fora, and insist that Libya take action to control its own borders, as other countries have done."
The last speaker in the two-day debate was Prime Minister Lawrence Gonzi, who began his address by apologising for his absence from parliament the day before.
Gonzi said he was happy to discuss the issue, and explained that he was irked by the Opposition leader's claims that he had tried to avoid the debate.
In particular, the Prime Minister objected to the use of the word "omertà", with all its mafia connotations... although he noted with satisfaction that Muscat had not repeated the claim in his intervention last Monday.
"When you sift through all that has been said, there is a lot of common ground between the two sides," he said. "There are some points on which we disagree, but in matters of substance not only do we agree on several points, but my government has even worked on several of the proposals raised by Muscat (on Monday)."
Agreeing with the Labour party that issue is not political, but rather one of national interest, Gonzi nonetheless listed out a number of policy points upon which there was no agreement.
Foremost of these was Labour's opposition to the Immigration and Asylum pact, which included a sentence tailor-made specifically for Malta's needs: i.e., that the EU would be in duty-bound to intervene, in an occasion where a member state was overwhelmed by immigration.
Dr Gonzi added that he could not understand how the Opposition would vote against such an important instrument; nor how he could accuse the government of inaction.
Turning to the statistics cited by Dr Muscat, Gonzi claimed that if 12,000 arrivals were registered in he past 10 years, and only 5,200 remained, this means the remainder had been repatriated or left the country of their own accord.
Repatriation, however, was among the issues not mentioned by Joseph Muscat.
"So why rouse panic?" the Prime Minister asked. "The figures he himself quoted suggest work is being done. It is not always easy, and yes, more needs to be done; but there is no need to spread panic."
Above all, Gonzi argued, what is needed in a discussion like this was "political rationality", of the kind that allows us to sit around tables and reach agreements with other countries in a mature, sensible way.
"We must be careful what we do with international maritime laws," he added, in reference to the Opposition's threat to "pull out" of international obligations. "Our international maritime sector is very important, and any attempt to suspend regulations could have unforeseen effects on this segment."
As for Muscat's intention to threaten Europe with its veto, the Prime Minister advocated caution and prudence.
"We can play the cowboys, yes, but do you know at what price? It took us ages to put behind us the reputation for intransigence earned in years gone by..."
The way to get results, he added, was through "dignified argumentation"
Gonzi also wondered if the Opposition had contemplated seriously the implications of its own proposals. Regarding the proposals for a revised admission policy, he said he agreed in principle, but to implement these recommendations one would need to build new detention centres. Where would the Opposition site them?
The Prime Minister concluded by announcing that the European Parliament's Civil Liberties Committee had just proposed the creation of a binding burden-sharing mechanism for the reallocation of migrants among all member states.
This, he claimed, was the "logical next step" after the Immigration and Asylum Pact signed last year. And yet, Muscat had not approved of that pact, and had even recommended that Malta pull out of the agreement.
Above all, Gonzi urged realism and pragmatism in the political parties' approach to the issue. Populist talk may sound very good, he said; but it's the sort of attitude one expects from comic books ("tal-comics").

PRINT THIS ARTICLE
---
Any comments?
If you wish your comments to be published in our Letters pages please click button below.
Please write a contact number and a postal address where you may be contacted.

All the interviews from Reporter on MaltaToday's YouTube channel.
---
Editorial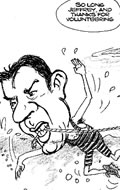 The good, the obvious and the downright ridiculous
---
Opinions


Harry Vassallo
If it works don't fix it
---

---
---
APPRECIATION
---

The Julian Manduca Award