| | |
| --- | --- |
| Editorial | Wednesday, 18 March 2009 | |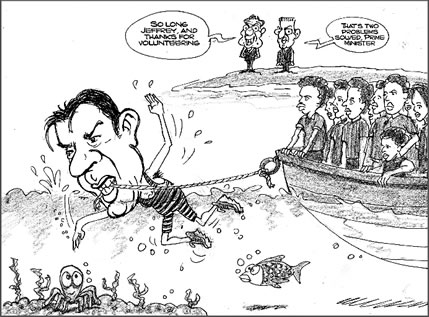 The good, the obvious and the downright ridiculous
On Monday Labour leader Joseph Muscat presented his party's "action plan" on immigration to Parliament. In so doing, he challenged the Prime Minister (who incidentally was absent for the debate) to accept his proposals lock stock and barrel, or to put them to a popular referendum.
For a Socialist leader who styles himself a "progressive", Dr Muscat evidently needs some basic coaching in democratic debate. His plan contains no fewer than 20 points – a few of which are commendable, others dubious and debatable – and as such, it is impossible to decide the matter by means of a popular vote.
What question does Dr Muscat intend to ask the electorate, exactly? Do you agree with all 20 of Labour's policy points? Do you agree with some, but not with others? And how will the results be interpreted, if it is not even clear what the referendum was intended to achieve?
Dr Muscat seems keen on presenting government (and also the people) with an ultimatum: either accept the 20-point plan entirely, or reject it altogether. This is certainly not a "progressive" way of handling such a complex and sensitive issue; it is in fact rather childish, and as such will have to go down as a disappointment, coming from a young leader who has to date shown such promise.
Having said this, the Labour Party's proposals are welcome in that they should (if presented properly) kick-start a meaningful debate about immigration. At a glance, the 20 points may be subdivided divided into three categories: the good, the obvious and the downright ridiculous.
Let's start with the obvious. It is an indication of how seriously we fail to understand our basic international obligations, that the Opposition leader can get away with proposing initiatives which are de facto already guaranteed by law. For instance, Muscat's observation that women should not be detained together with men (except for family reasons), and that children should not be detained at all, are quite frankly the very barest minimum of detention policies, already prescribed by UNHCR guidelines and the Convention on the Rights of the Child. The fact that such vulnerable migrants are nonetheless routinely detained in Malta only illustrates how far we still have to go to meet the entry-levels conditions of civilisation.
Turning to the good, and a number of suggestions brought forward by the PL deserve close attention. Foremost among these, the idea to have regular reports on conditions of detention, presented to a permanent parliamentary committee. Granted, the government will no doubt counter this by claiming that such an inspections committee already exists, in the form of the Prisons Visitors' Board. But its reports remain a jealously guarded secret in this country, revealed only to international institutions such as the United Nations; certainly they are withheld from the Maltese taxpayer, who finances government's expensive detention policy, and as such has an undeniable right to be informed about the situation, and how his tax money is being spent.
On another level, one sympathises with Muscat's suggestion to occupy the migrants' time with training courses in (among other subjects) the English language. But his idea to extend such courses also to 'respect for the law' smacks heavily of a right-wing ideology that de facto criminalises migrants; and as such one would expect this proposal more from Azzjoni Nazzjonali than a supposedly Socialist party.
This leaves us with the utterly ridiculous, and the Opposition now openly admits its grand strategy is to simply threaten Europe by using its veto on all issues, including those which have nothing to do with immigration.
This is a dangerous political game to play, and its possible consequences may outweigh even the current national furore over immigration. Simply put, we depend too much on co-operation from European countries to risk losing all their support by routinely blackmailing them. When one considers also that the cause of this blackmail will be our reluctance (as opposed to inability) to handle a few thousands of immigrants – the vast majority of whom are routinely repatriated – and it is difficult to imagine the European Union reacting with anything but opprobrium.
Muscat, it seems, is not considering the effects of taking Malta back to its former, dubious status as a rogue state: a country which threatens to toy with international law (ironic, when you consider that his plan insists so much on "legality") and which will invite enmity, and possibly even political retaliation, by using its right of veto as a permanent threat.
Someone within his party may wish to inform Joseph Muscat that there is a price to pay for such maverick behaviour: and that the people to pay this price will not be the irregular immigrants, but rather the citizens of Malta themselves.

PRINT THIS ARTICLE
---
Any comments?
If you wish your comments to be published in our Letters pages please click button below.
Please write a contact number and a postal address where you may be contacted.