| | |
| --- | --- |
| News | Sunday, 08 March 2009 | |
Matthew Vella
A Council of Europe (CoE) study on freedom of expression and freedom of religion, argues that it is no longer desirable for European democracies to criminalise blasphemy, and calls for the abolishment of such laws.
Malta is one of the few European states that penalises the 'public vilification' of the Roman Catholic religion with a maximum term of sixth months' imprisonment – and three months for other religions.
Only Greece contemplates a higher term – two years' imprisonment – for 'malicious blasphemy'.
The debate on so-called religious insult was brought to the fore by the Board of Film and Stage Classification's decision to ban the play Stitching, for reasons that included blasphemy.
And adding to the dose of ecclesiastical umbrage, only this week seven revellers at the Nadur carnival were arraigned for dressing up as priests – much to the outrage of the bishops. It seems Malta has reverted back to 1959.
The report on European laws on religious insult and incitement to hatred in all the European nations, was prepared by the Venice Commission, an advisory body of the Council of Europe composed of experts of constitutional law.
In their two-year study, the experts concluded that it is "neither necessary nor desirable to create an offence of religious insult, that is insult to religious feelings, without the element of incitement to hatred as an essential component".
The Commission argues that pluralism, tolerance and broadmindedness means that freedom of expression should not be limited to protect an individual's belief from criticism.
"The right to freedom of expression implies that it should be allowed to scrutinise, openly debate, and criticise, even harshly and unreasonably, belief systems… as long as this does not amount to advocating hatred."
The Commission argues that the offence of blasphemy "should be abolished" and that democratic societies "must not become hostage to the excessive sensitivities of certain individuals… the level of tolerance of these individuals who would feel offended by the right to freedom of expression should be raised."
"A democracy must not fear debate, even on the most shocking or anti-democratic ideas… persuasion, as opposed to ban or repression, is the most democratic means of preserving fundamental values."
The Venice Commission also argued that it is not for the law courts to find the right balance between freedom of religion and freedom of expression, "but for society, through rational discussions between all parts of society, including believers and non-believers."
Against religious sentiment
Article 163 of the Criminal Code lays down a maximum imprisonment of six months for public vilification (with gestures, writing, speech, and pictures) of the Roman Catholic religion – but only three months against "any cult tolerated by law".
Note that this law was enacted in 1933. The use of the word "cults" reveals the contempt shown to other religions, apart from making blasphemy against Jews, Muslims, Protestants, adherents of the Bahá'í faith or Quakers less serious than against Catholics.
Article 338 (bb) states that it will be an offence to, "even though in a state of intoxication" publicly utter "any obscene or indecent words, or makes obscene acts or gestures, or in any other manner not otherwise provided for in this Code, offend against public morality, propriety or decency".
In respect of this contravention, where the act consists in uttering blasphemous words or expressions, the maximum punishment may be imprisonment for a term of three months.
Article 338 also prohibits the wearing of any military uniform or ecclesiastical habits without permission – which is again a law enacted in 1937.
BLASPHEMY IN EUROPE
While 'public vilification' of religion is an offence punishable by imprisonment in Malta, blasphemy is an offence in only a minority of member states (Austria, Denmark, Finland, Greece, Italy, Liechtenstein, the Netherlands and San Marino). The penalty incurred is generally a term of imprisonment, mostly for six months, and up to two years in Greece for 'malicious blasphemy' or a fine.
'Religious insult' is however a criminal offence in Andorra, Cyprus, Croatia, the Czech Republic, Denmark, Spain, Finland, Germany, Greece, Iceland, Italy, Lithuania, Norway (prosecution only carried out when it is in the public interest to do so), the Netherlands, Poland, Portugal, Russian Federation, Slovakia, Switzerland, Turkey and Ukraine.
Negationism – the public denial of historical facts or racial genocide such as the Holocaust – is an offence in Austria, Belgium, France, Switzerland, and Germany.
PUBLIC MORALITY IN MALTA
To this day, the Police Code empowers the Commissioner of Police to put a stop to activities within clubs or theatres on "grounds of morality" – a minefield for any legal and philosophical debate. What sort of act that is not criminal, could be so immoral as to warrant the intervention of the law?
As things stand, the Commissioner of Police can turn down the registration of clubs "on grounds of morality" or petition the Courts to cancel a club's registration.
In 2007, a police raid resulted in the arrest of 35 lap dancers from several clubs all over Malta, accused of "performing immoral acts". The police's main thrust was that the women had been dressed inappropriately inside a public place, the main evidence resting on the proclivity for thongs, or g-strings, worn by the dancers. Suffice it to say that no woman in Malta has yet been arrested for wearing a bathing suit on the beach.
Magistrate Antonio Mizzi later cleared the women of the accusations, famously declaring that society's moral standards "had evolved" and that the police had ordered a fishing expedition that had not resulted in any sufficient evidence of prostitution.
Additionally, police superiors also have a finger on the arts, being empowered to stop any public performance, exhibition, show or entertainment "for reasons of public morality".
---
Any comments?
If you wish your comments to be published in our Letters pages please click button below.
Please write a contact number and a postal address where you may be contacted.
---


All the interviews from Reporter on MaltaToday's YouTube channel.
---
EDITORIAL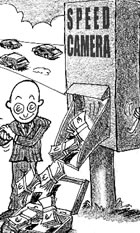 What a carnival
---
---
OPINIONS

---


Saviour Balzan:
A year on, and gosh… what a year


Raphael Vassallo:
And now, the Morality Police...


Vince Farrugia
The things we need to do


Evarist Bartolo
Let's stop half our children drowning


David Friggieri
The Possibility of an Island
Nynke Van Ek
Agri/o-tourism... bring it on!?
Joseph Carmel Chetcuti
Debate the book, don't ban it
Introducing parole
Government has just published a White Paper proposing to introduce parole in the justice system. MaltaToday asked the minister responsible, Mid-Dlam ghad-Dawl and Azzjoni Nazzjonali for their take on this development >>
---
---