| | |
| --- | --- |
| Eric German | Sunday, 25 January 2009 | |
The British censor made cuts totalling nine minutes of gore in the original 1981 film but the remake is uncut and much gorier.
After an accident in the local mine in which five men die, the sole survivor, Harry Warden (Rich Walters), puts on a miner's gear and breathing mask and kills 22 people with his pickaxe before being shot by the Sheriff.


Tom Hanniger (Jensen Ackles) has a narrow escape from Warden's pickaxe but he remains traumatised and disappears. Ten years later he returns and finds that the Sherriff is now Axel Palmer (Kerr Smith) who was with Tom on that fateful night, along with Tom's girlfriend, Sarah (Jaime King).
Sarah is now married to Axel and they have a child but he's cheating on her with Megan (Megan Boone), her younger assistant at the store where she works. He's dismayed when Megan tells him she's pregnant.
Tom wants to sell the mine his father left him so he's hated by all the locals except for Sarah who still has a soft spot for him. Then the pickaxe murders start all over again.
The original was a low budget Canadian film that's fondly remembered by horror film buffs. The American remake makes changes but it's far more faithful to the original than most other remakes.
Patrick Lussier directs in a reliably professional way. He keeps a steady pace and maximises the tension and suspense with a camera that's multi functional.
It goes on the run, probes, gives different perspectives and often assumes the same movements of the characters concerned in some of the action scenes. This makes for exciting viewing that's very gory but compelling watchable.
The editing is crisp; quick, but never choppy, and always done with a purpose in mind. The best example of the photography and the editing is during the long and very active sequence in which Sarah and Megan get trapped with the killer in a large, closed store.
There's a good sound design with hushed, sinister sounds seemingly coming from behind you and from the sides of the cinema and when the volume went up during an edgy scene it startled me and provoked a knee jerk reaction.
The human triangle is played in a minor key but it adds to the intrigue while the plotting keeps us guessing by alternating between making us suspect that Tom and then Axel is the killer with Sarah caught in the middle.
I'm not making a case for My Bloody Valentine being a particularly good film but by honouring the horror conventions of the 80s and combining them with today's freedom in the treatment of gore and sex makes for satisfying horror entertainment.
(The 3-D version is currently the third biggest box-office hit in the US. The print under review is the 2D version).
With bride Wars, Kate Hudson continues her string of mediocre films and this time she has no one but heerrself to blame as she's one of the film's four producers.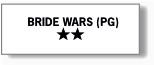 Liv (Hudson) and Emma (Anne Hathaway) have been lifelong friends but they become bitter rivals when their wedding planner (Candice Bergen) screws up their wedding dates. This leaves them unable to live their childhood dream of being married at the Plaza as it's booked for three years.
The premise is slight but reasonably good and it could have made for an enjoyable comedy had it been developed properly. It's the same old story: that premise dies of malnutrition as the film caters for the lowest common denominator by going for cheap and easy physical comedy and unconvincing sentimentality for the cop out ending.
So, Emma exploits Liv's weakness and sends her lots of tasty chocolates. Liv thinks they're from her fiancée, gorges herself and becomes too fat to get into her wedding dress.
Liv retaliates by sabotaging Emma's tanning session and turns her into an orange-coloured woman. I won't go into the blue hair incident but this is the kind of silly stuff that Bride Wars is made of.
Steve Howie and Chris Pratt are cast as Daniel and Fletcher, Liv and Emma's boyfriends, but their presence is a mere formality and they only serve as sounding boards for the girls who use them instead of talking to their mirrors.
At a very late stage, the film looks as if it will finally improve. Liv, a domineering attorney who always gets her way, is reduced to weepy helplessness while Emma, who's an abused pushover, becomes aggressive and bitchy.
This is the only part of the film that doesn't assume it will be seen only by suckers. And it provides Hudson and Hathaway with two of the very few opportunities they have to show they're actors.
There's also an amusing bit of physical comedy as Emma gatecrashes Liv's bachelorette's party and competes with Liv for the title of the Sexiest Bride. This allows Hathaway to really let her hair down and do a wild, sexy dance while keeping her clothes on, of course. But the improvement is an isolated passage that doesn't last very long.
Soon we're back in the doldrums and the tediousness induced a state of utter indifference in me so that by the time it gets to the catfight in chiffon, the only thing I wanted to see was the end.
---
Any comments?
If you wish your comments to be published in our Letters pages please click button below.
Please write a contact number and a postal address where you may be contacted.