| | |
| --- | --- |
| Saviour Balzan | Sunday, 14 December 2008 | |
I guess it is a highly unpopular thing to even consider questioning the resurrection of the Renzo Piano plans.
You see, saying no to something is not acceptable in this day and age.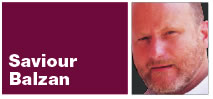 At face value, doing something rather than nothing at all at City Gate is a positive development.
But that simply is not good enough.
Just because the plans were shelved years back after hundreds of thousands of liri in payouts to local and foreign architectural firms does not mean that we should embrace the Renzo Piano plans without a nod or a careful appraisal of the benefits of this project.
What irks me, rather than the project itself, is the unbelievable chaos in the financial budget presented by this administration.
Nowhere in the October budget presented by Minister Tonio Fenech was the project to be captained by the 71 year-old Renzo mentioned. Surely a project of such magnitude should be outlined somewhere in the fiscal planning of a government?
Why did the budget minister fail to make any reference to the Genoese's architectural plans?
Well, I would put it down to one simple reason. The Renzo Piano idea was an afterthought, an attempt by the PM to see through a project that would inscribe his name in the history books.
It is far unacceptable that a project – any project of such magnitude – fails to get pencilled in a budget. It reconfirms my belief that the budgets and electoral programmes contribute to a very small part of government policy.
Policy appears to be the domain of the Gonzi boys, the ones who churn up ideas and names and take decisions without considering the ramifications of a particular decision, or looking back to see if there were other plans.
The Piano City Gate project is not an intrinsically bad project. It is, however, an exciting project that will not change Valletta... other than perhaps adding some colour to its entrance.
I too love Paris, but I could do without Piano's ugly Pompidou centre and I am sure if someone blew it to smithereens, Paris would still be Paris.
And of course Valletta would still be Valletta without Piano's grandiose plans.
This project will be attractive, most especially to the contractors, and useful to the red dots in the balance sheets in the budget accounts.
This project may ameliorate the ambience and improve the working conditions of our part time members of parliament, but it will do little more.
And more importantly this project will definitely cost a bomb.
There is a very marked difference between what we wish for and what is possible. I for one would love to have a famous French chef cook a risotto with white truffles at home and a valet to prepare my clothes and iron them, as well as a chauffeur driven Maybach.
Thankfully I know that this will never happen because as things stand I am in no position to finance such extravagances.
Dr Gonzi and his acolytes or sycophants have obviously ignored this fact. They need not worry, because the money is not theirs, but in fact our taxes.
Dr Gonzi has done more than this. He has also ignored:
1) That his 2009 budget makes zero reference to such a project.
2) That other priorities in Valletta will be sidelined by this project
3) That this project will have massive over-runs, no matter what he says.
4) That this project, together with the works at St John's, will wreak havoc at Valletta
5) That the original project was rejected years ago and is being introduced without the same consultation process.
I am not saying that the Piano project should not take place. But can I meekly suggest that I find his designs revolting. I am sure that Renzo's plans are to some an architectural gem, but should I be expected to love what I cannot love?
I tend to forget that architects need egocentric visionaries to help them create deformed monsters.
Take a look at the Malta Maritime Centre in Marsa. Does anyone wish to call that a useful and beautiful building? To me it is an orgy of cement and a tribute to greyness and wasted space. But architects and designers call it 'interesting'!
That 'interesting' object, by the way, only cost the taxpayer millions of liri to design and build.
Perhaps I should just shut up and look the other way. What if the budget office omitted the sewage tax, the utility tariffs and the Piano plan? What if someone at the budget did not take into consideration a capital investment of €80 million?
And why should I worry if I pay more taxes for someone's wild dreams?
I should not even query whether this project, like all others, will overrun into millions and increment the national debt.
I should not concern myself if the project will benefit the same coterie of construction companies, architects, consultants and others who have made it at our expense.
Good luck Piano, and thank you for everything. Thank you for making my Prime Minister a happy man, a man to be remembered in the history books.
Thank you once again.
Read my lips
No, please do not read my lips. 'Read my lips' is a phrase used by bookish apologists who do not write in this newspaper and who still think that Paul Borg Olivier did not commit a political error.
Now, I am not one for promoting the reading of lips. I like to believe that people express themselves loudly and very clear and that I will do the same.
For example, I do not query Gonzi's politics because he is a Nationalist, he could be a Labourite for all I care. I do not care for anyone's politics. I question his politics because he is the man who decides things and he is the man who determines what happens next.
If I am still around when Muscat gets to Castille, I will be doing very much the same.
The truth is that Gonzi has slowly created a Mintoffian structure of things.
Yes you heard right, a Mintoffian structure of things.
It is from the office of Lawrence Gonzi that the Mintoffian structures start. Co-ordinated and captained by Edgar Galea Curmi, there is a very clear attempt to control everything, from appointments at ambassadorial level to departmental heads, to the head of Meusac, or heading Heritage Malta, to the political appointments on boards or to whom the National Order of Merit goes to. Galea Curmi especially has established himself as the eminence grise controlling government actions irrespective of their impact and cost. The pre electoral decisions at Mater Dei are perhaps the best example of his actions.
Nothing happens without his knowledge, and unlike his predecessor, the hysterical Richard Cachia Caruana, Galea Curmi acts in stealth with the gusto of a Jesuit and to aide in his quest, he has at his disposal the right disciples such as Charmaine Gerada and Robert Cutajar, two lieutenants who leave no stone unturned in their pursuit of the Gonzi doctrine.
Travelling around European capitals and visiting Maltese embassies I have also been shocked at the recruitment of staff members. They too have had their posts screened after Castille's blessing.
Wives and husbands and friends and boyfriends and girlfriends, all thought of by the great charitable boys at Castille.
The cronyism of Mintoff has inculcated itself at every level of the Gonzi administration. It takes place to such an extent that it is now impossible to decipher or recognise where political patronage starts or ends. And since so many people owe Castille a living and a very big thank you it goes without saying that the Gonzi administration will expect payback time when election-day comes up on the calendar.
Amused
I was very amused to say the least to read the write-ups for Lino Spiteri and Vince Farrugia as respective recipients for the Companion National Order of Merit and Midalja ghall-Qadi tar-Repubblika in the hand outs given out in yesterday's investiture ceremony.
No mention in the write-ups of all the nasty things that were said about Lino and Vince in the early eighties by the Nationalist media.
I am sure Godwin Grima, Galea Curmi's right hand man at Castille, would not have stood for such a thing.
I too think that we should move on in life, but when writing history there comes a point when we cannot go on pretending that everything was 'ALICE IN WONDERLAND'.
I am sure that the shrewd, mature and bright Lino and Vince accepted their award with gusto. Do not get me wrong, whether you agree or disagree with the two gentlemen, they merit more of a mention than for example Fra' Andrew Bertie or Muammar Gaddafi or Dott Alvise Memmo; all recipients of some kind of official medal from the Republic of Malta.
Lino and Vince, like so many others before them, would have accepted the compliment.
I am sure they would snigger at all the compliments coming their way from the people who would have had them crucified some years back.
And I am sure that they will continue to say it as it is.
I very well hope so!
---
Any comments?
If you wish your comments to be published in our Letters pages please click button below.
Please write a contact number and a postal address where you may be contacted.