| | |
| --- | --- |
| Mona's Meals | Sunday, 14 December 2008 | |
A friend of mine is having 'Father Christmas Does Not Exist' t-shirts printed. Maybe it is because this year, unlike the past two years, there are less of the red-dressed monsters trying to break into houses through balconies or hanging off people's facades. Maybe he's a spoilsport and just wants to burst children's bubbles.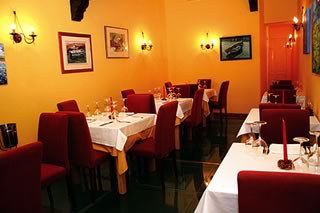 When this kitsch phenomenon exploded in 2006, I felt that the Maltese nation's way of expressing itself through decoration could not sink to lower levels. Then I switched to Smash TV, saw yet another guy, probably Morales, selling more and more versions of the offending items (plus every permutation of horrendous vase in existence) and realised that we had not hit rock bottom yet. As any junkie knows, the only way is up, but only if you've scraped the barrel with your teeth.
The closer you get to the north of the island, the more bizarre the sense of humour. And so, two years ago, on the way into Dingli, a big fat Father Christmas could be seen hanging on for dear life onto a huge metal gate which had crashed into the soil. The idea of this globe-trotting man becoming too fat to climb over and literally dying while trying to break into a pig farm was absolutely hilarious and somewhat morbid. Until this day I wonder what kind of upbringing the farmer had had.
For most people, the Christmas work do is equally funny. Or tragic. Most get to eat in the company of people they cannot stand during the year - when they are mostly sober - let alone while wearing paper hats, a tibdila (read novelty ties for men and full-on cleavage for women), and have more than a couple of wine glasses sloshing around their brains. It is as if some people wait an entire twelve months to release the bile; there is nothing like a bit of yuletide good feeling and a bottle of 40 proof to help you do it.
If it were up to The Writer, we would have an eating-out shutdown and take to our home from the 13th of December, not coming out until the 5th January. I can hardly blame him. At least there we can keep the radio off and not listen to the same stupid Christmas songs year in year out.
For some odd reason, restaurants also think that their patrons enjoy hearing bad music repackaged. Which is why initially, our impressions of Lo Spago were not that good: the speakers were belting out some kind of Italian pop-opera singer's version of something British. It sounded bizarre.
Spago is not ready. It used to be called Epoca before, and the previous owners had the brilliant idea of turning the ground floor into a live aquarium. When they closed up and left, a sole Koi managed to survive for six months. It is currently at a salon in Gzira being given the kiss of life and an updo. The aquarium has been drained, the walls need as much re-touching as the fish, and warmth must be introduced into the general décor, which is looking lack-lustre and abandoned. The paintings, meant to be eye-candy, are only there to cover the emptiness. As in the song 'I'm not in love' they only seem to be there to 'hide a nest of stain that's lying there'.
All of this is superseded, and quite spectacularly so, by a chef madly in love with food and wine: Paolo is the guy who used to be at Il-Horza in Valletta. He's Italian, knowledgeable, knows more about local fish than most local chefs, calls them by their Maltese names (the fish not the chefs), and has the potential to become a star on our culinary landscape.
I had no idea what his name was, or where he was before, until I heard a big fat 'Mona!' emanating from the top of the steps. Thankfully for me, not for them, on the night the restaurant was empty save for two lone diners who, we found out later, had been 'searching' for Paolo for months. Under normal circumstances, I would have run a mile. But these were not.
Nathalie is a wonderfully sweet woman who used to be 'in my gang' back at University. The last I heard from her, she had 'run off' and married an Italian. True to form, and unlike many 'perfect' Maltese-Maltese, graduate-graduate, good-family good-family marriages, she is still with him. The Italian guy is Paolo.
She is a lovely girl: friendly, enthusiastic and smart. Yet she needs to learn the ways of restaurants if she is going to be her husband's front-of-house right arm. Although she knows how to eat good food, neither her nor the waiter on the night had any idea of the fresh fish available. They could not answer any of other questions either and Paolo had to be called out each time. This is unsustainable. Frankly, the only time I have seen husband-wife combos working is in Italy where dragging the entire family into the business is normal. Oh, and at Tal-Familja, of course. So good luck to them.
Meanwhile, this Paolo is a revelation. 'I only buy fish fresh and line-caught from Robert across the bay' he told us, not needing a priedka from anybody, including me, about fish-farming and serving customers crap. His menu is extensive, yet for obvious reasons, and because he is sticking to fresh everything, most of it will not be available on any particular night. I suggest he switches to a board. If anything, it will lend his restaurant a little of the ambience it is presently sorely lacking. Moreover, it will give the fish, when they eventually return, something to read all day.
'Take the salumi!' Nathalie encouraged. 'Isn't that bizarre' TW asked me later 'She is encouraging us to have a starter which her husband has not cooked'. 'Rather, she wants us to have something before the starter' I replied. 'And our bill will be heftier for it.' I was right. As usual.
The charcuterie from Tuscany and Piemonte is, in fact, a brilliant example of how Paolo can source his food. He imports them direct, eschewing any third parties. We had finocchiona, salame di Montevarchi and prosciutto crudo di bianco e cinta, tarese and lardo di adò: what an amazing mouth fest. He should sell them by the etto as take-aways. They beat the 'freebie' starters (boring, cold) hands down.
The wine list is sad but the real, unlisted wines are not, and Paolo said we could have them by the glass. Problem is, only Paolo understands them and moreover, the reds are in a hot environment. They should get themselves a cooler pronto.
I had Jerusalem artichoke soup with octopus and avocado, which was sublime and surprising, not to mention as far from homely as you can imagine. TW's fish stuffed mussels in sea urchin cream were overcooked, overwrought and under-seasoned: a difficult dish which is difficult to pull off in a restaurant environment.
My nut-crusted rack of venison was huge, the meat fresh yet slightly overcooked and the crust too thick. TW's fish was beautiful - we'd seen it almost alive minutes earlier and its bug eyes stared at us, begging us to consume it. There was so much 'stuff' on the side: roast potatoes, cheese-laden zucchini, tomatoes and salad, that it was a little too much really. Maybe they were just trying to please us.
TW asked for, and got, assaggi of each dessert, a selection of creamy, chocolatey home-made desserts, including cassatella and tiramisu. He was only charged €3 for the lot. I had a zabaglione and for the first time ever in this country, it was made fresh. So much so that I could hear chef beating the eggs in a bain marie in the kitchen from where we were sitting. I adored it.
Lo Spago is a work in progress. Yet it has heart - a huge Christmassy-sized one - and for that, I recommend it whole, um, heartedly. The potential of the location (you get all-night parking at Portomaso thrown in for free), the massive enthusiasm of its new owners and the obvious passion for food and wine of the chef speak volumes.
Go now, grit your teeth, and say you were amongst the first to 'discover it' when it explodes in a few months' time, as it will.
Agree? Disagree? Let us know on www.planetmona.com
---
Any comments?
If you wish your comments to be published in our Letters pages please click button below.
Please write a contact number and a postal address where you may be contacted.
---


All the interviews from Reporter on MaltaToday's YouTube channel.
---
EDITORIAL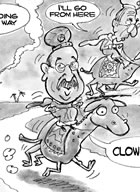 Climate change: let's get rea
---
---