| | |
| --- | --- |
| Saviour Balzan | Wednesday, 26 November 2008 | |
Nothing comes for free, not even double standards
As the Labour party proposes changes to its Statute, the real item that should really concern us are plans for a new tax on sewage.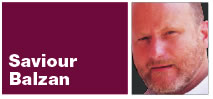 Having said this, there is always a limit to how the new MLP can apply cosmetics. You can cover the wrinkles but you can never erase them. Even those who resort to plastic surgery know this.
Labour leader Joseph Muscat, who has no such apparent problems with wrinkles, is probably unaware of the long-term application of cosmetics.
And yet he chooses to present his new Labour's look with two oldies and pseudo-socialists by the name of Karmenu Vella and Louis Grech. If there were two people who surely do not represent progressive social democracy it is is-Sur Grech and is-Sur Vella. Just because they have good looks (well that is what some gals say) does not mean that they are new Labour.
Now I was about to mention their trendy looks and fast cars, but the last time I did this, I was warned that I am being very personal. So there you go. I cannot mention that their lifestyle is surely not consonant with what we imagine public persons who are socialists to be.
And on the subject of 'new' and the progressives: why is it that the proposed list for the candidates for the European Parliament sounds more like a fashion show then a list of intellectual and well respected socialists?
But back to Austin's sewage plans, and his intention to tax the production of our faeces and urine levels.
The new tax on drainage will be scorned by everyone, apart that is from the sycophants who believe that Austin Gatt must surely have a valid motive. Celentano has a song that goes, 'there is always a motive'. Austin's appears to be his dream to take the Nationalist party down. So down, that when they lose they will never be in a position to recuperate.
In the past the Labour party had Alfred Sant. The PN now have Gatt, who with his Thatcherite policies does not give a toss about what happens next.
If I were Muscat, I would do nothing. Just sleep for five years and let Austin do all the walking and talking. I would keep the Brigata Laburista and keep everyone happy. As things stand the MLP's finest asset is Austin.
Yet the reason for the sewage tax is because according to Dr Gatt, nothing comes for free. Now that is quite a nice way of putting it.
But not even forgetting the past comes for free. For if there is a moment of crass hypocrisy, then this is it. Retrace your steps and go back 10 years and you do not even have to imagine what was uttered: just read this, as it was expressed by Eddie Fenech Adami before the 1998 election. It was his personal commitment to voters after Sant was faced with a revolt by the one and only backbencher, Dom Mintoff (another 'true socialist').
Fenech Adami had this to say:
A NEW NATIONALIST government will reduce water and electricity rates.
25. We will once again heavily subsidise the first 20 gallons of water (up on the original 18) consumed daily per person. The cost of an essential commodity like water, should not be a burden to families.
26. We will remove the exaggeratedly high increase in the meter charge, which the Labour government raised to Lm24 a year.
27. The Lm24 drainage tax will go.
28. We will subsidise the minimum amount of electricity consumed daily by an average person and thus considerably reduce electricity bills.
29.We will have discussions with the business sector, to establish reasonable water and electricity rates which do not stunt economic growth.
30. We will make sure that water and electricity producers will cut down on the waste that Alfred Sant made the consumer pay for.
31. Consumers will be given a clear indication of what quality of service they should expect from the producers of water and electricity.
To all those who still cherish the fact that they have a brain and not a sponge in between their ears, the text quoted here should prove that political programmes and manifestos should be replaced by toilet rolls.
Beyond the rhetoric there is a very clear lesson to be learnt. Politicians will only promise and please before elections. After that it is only a question of circumstance.
Five years later in 2003, with Fenech Adami as head of the party and Gonzi following in his shadow, reminders of Sant's drainage tax resounded in every corner meeting and editorial.
In-Nazzjon Taghna, the newspaper that serves as the government's Pravda captured Sant's drainage tax to frame it for posterity. Some had the impression that this drainage tax was equivalent to genocide or worse still not voting for the PN. The PN simply loved to demonise Sant and fortunately for them, but unfortunately for him, all the mud stuck like super glue on his persona.
The constant reminder about Sant's drainage tax led an editorial in MaltaToday in October 2003 that read like this:
"Dr Sant's decision to introduce a fee on free medicine, a drainage tax and his plans for a dockyard would definitely have helped the save the country some extra millions. And yet, the spin doctors and the English-language media went into overdrive feeding on the return of Dr Sant's nemesis, Dom Mintoff, who has plagued Maltese politics for over 50 years.
Now this government is attempting to address the sustainability question with the same therapy that was suggested by the Sant administration – decapitation. Which goes to prove that in politics it is not what you say but how you say it and who says it."
There is no real shame.
Gatt thinks that he can ram his taxation programme down people's throats at a time when families are feeling the pinch and small business are asking themselves – what next? As he stuffs down his fiscal policies as if we're geese force-fed for foie gras, the Labour party lives on Cloud 9 and discusses the new emblem and the abolition of the Brigata. It talks of soldiers made of steel, following the 'lijder'.
For heaven's sake, get out and start firing. If this party is not going to tell this government that its fiscal taxation policy is going to break our backs, then who will?
Condolences
Condolences to Prime Minister Lawrence Gonzi and his family at the passing away of his mother. Words usually do little to console, but the fact that so many come together to reflect on the pain when someone so close and central in one's life passes away, could contribute to some form of healing.

PRINT THIS ARTICLE
---
Any comments?
If you wish your comments to be published in our Letters pages please click button below.
Please write a contact number and a postal address where you may be contacted.