EDITORIAL | Wednesday, 16 July 2008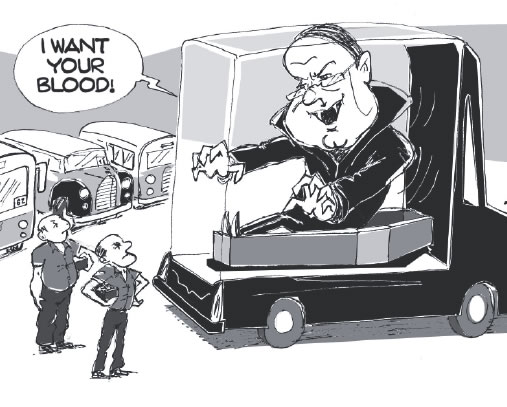 At a glance, it seems disproportionate that the Public Transport Association would call an indefinite strike across the board (buses, minibuses, taxis, the lot), over a liberalisation initiative affecting only 11 individual operators of motor hearses.
Evidently, the ATP has understood that the proposal to allow new licenses for motor hearses will herald a gradual (and long-overdue) liberalisation of the entire public transport sector. It has rightly recognised this at the thin end of the wedge; so rather than fight its battles one by one, the association appears to have precipitated a full-scale war with the Transport Ministry.
But by taking this disproportionate measure, the ATP has also created a scenario in which there are only two possible outcomes: either the government, or the ATP itself must sooner or later back down. One sincerely hopes it will be the latter, for if there is one thing this country is desperately crying out for, it is a shake-up of the public transport regime, as well as an end to a culture of bullying and intimidation which has benefited only a handful of minorities at the expense of the population as a whole.
The truth may appear brutal to the drivers of buses and taxis, but the association's entire line of reasoning doesn't have a leg to stand on. Yesterday, ATP president Victor Spiteri delivered an ultimatum, demanding that the government renege on its decision to issue new licenses, and – incredibly – insisting on a guarantee that no other sector will ever be liberalised.
This is totally unreasonable. By placing such a demand as a condition for talks to even begin – let alone reach an equitable solution – Spiteri has simply confirmed what many of us have long suspected: that his association is only interested in maintaining the status quo, to the benefit of the drivers and the detriment of the consumer.
Likewise, the original argument of the motor hearse operators themselves is quite simply preposterous. These 11 operators argue that as their market is limited in size – with "only" seven people dying every day – there is no space for any new operators in an already saturated environment. But if there is only room for 11 operators on account of the limited number of deaths, it does not follow that the present 11 should be given carte blanche to carry on manning the sector exclusively themselves. This for two reasons: one, because it denies the consumer any real choice; two, because it removes any possible incentive to the existing operators to improve the standards and quality of their service.
Again, one suspects that the real reason these arguments are raised is because the public transport association is only concerned with preserving its own ill-gotten privileges, with no consideration for anyone else.
This can also be attested by the appalling behaviour we have witnessed since the strike came into force on Monday. It was bad enough that the ATP would wreak havoc on the streets and unfairly inconvenience motorists and pedestrians who have no part in their dispute. But that they also would resort to intimidation, harassment and physically violence is utterly unacceptable.
Most execrable of all was that this behaviour was also directed at passengers and uninvolved spectators – not to mention journalists and camerapersons, once again demonstrating that the role of the media remains largely unknown and unappreciated in this country.
As a result, even uninvolved transport companies such as the Unscheduled Bus Service (unconnected to the ATP, and therefore unfettered by its directives) felt it had to suspend its operations out of fear for the safety of its drivers and passengers alike. One need hardly add that the knock-on effect of such action on other industries and businesses has yet to be calculated. Judging by comments given to this newspaper by various players in the tourism sector – which is estimated to generate some one third the country's GDP – it will be the hoteliers, restaurateurs, language schools and others in the services sector that will pay the full price for the ATP's expensive caper.
Exactly how the bus and taxi drivers thought they would garner any public sympathy with their antisocial exploits is at best a mystery. But there can be little doubt that Transport Minister Austin Gatt has earned a good deal of respect for standing his ground even in the face of intimidation outside his private residence in the dead of night.
As things stand, Gatt can only be criticised for his apparent decision to offer financial compensation to the motor hearse section, on condition it desists from its ongoing disruptive actions. This appears to be an afterthought aimed at appeasing the sector; but it has arguably weakened the minister's hand.
Other than this, however, Gatt has the full support of this newspaper in his confrontation with the ATP. This country can no longer be held to ransom by a bunch of hoodlums.
---
Any comments?
If you wish your comments to be published in our Letters pages please click button below.
Please write a contact number and a postal address where you may be contacted.